AlphaTauri cheated and Red Bull's time has a trick
Tsunoda opened the DRS more than 100 meters before the trigger point and Verstappen went long at Turn 4, somewhat beaten in Free Practice 1 and 2 of the 2020 Bahrain GP.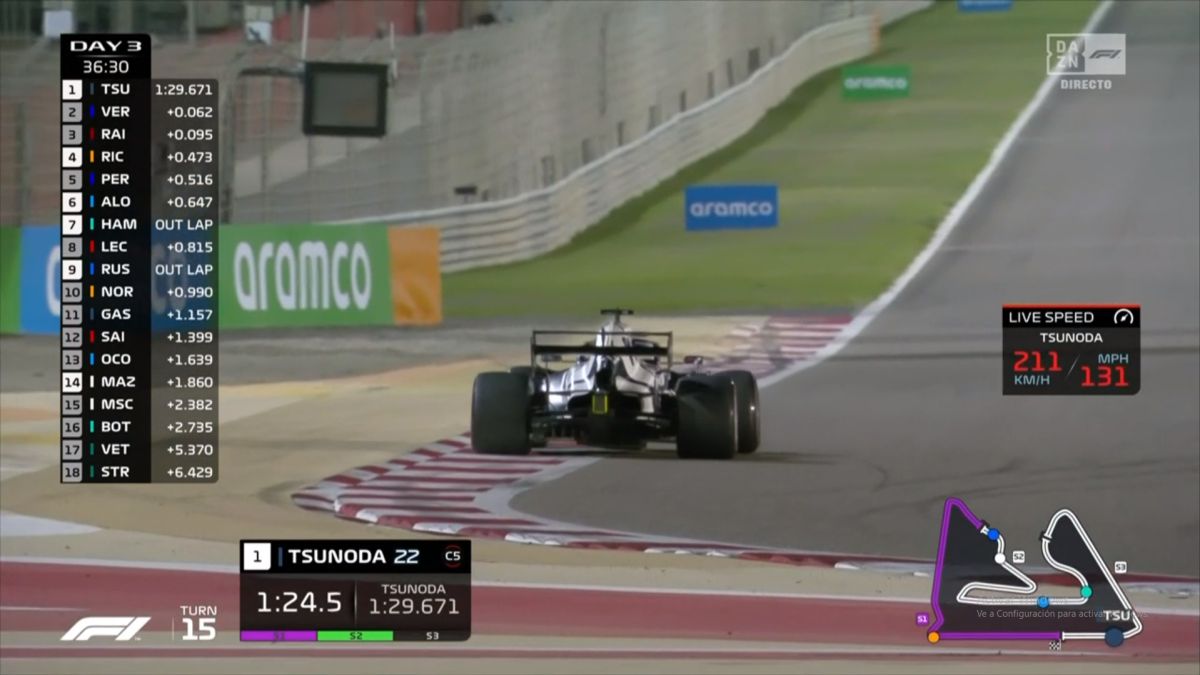 93 thousandths. This is the minimal advantage that separated Yuki Tsunoda from the best time of the last preseason session in Bahrain set by Max Verstappen's Red Bull. A brilliant record of the Japanese driver with the 'C5' tire that ratified the magnificent sensations that the Alpha Tauri AT02 had left the previous days in Sakhir thanks to its avant-garde design where a high rake stands out (angle of inclination of the car forward).
However, Tsunoda's time would have been canceled by Race Direction had he achieved it during qualifying for the 2021 Bahrain GP. The reason? The one from Sagamihara opened the DRS as soon as he got the car on track at the exit of Turn 15, more than 100 meters before the point (blue Aramco signal) that last year was set by this body to activate this device on the long finish line of the layout located in the city of Manama.
A trick that also allowed Yuki Tsunoda to gain valuable tenths by setting Sunday's highest top speed of 322 kilometers per hour, three more than Charles Leclerc's Ferrari, which has not gone unnoticed by McLaren and Lando Norris. "How's that DRS going?", Along with the emoji of a laughing face was the message that the Briton wrote in the publication that Tsunoda uploaded to his official 'Instagram' account to summarize his performance in the Persian Gulf.
It should be noted that the FIA does not consider the preseason as an official racing weekend, so drivers and teams do not have any restrictions when it comes to using the DRS or a more aggressive engine map, among many other elements. This means that Yuki's 1: 29.053 is valid, albeit cheated. Hence the irony of the Woking formation.
Max Verstappen's time could also have been canceled
Likewise, and analyzing Verstappen's fastest lap with the RB16B, we can see how the Dutchman goes long at the exit of turn 4. An action that would have been penalized in 2020 in the event of a having done it during Free Practice 1 and 2, since after canceling 33 times during these two free practice sessions, Michael Masi informed the pilots, before the Free Practice 3, that he would not control the limits of the track in this place , understanding that more time was wasted than was gained by stepping on the gravel. This, or that he got tired of hearing comments like Daniil Kyvat's on the radio: "Tell Masi to get rid of the fucking limits of the track."
Photos from as.com