Alonso returns the illusion
The Asturian makes his debut with the Alpine A521 in a windy session. Second fastest time, although on a harder tire than Ricciardo. Sainz, sixth.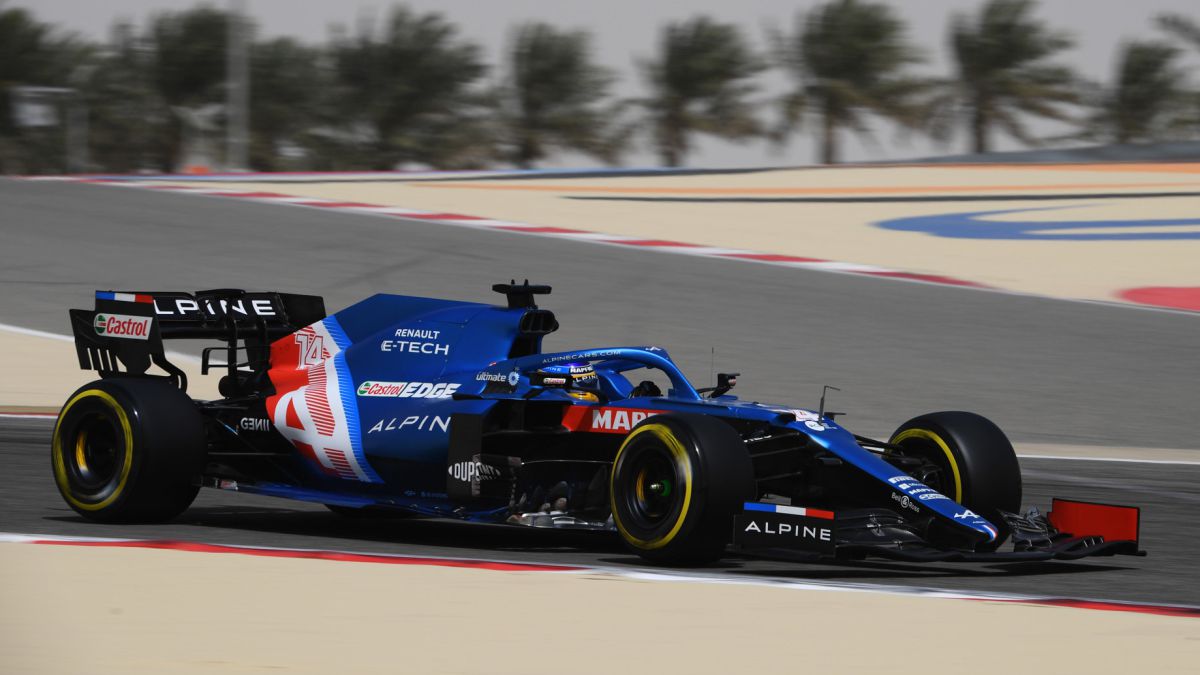 Yes, they are only tests and the times tables are worth little or nothing. But Alonso's return to Formula 1 is seen as good news for everyone. For the Spanish fans, for the paddock, for the worldwide repercussion of the championship and for the excitement during the races. The Asturian climbed this Saturday for the first time on the Alpine A521 and the sensations at the foot of the track could not be better. Pristine precision, zero errors, not a slip on asphalt that was not for frills. Hamilton himself was stranded on the gravel by an unforeseen gust of wind, but the 39-year-old Spanish rookie started his stint in the old Renault with strong runs and competitive laps.
Signed the second fastest time of the session, 0.124 behind Ricciardo's McLaren albeit using a harder grade of Pirelli compounds. In any case, there is work to be done on that electric blue car, at least that's what those who know the ins and outs of the French team say. With Alonso, the horsepower or downforce will not reach the Alpine by themselves, but an extra tenth under pressure plus an enormous amount of enthusiasm and motivation.The session continues with four more hours of testing in the afternoon, again with the Asturian at the wheel. Carlos Sainz will not be there, who drove in the morning (sixth time of the day, eight tenths behind the McLaren). He stopped the account in 45 laps and did the work planned. For the gallery he also left a skid to the limit to regain control of the Ferrari SF21 in a windy first sector, where almost everyone lost the car at some point.Ricciardo confirms McLaren's good feelings
Ricciardo, meanwhile, has led both mornings in which he has driven, and although the preseason tests do not always deserve many conclusions, it is clear that the MCL35B was born strong and healthy, like an oak tree. The switch to the Mercedes engine has not choked either. And perhaps they've gotten rid of a first batch of faulty German-made gearboxes: if Hamilton and Bottas' car failed on Friday, on Saturday it was the turn of Vettel and Stroll's Aston Martin, which uses the same unit. McLaren makes theirs.
The breakdown gives food for thought when the green and the black car share so many peculiarities. In addition, their journey in these Bahrain tests begins to resemble, with uncomfortable breakdowns that are limiting their possibilities and away, at least in mileage, from the Alpine, McLaren, Ferrari and company. Checo Pérez got on Red Bull and that car does seem like the benchmark on the grid in these circumstances, waiting for the W12. Good laps for the Mexican and good prospects for the 2021 season.

Photos from as.com