Almería takes advantage of Malaga's terrible mistakes to keep flying
Robertone, Lazo and the 'beast' Sadiq annihilated a Málaga who did not play badly enough to deserve such severe punishment. The mistakes killed Pellicer's.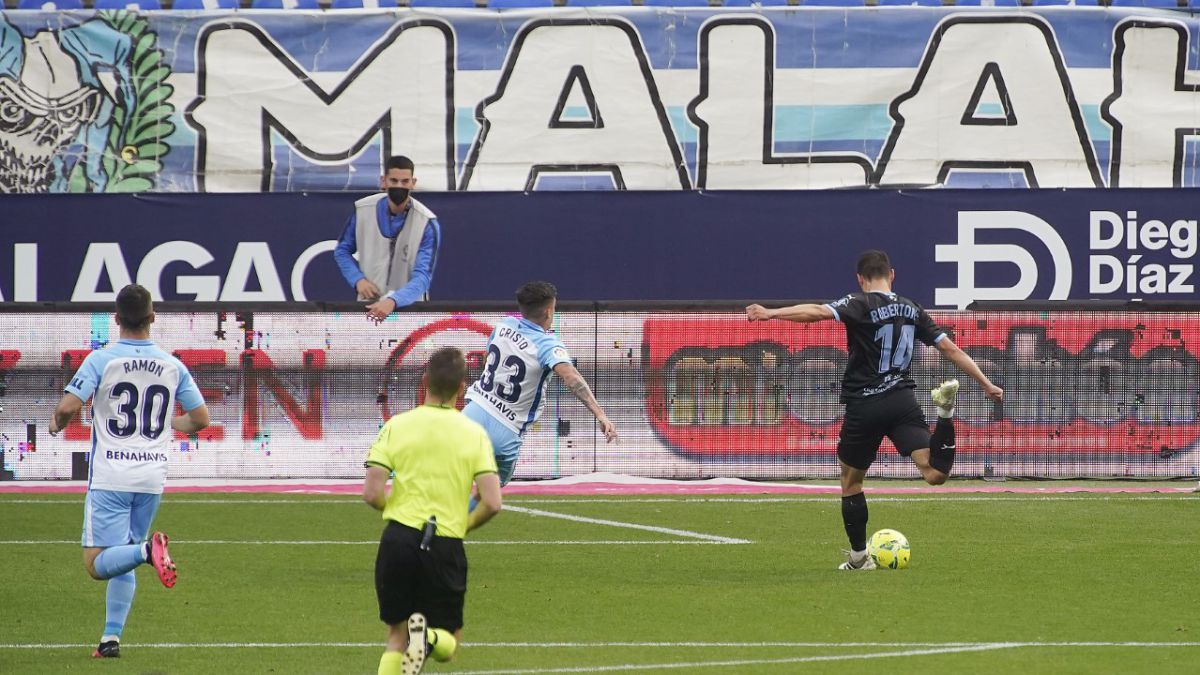 Almería was above the famous and disputed VAR (which by the way revoked a penalty) to take three gold points at the expense of a Malaga that did not deserve such a harsh punishment, but paid three tremendous errors on goal by failure. José Gomes' team, the best that has passed this season at La Rosaleda, did not struggle in defense. Sadiq got the most outstanding players from Málaga to be his centrals, Juande and Mejías. And that, in a 0-3 home loss, is interesting to analyze. Lazo's colossal match that scored a goal and scored another anthology. Almería continues to dream of direct promotion; Málaga halts its progression and remains with 42 points.
Things start very badly for Málaga. A tremendous error by Ramón Enríquez, due to a transfer to nobody's territory, is taken advantage of by the astute José Carlos Lazo who, like a flash, gives a formidable assist (his sixth of the course) to Robertone who, in a great position, manages to open the scoreboard and his particular account as indálico scorer. Minute 12 and Malaga losing. A bad omen because the Costa del Sol have not recovered any adverse score this season. The tradition continued.
José Gomes, who had repeated the line-up (as incredible as it may seem), found himself with a wonderful advantage at the first miss of the opponent. At 25 'first job for the questioned VAR. Juande slams a ball to Sadiq inside the area and the referee decrees a penalty and yellow for the Malaguista defender. Trendy cutting-edge technology overturns the decision.
Málaga continues to punish its tendency to promote the social elegance of gifts. A new mistake, now by Alexander, is used again by Lazo (this player was intended by Málaga, but Al Thani did his thing) to unleash an artist blow that sneaks in like a rocket to the frustration of Dani Barrio who could not do something else. Almería doubled their advantage. Malaga does not break down despite such a heavy backpack and with an Almería with boards and a wide scoreboard in favor with which it reaches the intermediate.
Almeria plays with patience and knowing that the mere presence of Sadiq, a powerful footballer destined to do something great, is a nuisance for Juande and Josua Mejías, who multiply to stop the Nigerian star. Málaga fights despite their adverse circumstances. At 53 'the referee annuls a goal to Caye Quintana for offside. Proof that the Malaguistas want to set foot in the area and warning for Mararidze, who was having a placid afternoon.
Lazo, a nightmare, especially for Alexander. He does not stop distributing game and assists. The Málaga center-backs, Josua, are doing quite well in their work of stopping as much potential as that of this Almería.
Sergio Pellicer served heavyweights, even without being in his best form. But what came was the 0-3 of Almería after taking advantage of another failure, in this case of Dani Barrio in a run over side exit against Sadiq who came to finish off. Escassi took the ball out under the sticks, but without enough force to prevent Morlanes cross the insatiable Sadiq who scored the 0-3, the 15th goal of this beast of a player. Málaga continued to fight for dignity, but there was little else they could do against a formidable rival who forgot all about VAR's shenanigans and continues to dream of promotion. Málaga resists with its adjusted squad.
Photos from as.com