Almería crashes into the potter's wall
Alcorcón performs an excellent game at the defensive level and dismantles the top scorer of the championship. The VAR annulled a Villar goal in the final stretch for offside.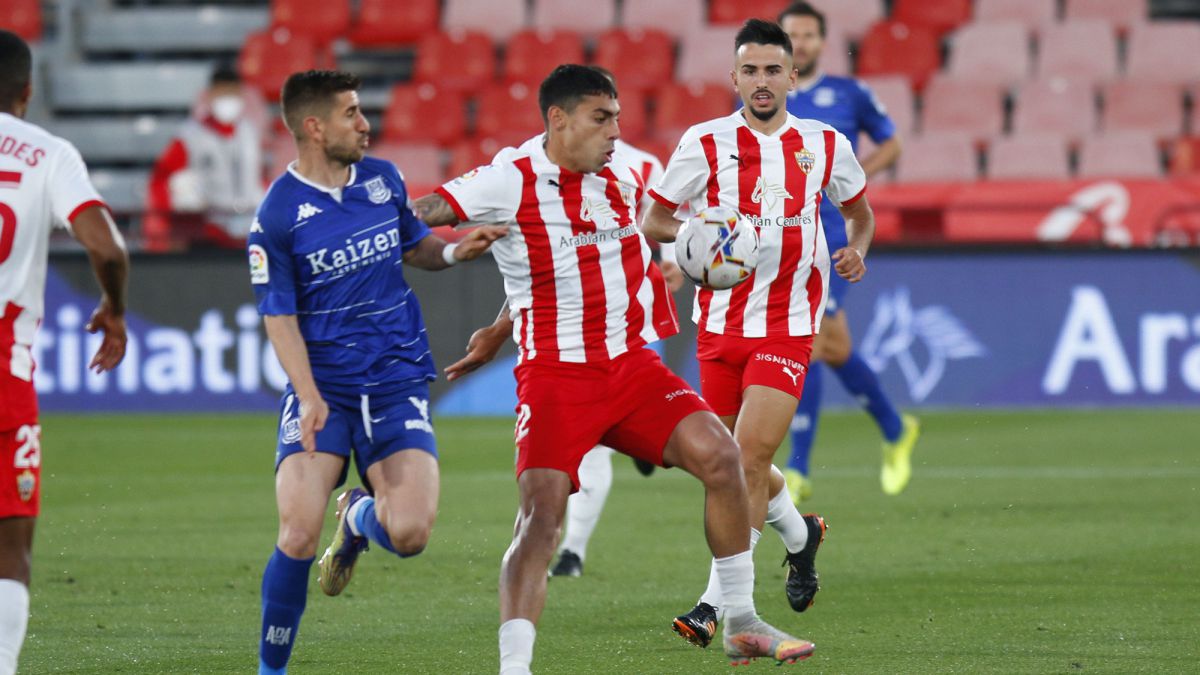 Almería missed Espanyol's puncture. If it is difficult to guess whether it was the chicken or the egg before, it is no less difficult to place the line of merit between the failure of Almeria or the success of Madrid. Whatever the answer, what is unquestionable is the excellent defensive work of Alcorcón, which developed the game that Anquela had in mind. Villar was about to turn the outcome in the rojiblancos' best play. Morlanes broke all the lines with one of his masterful passes and the former Osasuna defined it as a real nine after a breakdown, the goal being invalidated by the VAR due to an alleged or millimeter offside.
José Gomes gave Brian Rodríguez the first big opportunity, in his first start in Europe. Aketxe was another of the novelties in the local eleven, Balliu returning to the same after serving a sanction, which is why Maras left, with Ivanildo being his substitute, with the Portuguese performing a sober performance. On the part of Alcorcón, the Almerian and exrojiblanco Barbero entered through Xisco. Little happened in the first half, with the visitors practicing high pressure. The yellow box was well planted, both with the aforementioned pressure and retracted when it was diluted with the passage of minutes.
Of course, the Madrilenians created little danger in attack. The clearest was six minutes before the end of the first act, with Juanma already in the booth when he was injured. Barbero headed a long delivery and Dani Ojeda was taking advantage of the quick transition if it weren't for Ivanildo crossing his path at the last minute. Almeria did not make too much of a three-quarter lead either, although they were able to go ahead at the start, resounding, with a shot from Sadiq in the first minute. On the next play, the Nigerian claimed maximum penalty for a tackle near the area.
The Almeria team missed the leading role of Corpas -a more in the second half- and the rhythm of Morlanes, with Aketxe, in the first place, and Sadiq, with his downloads for the second row, those who moved his people, without usual additions of the sides taking advantage of the interior play. The passing of the minutes did not make a dent in the defensive network of Alcorcón, which again exerted high pressure in the first bars of the second half. Anquela's game plan was coming out almost round, missing some against more like Dani Ojeda's.
Neither Villalba nor Carvalho reactivated the Almeria, led at that point with Corpas. But it was a David against Goliath and not because the locals did not have quality, but because Alcorcón had become the giant with their care in the different defensive concepts. The local occasions were timid, with a distant shot from Aketxe, a header from the now imperial Ivanildo and a volley from Carvalho. The tactical change had to wait until 78 ', when Gomes gave entry to Schettine and Villar, matching the three rojiblancos points on the green for the first time. Almería was about to win a prize with that invalidated target of Juan Villar although with the VAR the story was different. The point helps one to regain the position of direct promotion two days later and the other the permanent one, although the locals are left with a bitter taste. To make matters worse, Sadiq saw the fifth yellow in the discount for protesting an alleged maximum penalty and will miss the next four duels (one per cycle and three due to the FIFA virus).

Photos from as.com