Álex Márquez: "I wanted to look where there was no more"
"I have had five falls in four days, although there are a couple that hardly count for me because they have been very small due to the front end," he says.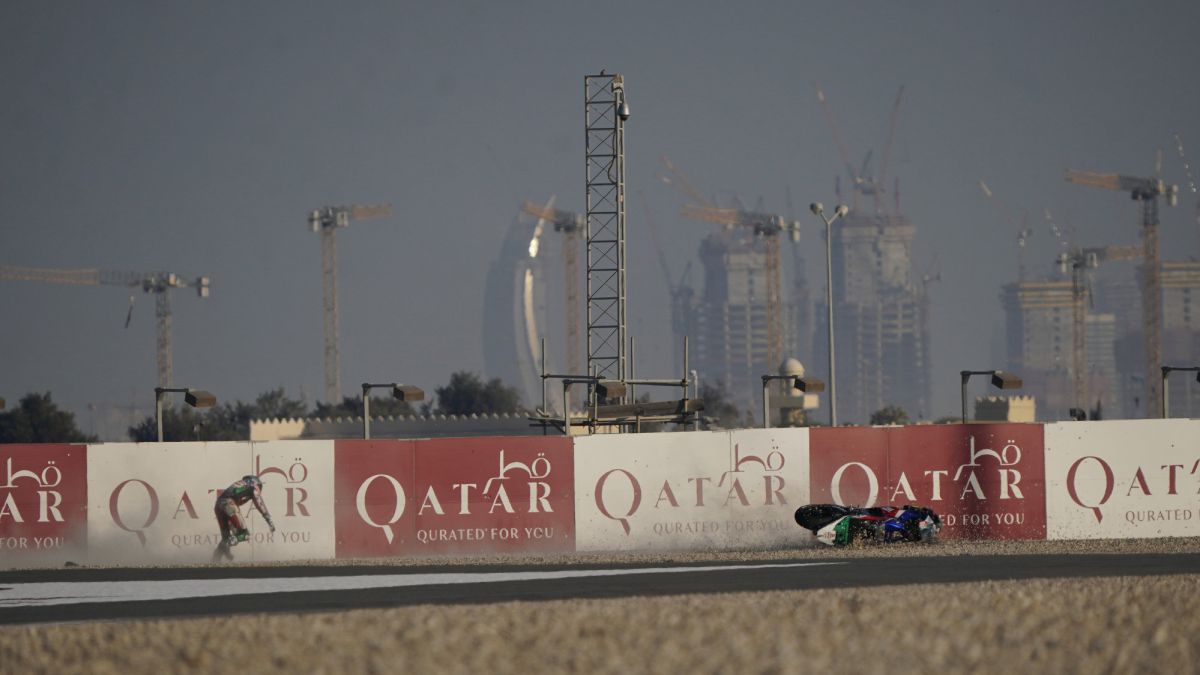 Álex Márquez has taken his fifth fall of the preseason with philosophy. Today's, on the second day of the second test in Qatar, was accompanied by a slight 2-millimeter fracture in the fourth metatarsal of the right foot. Four seasons ago he was able to get on the Moto2 podium with a complete fracture of this type, and now he will go out on the track on the last day only if the doctors tell him to do so to continue working with his RC213V from the LCR Honda.
-Are there five falls in four test days?
-I have had five falls in four days. More than one per day, although there are a couple that hardly count for me, because they have been very small due to the front end. This has been a highside (exit by ears) more than anything to look where there was no more, because in this corner I already pass faster than the other Honda and I wanted to look a little more because I felt very comfortable.
-Are you surprised by Pol's performance and that it is the first Honda since the third day of testing?
-Pol is going fast mostly on one lap. He has a lot of experience and he gets a lot out of the Honda because of his style of attacking well under braking. He did a drill today and he's not bad, with a fairly consistent 1:55 pace. And Nakagami is suffering a lot with the new bike. Bradl is the tester and yesterday he had a very strong crash, but the first days he was the fastest. So Pol is doing well, he's adjusting fast to the Honda and knows how to get the most out of the new tires. If it surprises? I don't know, he has been in the category for many years and as he said, going to the Repsol Honda team is what it takes.
-Will Sadrá on track tomorrow?
-If I can and if there are good conditions, because a day with a lot of air and a sandstorm is expected ... If it can be useful for something, I will try to get the doctor to give me the 'fit' and leave.
-Have you learned anything from these falls?
-You learn something from all of them. And you always try to bring out the positive. After each crash, I hit the track and improved my times. That is the positive, that at no time have I lost confidence. They have also taught me to learn the reasons for those mistakes, so I stick with that. It is clear that for the team it is not the best, but Lucio Cecchinello has told me that you have to fall to learn and the team is supporting me to the maximum and that is appreciated.
-Is the evolution of the Honda going well?
-Qatar is a very special circuit so I don't want to venture to tell you if we have improved a lot, a little or nothing; because it has to be confirmed in other circuits with other types of curves. But it seems that we have gained something, especially in the smoothness of the engine, in grip ... anyway, the tests are very misleading because today there was a lot of grip on the track, a lot of rubber and everyone was fast. So you have to wait and see when there is Dunlop rubber on the track which bike can bring out the most potential. I'm happy with the bike I'll start the year with, ride or not tomorrow.
Photos from as.com