"Five agents have called me"
Laporta, a candidate for the Barça presidency, was in El Larguero de la SER: "The 'Barçagate'? I suspect there may be something more ...".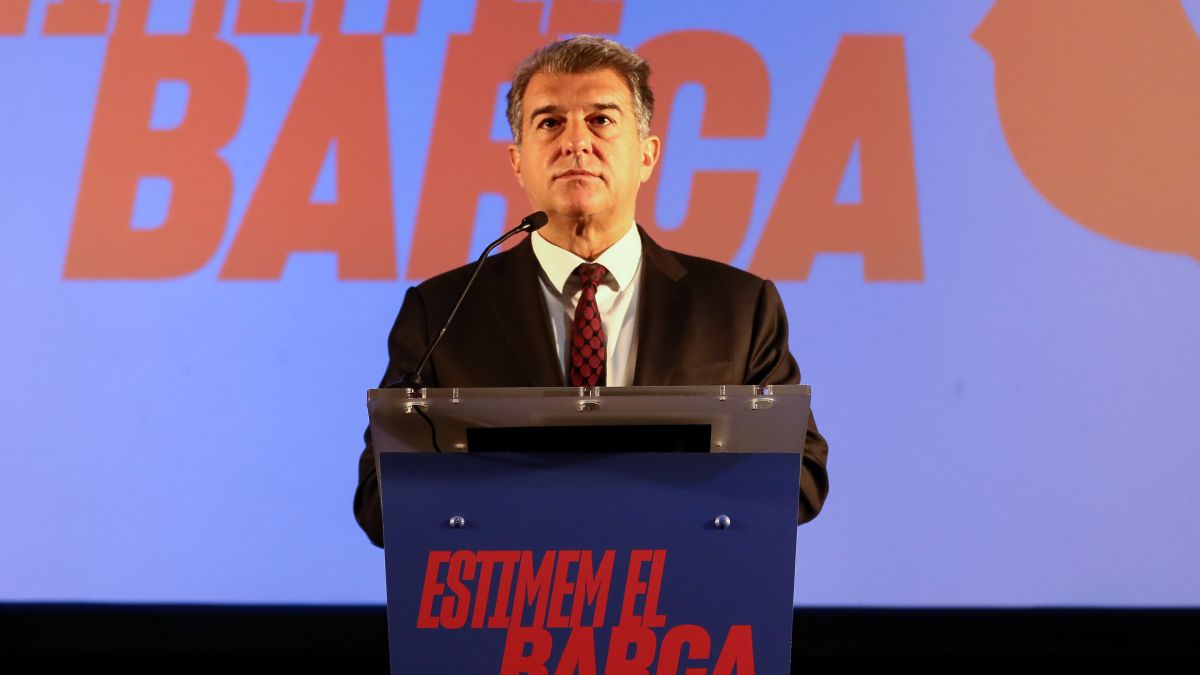 Joan Laporta was this Tuesday at El Larguero de la Cadena SER. The candidate for the presidency of Barça spoke about the elections next Sunday and addressed the current situation surrounding the Barça club, with Barçagate as the main controversial focus.
He would put his hand on fire for Bartomeu's innocence: "The issue is very delicate and there is maximum respect for the presumption of innocence. And maximum respect for judicial and police actions. "
He suspected that there was no transparency: "We Barça members had discounted this issue, that something irregular had happened and that is why a vote of no confidence was filed. You have always had that feeling that the news was shocking. We will see how the process goes, but it does not benefit Barça's image at all. "
The news of Bartomeu arrested: "You never want a person to be arrested and spend the night in prison. The feeling was strange, that you don't want her on anyone. When he was arrested I said about the presumption of innocence. I was surprised because I thought that this was one of those issues that went to tran tran. I did not think that this situation of detention would occur. I thought they were going to be summoned to testify to start the process ... What you do think is that it is something serious. "
More serious that there is an economic crime or that companies are hired to wash the image of the club and stain the image of symbols such as Piqué, Messi or Xavi: "Both. If they are confirmed, they are both serious. I had stayed in the phase that money from Barça had been used to investigate people from Barcelona, including me, but I did not give it much importance. When everything was uncovered I said: 'How far have they come'. I see this is a serious matter. "
There is a political part behind all this. Do you believe in political conspiracy? "No, the Mossos have acted as they usually do. Now, if you told me, is there anything else here? I would tell you that I suspect there may be something else. I speak by intuition. The whole subject seems very rarefied, it does not seem to me a subject that ends only with the events that have been news. There may be something else. I do not have proven information, but it gives the feeling that there is something else. It surprises me, it saddens me, it saddens me that they arrest the president of Bara and executives. It was a sad day and it doesn't help the image and reputation of the club. We must defend the presumption of innocence, but what happened is very shocking because it is the third time that a Barça president has been imprisoned ".
Something may come from Madrid: "I don't know. I am open to analyzing all the options, but I have no information and what I believe is irrelevant. As culé I am saddened by this situation for Barça. The image of the club is touched. "
Casuality that the case has exploded in election week: "I think so. It does not affect the process. Yes to the president, who will have to deal with this. Let's see what turns out. "
Winner: "I go with that moral, but without trusting myself."
Electoral delay: "It is what there is. On January 24, I had all the polls in favor, but I accepted it with sportsmanship. Now we are doing very well. I am delighted with my campaign companions. "
20,000 votes by mail: "I'm glad. Now I hope that there will be a great face-to-face participation and I hope that the public authorities do not put obstacles in the way. There is a certificate of self-responsibility to vote. I disagree with the Generalitat that the perimeter closure cannot be bypassed in order to vote. "
Messi's continuity if Laporta wins is simpler: "I think there are more chances that he will continue with me without this meaning that he is going to stay. He knows that I will give him love and that he goes out the front door in three or four years. I want the same for Busquets, Jordi Alba or Piqué… I am going to make the most competitive team in the world and he knows what the economic situation is. The other candidates do not have the same relationship with him. I sense that Leo wants to stay. And if you ask me for advice, as your father did in 2006 when he had a stratospheric offer from Inter, I will tell you to stay. He needs an audience and that they thank him for what he does for the club. "
Jordi Cruyff, technical secretary: "I am not going to give names out of respect for the people of the club."
Koeman can continue: "He is a Barça great and he has all my respect. I hope it goes well for him, but his margin is the results and the game. If there is a contract in force, as a general rule, it must be fulfilled. I have seen myself only once and his demeanor was impeccable. He wanted a center back, some wanted to pay ten million for a player who had just finished his contract, I asked that it was better to wait and he understood. I will have to have a conversation with him. "
Issuance of bonds to save the debt: "Barça owes 1,173 million and 282 are with banks. The normal thing is that we speak with the banks so that they pass it to us from the short to the long term with an interest change. And of the rest, the restructuring is not the same. You cannot ask Liverpool to restructure your debt and that is where the possibility of bonds for qualified private investors comes into play. It has been used by Milan, Inter, Juve, United, Arsenal, Tottenham ... It is a loan to restructure non-bank debt and is used normally. Barça has already used it. The important thing is to do it with solvent companies. This does not imply any transfer of ownership of the club or its participation in the management. "
Fichajes: "Font is contradictory. He says he can't sign, but he wants to pay ten million for Eric García. Of course we will be able to sign. I'm going to ask the state clubs to comply with fair play. "
First measure: "Talk to the employees, the coach and the players. And then an audit is commissioned so there are no surprises. And from there apply classical economics: wage moderation, cost control, diversify and increase income ... In my first year I did 409 acts in 365 days. "
First game as president against PSG: "You have to go with dignity and a desire to win. Who knows ... If we have eliminated Sevilla, morale will be high. And if Messi scores two goals in the first half ... And if there is extra time ".
Haaland or Mbappé: "I will not talk about players. I want to win the elections without giving a name. I know Raiola (Haaland's agent). Nice guy. But if I talk about players I am going to make them more expensive. Five player agents have called me. "
Ansu Fati: "With him, Pedri or Dembélé will have to face the renewal. Ansu has had three operations and I hope we understand each other. I suppose Mendes, his agent, will understand the situation. "
Jordi Cruyff said that his father would vote for Laporta: "It is what I liked the most about this campaign. Johan will always be there. Jordi has a contract in China and asks for a pass. That and the canvas next to the Bernabéu have had their relevance. "
Photos from as.com