A driving school is born for all audiences
Dani Valle, Aleix Viu and Marc García create the DAV Racing School with the mission of helping any driver or fan who wants to hone their skills.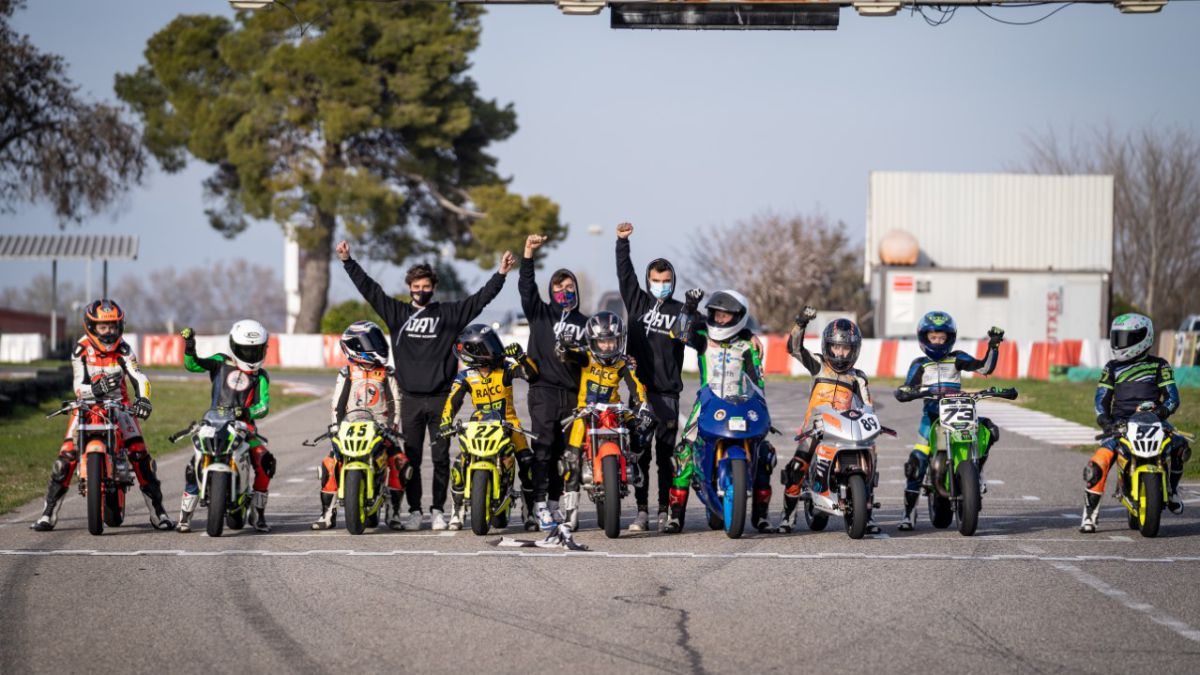 As important as fulfilling a dream is never forgetting where you came from. And although it is not very common for young drivers to engage in an adventure beyond the one they already accompany when competing professionally, three friends and in turn rivals on the asphalt, have decided to launch a common project with which to "remember how do we start". Dani Valle, Aleix Viu and Marc García, have just launched the DAV Racing School, a driving school with which to help perfect the skills of different pilots who start their journey in the world of two wheels, but which also has space for all those who want to learn for pleasure.
The adventure began when Valle, tired of the few alternatives he had in Madrid to train, decided to move to the Tarragona area with his friend Viu. From there the idea was born and immediately a plan, which worked perfectly for them. "They told me if I wanted to help them and I told them to count on me," says Marc García for AS. The SSP300 champion agreed to found a school located in El Vendrell karting but which, as a novelty, will also be itinerant.
Despite the fact that the training they complete with the 15 children who are training at school just one month after their birth, take place on Tuesdays and Thursdays, on Saturdays they will travel to other kart circuits located in Catalonia. During these sessions they will have some pit bikes that will facilitate anyone who wants to learn from them and in addition, they will also offer all the necessary material to complete the riding course such as the helmet, the equipment ...
That was always their priority, creating a school that in turn would also welcome anyone who wanted to "enjoy this experience" as García says, about a task that will not separate them from their professional careers: "The main thing is motorcycles and continue there. Everything is going well and we want to continue. " How will you take care of the school during the season? "They (Valle and Viu) do the Spanish Championship and I do the SBK World Championship, so we don't coincide in the calendars and some of us will always be with the children. In addition, some kids will also compete in the Spanish Championship and they will coincide with Dani and Aleix, "says Marc.
First talents
In their staff there are already names to highlight Joel Esteban was runner-up in Spain in PreMoto3 and this year he will compete in the European Talent Cup. "It's a machine," says Marc about an illustrious rider who, however, is not the only one who has tried these facilities. "Jorge Martín has come and María Herrera also wants to come. We will do things with the pilots we know, "García points out, regarding the visits to a school that serves as a daily lesson.
"Here we learn so that we do not forget our desire and the ambition they transmit. They want to come to train, learn and enjoy riding the bike. It's good for us and that's why we also train with them ", Marc confesses about a project that he hopes to" welcome many more "talents to give them" that training and education "that has given these three friends and rivals the experience.
Photos from as.com