The white team has five wins despite numerous casualties with the League's recipe for confinement: clean sheets and defensive strength. Add 402 minutes without fitting.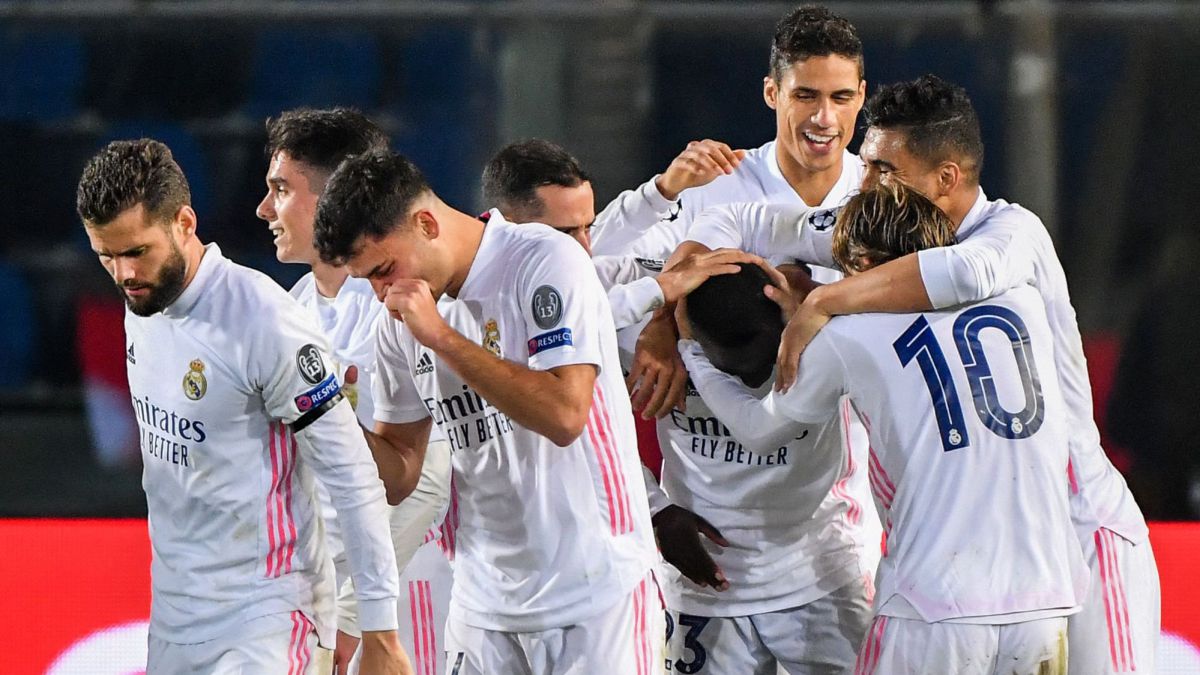 Real Madrid won its fifth consecutive victory against Atalanta in Bergamo, after those achieved against Huesca, Getafe, Valencia and Valladolid in the League. Five victories despite the numerous casualties accumulated by the white team (Ramos, Benzema, Marcelo, Hazard, Valverde, Carvajal, Militao, Rodrygo ...) and at the critical point of the course, which defines whether or not there are wickers to fight for the great titles. After the blows in the Cup and Super Cup and various league stumbles, Zidane returned to the essence: the recipe for the 2019-20 League after confinement continues to taste glorious.
Madrid scored ten consecutive victories after the return from the domestic tournament last year, once the stoppage due to the coronavirus had been overcome, pulling on defensive strength and finishing efficiency, deactivating the few chances it granted to the rival (Courtois' fundamental role) and taking advantage of the few opportunities it generated. He won those ten games scoring 19 goals and conceding only four.
After taking a correction from Levante in Valdebebas (1-2, marked by the expulsion of Militao before 10 minutes of play), Zidane focused his efforts on compacting Madrid and the result is in sight: eight goals in favor and only one against to add five victories that have put the team fully into the fight for the League and with one foot already in the quarterfinals of the Champions League, the two tournaments for which it can still compete. And for a tip, he has accumulated 402 minutes without conceding a goal, since Javi Galán scored one against Courtois in Huesca, at the beginning of February.Fewer shots, fewer saves, less Courtois
In Bergamo, one of the greatest offensive flows in Europe dried up: Atalanta had scored at least three goals in nine of the 14 games they had played in 2021 before facing Madrid. Favored by the circumstances (the expulsion of Freuler in the 17th minute, the injury of Duván Zapata at half an hour), the white team deactivated all the attack channels of the Italian team, to the point that they only finished twice, and both out of the three suits.
The statistics show the step forward that Madrid has taken in defensive tasks. In the last five games he has averaged 5.8 shots against (the average for the course is 8.8) and 1.6 shots between clubs (throughout the season, 3.03); Getafe and Atalanta did not finish on goal, Valencia did it only once. Courtois had to make just seven stops on this stage (1.4 per game). And all this without the need to transform intensity into aggressiveness (the average number of fouls committed per game remains around 11) and without losing control of the ball; in fact, it has reinforced it, with an average possession of 66% in the last five games, five points above the average for the season in total (61%). 444 444

Photos from as.com