Yanis Rahmani. "With my first salary I opened an account and gave the card to my mother"
Yanis Rahmani could play for France, Algeria, Portugal and… Euskadi. "I am one hundred percent Basque." A footballer with street art, it is clear that Málaga will once again be First.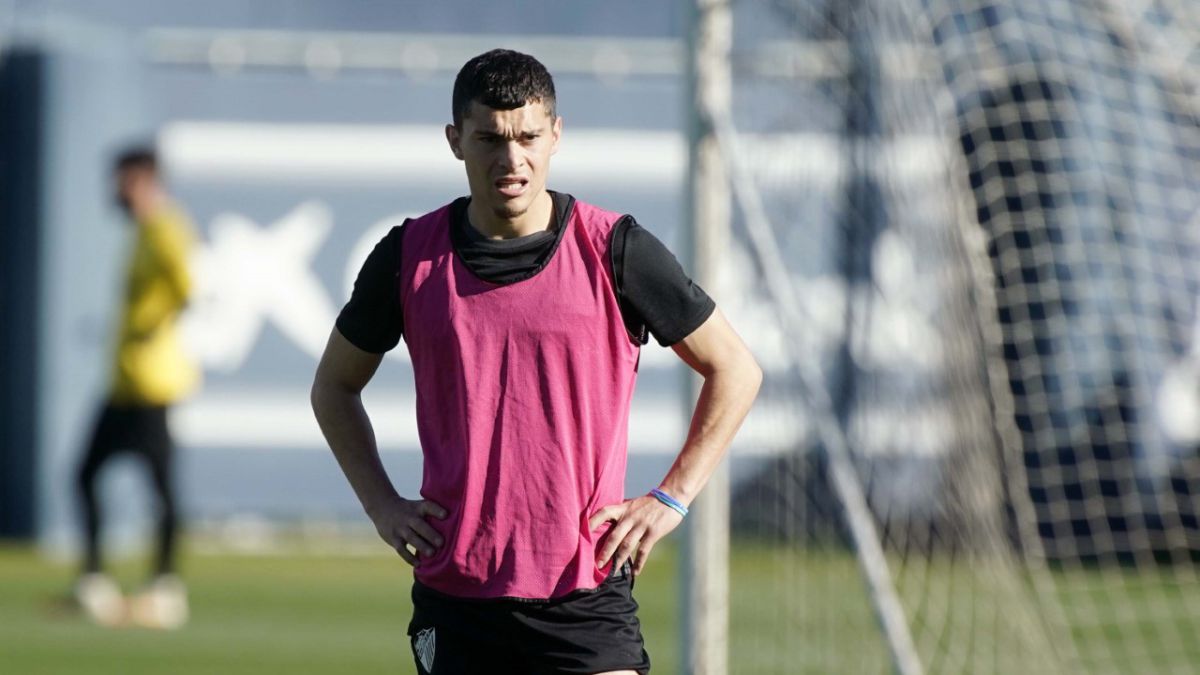 Born in France. Algerian father, Portuguese mother and raised in the Basque Country.
A little bit of everything. The mixture makes the beauty as they say. Various cultures and religions. Taking a little of everything. I only have French nationality.
Could I choose to play with Algeria or Portugal?
Sure! I could play with either one. They haven't called me directly. It is true that a lot is being said about the issue of the Algeria team. In Algeria they are talking in newspapers, on televisions. My name is ringing, and from what they say, I can be selected. My name is there. Until it happens they are only rumors. I follow my thing. But it is clear that I would love to represent the Algerian team.
Y could also play with Euskadi if Javier Clemente called him.
I would be delighted! My whole family has been in the Basque Country for many years. My grandmother, who is 80 years old, arrived there when she was ten years old. Imagine. Due to work issues, he was in France. But they have been there all their lives. My mother has grown up there. And me. I am one hundred percent Basque.
Do you speak Basque?
I understand a little. As a child I understood it more, but being a rather complicated language, as long as you don't practice it, it is difficult to maintain it.
Are you from Athletic?
Obviously. When you spend more than ten years in the quarry, you join the club. And in Vizcaya, which is where I'm from, all the kids dream of playing for Athletic. I'm from Athletic.
And is said to be following you.
They are things that come out. I am focused on giving my best at Malaga. I don't know if it's true, but it's always nice that a club like that is following you. The market is limited and a kid who has grown up in the quarry and is doing well in a club like Malaga has to follow him. That gives me reason to keep doing well and to work.
Why did you decide to come to Malaga?
As soon as they assured me that things were going to go well at the extra-sports level with the issue of registrations, payments and that the club would be fine, having Malaga call you is a privilege. It was just that. The issue of paperwork. Because when it comes to sports, playing in a historic team like Málaga, wearing their shield at La Rosaleda is a pride and a privilege for me. As soon as I had the chance to come and make sure that everything was going to be okay, I didn't think twice. I knew it was going to be an ideal place for me.
Three goals and five assists. Are we yet to see the best Yanis?
I think so. I can maintain and raise the level. I am giving everything so that everything goes well. The team was going through a rough patch. But let's get back to doing good things.
What happens to the team at La Rosaleda?
It is a reality that at home is costing us. To say otherwise would be to lie. We have also done a lot of good things behind. What is hurting us are these last days, because we were having a spectacular championship. You have to reset and self-criticize, because this is from the players. We are the ones who can do more. We are capable and we can reverse the situation.
Pellicer was angered by the defeat against Ponferradina.
This is normal. The fault was ours. I think Pellicer is doing spectacular. We are. We did not enter the game well and we lost it. It was not the coaching staff. We must self-criticize each player, change the chip and do everything the coach tells us.
Do you consider yourself a street footballer?
The more street style I play, the better I feel. When I have given the best level has been when I have been able to play my football. And one of the keys is that Pellicer is making us better players. He is bringing out the best in everyone. There are coaches who can't get that potential and I think that Pellicer is taking it out of everyone. Each player is revaluing this year and much of the credit goes to Pellicer. That a coach gives me freedom, to play outside or inside or allows me to fail makes my football better.
Does this quarry Málaga remind you of Athletic?
Of course it reminds me! You see it in Athletic. The quarry is what makes them win titles and what makes them a great club. Malaga I see it and have players in the quarry to make a great project.
Pellicer bets on youth.
He is a coach whose pulse trembles when it comes to putting young people. We see it every day. If you have to put a young man on, you put him on and give him confidence to perform. And the sports director, Manolo, too. He is from the house and knows what he has at the Academy. With Malaga, things are going well and everything is being done so that we can do things well. The coach and Manolo have done things very well and now it's up to us to give back to the club everything they are giving us.
We read some statements where he showed some disagreement with the famous VAR.
We have to put this aside. We, you whatever you want (jokes). Now we have more important things to think about than VAR.
3 days without a penalty in favor.
We have had many arrivals, Maybe, in some plays, we must have something more rogue, to look for it. Some hands have not been whistled. There are many things, the data is to be broken and surely that in no time we will have a penalty in favor.
If you hadn't been a soccer player, what would you have liked to be?
Good question… I come from an environment, not difficult, but with few means. Due to family situations, I have not thought about anything other than being a footballer. And I have a lot to do because I have not earned money for the peace of mind for myself and my family. Since childhood it was clear. Or soccer, or soccer, or soccer. I threw all my cards to football and for the moment I am not doing badly.
Continue ...
Now other hobbies are emerging. I like social issues, social work, social education. Working with children with fewer opportunities, less means for them to see that many children who are on the street have potential and that, both in sports and in studies there are opportunities beyond the street. It is difficult when a 15, 16 or 17 year old boy does not have money, means. You have to be strong of mind and endure because, working the reward can be very good. Today is what I would like to do after football, work with children who need to know what to do in life and set my example, help them. Many kids are reflected in players like me or others who come from below and who have not had opportunities or financial means but who have followed their dreams, have known how to suffer and have fulfilled those dreams, and that is what I would like.
You've had a hard time getting where you are.
Very much. I know people with talent and potential. It is difficult, at 17, 18 or 19 years old, to see that you are not making progress in football or in life, without money in your pocket and without your parents being able to give you. That's when you have dangerous temptations or things in your head that can lead to a bad life. There are people who do not have people who can advise them. It is difficult to last years without a euro in your pocket. What I would like is to train these kids and make them see that they will have a bad time for a few years then they will be rewarded.
What did you do with the first money you made in football?
With my first salary I opened an account and gave the card to my mother. In my early soccer years, the money went home. My first salary coincided with my mother losing her job and then I didn't even think about it. I told. "Mom, this is for us." With that money the rent was paid ... Money for my family. We are three brothers.
Has anyone else been a footballer?
An example is my brother. He had spectacular conditions and they wanted to try him in various clubs, but in the end he did not have that patience to fight, to have no money, to go to train every day and in the end that makes you have to become a go-getter in the long run, in look for your beans from one place to another, My brother has always looked for life, but it is an example that a boy with talent and good conditions, because he is not patient and hardworking, has not been able to live off his dreams. It's easy to talk about it, but when it happens to you on a daily basis, it's very difficult.
And in your case?
Being in the Athletic quarry I have had years in which you think, not to throw in the towel but you see that you are not moving forward and that your family life is not moving forward, that things are not going as you have dreamed and it is difficult. The only way out is to work.
Its turning point was the Mirandés.
Sure! That was my turning point and I don't know whether to call it a lucky point. I go to Mirandés when I finish the cessions of Athletic to Sestao, Leioa, Tudelano and again Sestao where we go down to Third. Imagine if he doesn't call me at Mirandés and I continue to play in Third Party clubs. It would have been complicated. I had been doing very well, but in previous years nobody gave me the opportunity to take a leap and Mirandés gave it to me and from the first year I took advantage of it. I scored eleven goals.
Y from Mirandés, to Almería.
Almería was following me and they made me a three-year contract because they believed in me. But in Almería what happens happens. That is not the fault of Corona, who signs me or my report that took me there. We knew it was an ideal place for a player who came from Second B, young, to take another leap. On the last market day I went to Lugo.
How did you do there?
I was very lucky because, except for Peybernes, who is now at Zaragoza, and me, all the signings were left without a team. In Lugo very well for the people of the club and the city that I loved. It was my chance to show that I can do good things in professional football.
Málaga has a purchase option of one million euros on you.
I have always said that I am very happy here and that I am enjoying myself as never before. But I have also said that I do not think about that purchase option because what is going to decide everything is day to day and it is clear that I am doing things well. They are things that do not depend on me. I respect Málaga a lot and whatever I do, I am and will always be grateful to them for life. Whatever happens.
We read that he is in love with the NBA.
A lot. Of Miami. I love basketball and the NBA. As a player I love Westbrook. Although this year does not go well, with him to death.
This Second Division is particularly complicated.
This year there are some very strong teams. A very high standard. It is the best for players who have ambition and dreams to become strong in Second. If you do it well, you have the level to play higher. I think so and it is being seen with Mirandés players who are now in the First Division. I say Mirandés because they are the ones I know. There are many who take the leap and level up. Teams like Cádiz that continue to fight, or Elche. The Spanish Second Division has the level of many first divisions abroad.
Raúl De Tomas scoring goals…
From Tomas, Sadiq, who is a great player. Stuani… There are many. It is a category with great difficulty where each game is different. That is why what we did before the bad streak has a lot of merit. We won in Girona or in the Fuenlabrada field, which had not lost there for nine months. When we have believed in ourselves and without having doubts, we have been superior and we have not been inferior to anyone. We must believe in ourselves a lot.
Who is the Málaga footballer who has surprised you the most?
When Pablo Chavarría arrived I was very surprised that last year he didn't have more opportunities because it is a headache for all defenses. He contributes a lot in the field. Then Ramón in the middle surprised me a lot. He has a brutal margin of improvement if he does things well and remains focused as he is, works hard and concentrates on the things he needs to improve, his ceiling is still very far away. Also Joaquín, Juande who apart from scoring goals, for a defense the important thing

This year is very important for Málaga.

We've all said it from the beginning. We, the Mister and Manolo. The important thing is salvation. Of 22 teams, for 18 the important thing is salvation. Then we will see what happens, but because of what Málaga has gone through, the important thing is salvation, that the problems go away and keep young players because they will be the value that Málaga has, which will grow and will return to be what it was, I have no doubt. In Second it already is. But I say it at the First level.

Your best friend on the staff?

I get along well with everyone. Benkhemassa helped me a lot since I arrived. Being Algerian, he came very close to me. I love him very much because he is a super noble, super good boy. It is seen that he has no evil. I like to be with him. I have a lot of affection for Joaquín, Orlando, Larrubia, Benítez, Ramón ... I am all day wavering with the kids and giving them a hard time, because I appreciate them very much and they are super good and humble.

Everyone is raving about Orlando.

Because Orlando is a spectacle of a person. With all the journey that he has, with his record, he could come here with children who are almost everything and not even look at each other, which is what happens many times in football. It is more humble still. Good person, funny, brings a lot to the team. Orlando is very funny. In hi-hat he is the one who hesitates everyone, including the coaching staff. Matos is very funny too.

If Málaga achieves the goal, how are they going to celebrate it?

I would be very happy, I tell you from my heart, most of us footballers are passing through, that is a reality. I am a very grateful person and for what Málaga is giving me I will be grateful for life. If the goal is met, I will be very happy for the club and the fans. Because, once the goal is met, you can look at other things so that the club continues to grow. And that is what is important for a club as big as Málaga.



Photos from as.com