Yamaha contemplates the option of a team for Rossi
"We will negotiate with the candidates that are available for the satellite team, hopefully Petronas and maybe, if he comes in, VR46," says Jarvis.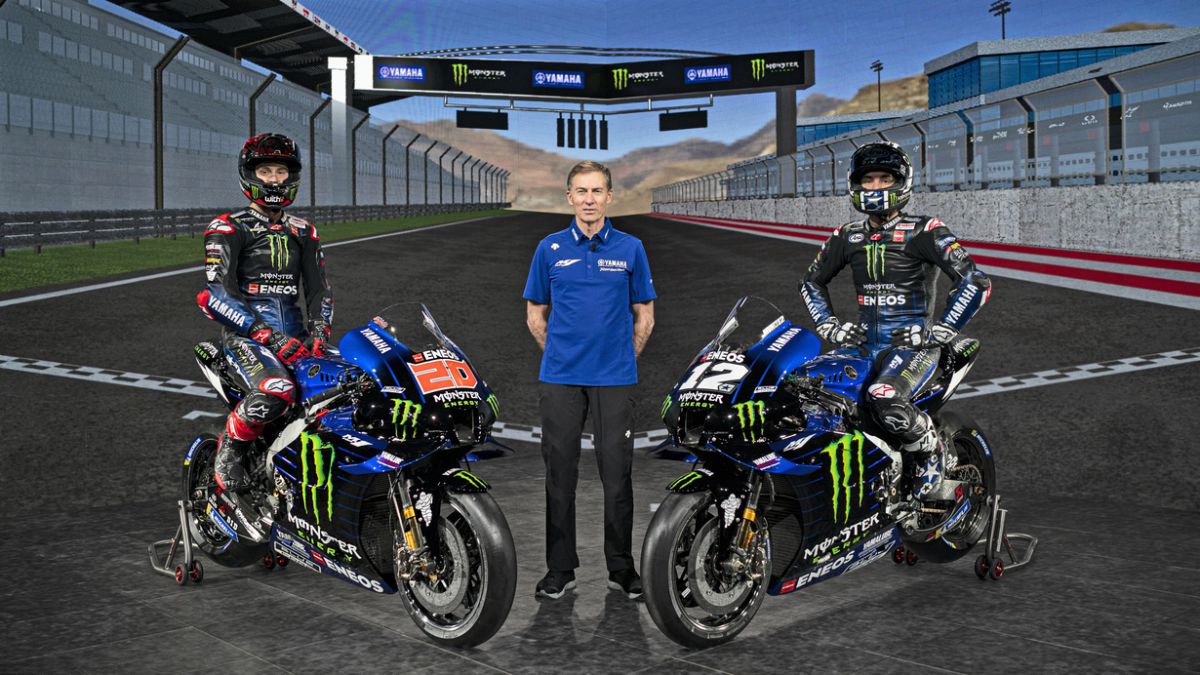 Yamaha begins to pave the way for Valentino Rossi's future MotoGP team, both as a former rider and in the role of team owner. It is a VR46 as a 'satellite' team scheduled for the day that The Doctor hangs up the monkey and at Yamaha, despite how satisfied they are with the enormous sporting impact with Petronas since they partnered in 2019, it has already been discussed in Monster Energy Yamaha's presentation of the existence of such a possibility on the table.
This was commented by Lin Jarvis, head of the Yamaha team, when it was time for the press conferences: "About 2022 and the Yamaha teams, it is true that we have a three-year contract with the Petronas team that ends at the end of this year and, as you may have seen in last week's statement from IRTA and Dorna, the independent teams have also signed for the next five years ".
And he explains further: "This will be a year of renegotiating with satellite teams in general and I think that not only will Yamaha be in the middle of these negotiations. As far as I know, Aprilia will surely change and they will probably have an official team in the championship, later we will see if Suzuki does or does not have a satellite team, we will have to see if Ducati keeps its two satellite teams, or what Honda and Yamaha will do. KTM seems to be the only one that is clear right now with its solid commitment to Tech3, so in our situation it is clear that the Yamaha Petronas has done extremely well since we started with them, they won six races last year and one of their riders was second in the championship, so their capabilities and skills as a team is out of the question ".
The option Rossi
Jarvis also refers to the possibility of continuing to count on Rossi once he leaves the active competition: "Will VR46 enter or not? This is the question; from what I understand they have an option that expires sometime this year and They are seriously considering getting in. So Yamaha will negotiate with the candidates that are available, and this I hope Petronas means and maybe, if he does, VR46, because we have a long-standing relationship with both the company and Valentino. We haven't started with this still, but this is sure to start in April or May ".
On the other hand, Jarvis is confident that the engine problems in the M1s will not be repeated this year and that last year's hardships will serve to correct errors: "Fortunately for us, the valves that we will have in this year's engines can say that They are the good ones. We are lucky to be able to start with valve engines that had no problems. And we learned a lot from having to manage this problem, in terms of engine management, performance, knowing how to maintain reliability. Some of our pilots el Last year they put incredible mileage on some engines, because they were forced to do so. So I have no doubts in that regard. In terms of performance the reality is that we know that we will have some deficit in terms of pure power, this will remain the same. But one of the advantages of this engine freeze is that they remain the same for everyone, because if everyone could increase power, surely we would do it but our competitors too. So this makes it more predictable. We won seven races last year without the same power as our rivals, so I think we can do it again. "
And also very remarkable what Jarvis has said about his new signing, a Fabio Quartararo who will form for the first time with Maverick Viñales in the official box: "I don't think Fabio was a problem of mental pressure. We started the year very strong. last, winning two races, so many expectations were generated for him. But I don't think that affected him, I think it was our responsibility, we had several technical problems, consistency problems, so we did not give him the tools to continue with his consistent line. The responsibility was ours, not his, he is still very young. I think under normal conditions he can win more than the three races he won last year, it's up to us. "
Photos from as.com