Wu Lei, diplomatic conflict
His replacement generates criticism in China and the will that he return to Shanghai before Saturday. The player admits that he considered leaving Espanyol.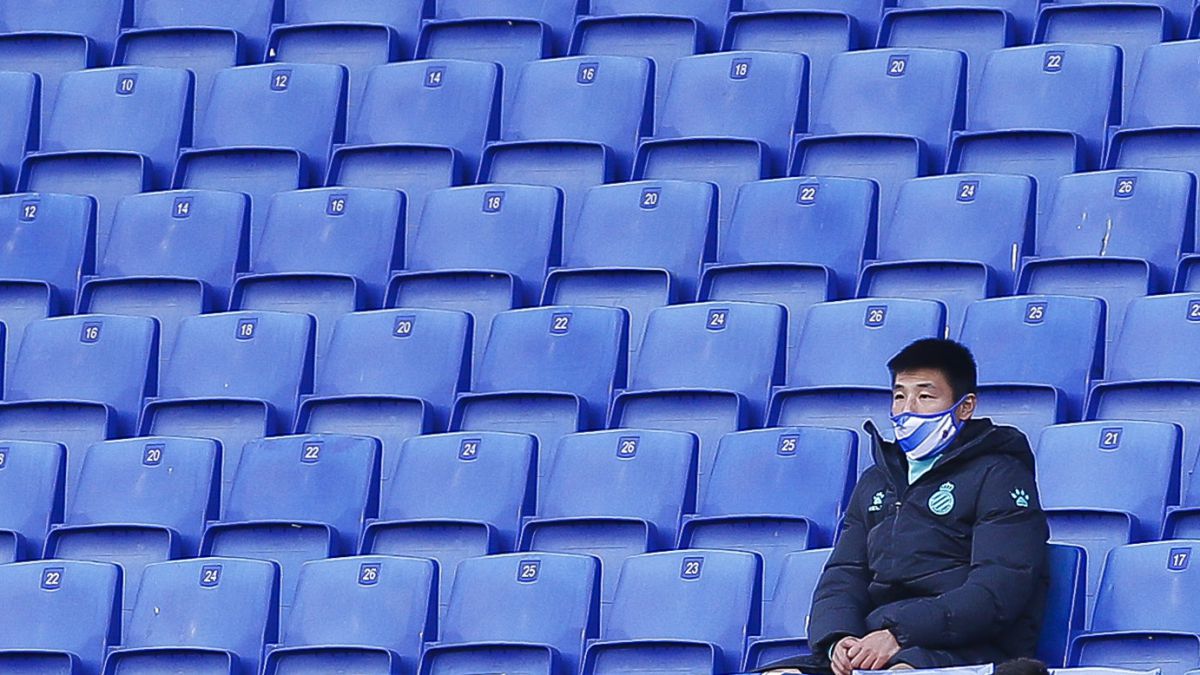 755, 756, 757… It does not matter if it is a holiday, if they have had a lot of activity or if there is no news about their idol. There are Chinese fans who never miss their appointment with social networks to update how many days Wu Lei has been at Espanyol. A fixation that obeys the most international journey of one of the best footballers in the history of his country and that, consequently, when luck turns its back on his idol, it can seem like the account of a sentence. Not so much for Wu Lei, as for his followers, compatriots of the player but also of the president and owner of the parakeet club, Chen Yansheng.
The criticism that Espanyol receives and, especially, the figure of Vicente Moreno in Chinese social networks are proportional to the time that Wu Lei has not appeared in the alignments. In LaLiga Smartbank, he is on his way to three long months –eternal for his fans–, from December 2 against Cartagena. What has filled the patience of many are the three days that he now chains without playing for a single minute.The emergence of Nico Melamed and the great moment of Javi Puado, first, together with the signing of Nany Dimata, later, do not project a near future that is too rosy for the Asian attacker - who against Sporting, his next rival, scored precisely his last goal and gave his last assist - in terms of opportunities. To make matters worse, three decisive matches for the future of the Chinese team are beginning to be seen on the horizon, so the malaise is translating into a current that even calls for his departure from Espanyol. And urgently. This has been suggested in recent days by some local media in Shanghai, where the Wu Lei team, the SIPG, is located, implying that it would be convenient for all parties to make an immediate movement to recover it as a loan to many take place on Friday, when the transfer market for a Super League that starts on March 11 closes. In this way, these sources insist, it would ensure that the striker arrived with sufficient pace to qualify for the Qatar-2022 World Cup, specifically three matches that China must win (and wait) if it wants to have options, and if pandemic does not prevent it again they will be played from May 31 to June 15.The possibility, although remote, coincides with the publication of an interview with the Chinese agency Xinhua in which Wu Lei acknowledges that last year, in full confinement (it should be remembered that COVID-19 passed), he considered the possibility of leaving Espanyol to return to your country. "To be honest, I had this idea: I should go back to China. But at that time, with the company of my family and so many fans who care about me, our family finally got over it," he says. However, in that same interview - in which he is "confident" in the promotion and highlights the loss of playing without an audience - the player is convinced that he was right: "At my age, adapt to European football and be able to staying here makes me feel like I shouldn't regret my decision. There are also family reasons. My family is happy here too. Therefore, I have always been very firm in my decision. "
With a contract until 2024 after its renewal last summer - curiously, after having suspected leaving -, Wu Lei has two ways: reconsider his decision and return, still 29 years old, to the Chinese Super League, something that will hardly happen in these days, or persevere to find his place in a Espanyol that this year disputes more days than ever - the 42 of the Second Division - although it is true that it has a very defined eleven. If you opt for this last possibility, as everything indicates, you will have to stay out of increasingly sharp criticisms. He, and also Chen.
Photos from as.com