What became of Walter Berry? The great madness of Atleti de Gil
The New York player played only one season in the ACB. He made his debut with 52 points for Madrid and closed with 33.4 goals on average.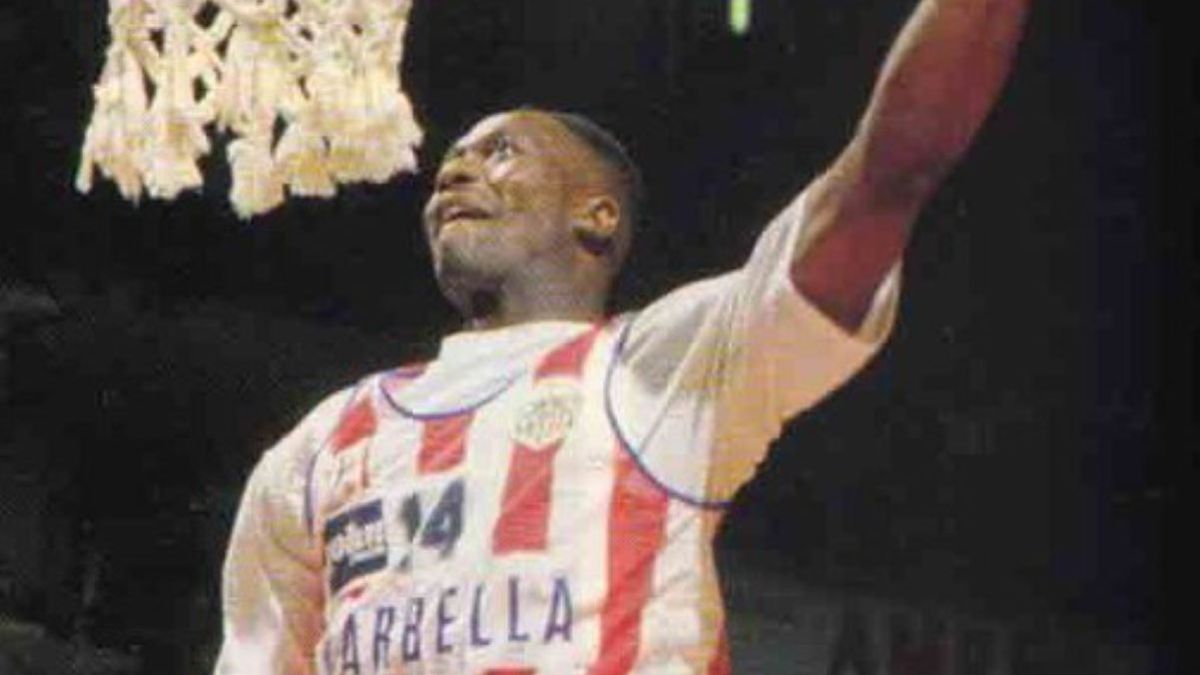 There are players who with just one season are enough to be part of the collective memory. One such case is Walter Berry (1964, New York), whose fleeting passage through Spain is still remembered among Spanish basketball fans. Not only because of his superlative ability to score (many) points, but also because his only experience in the ACB was at Atlético Villalba, a project that painted pharaonic in the hands of Jesús Gil and Gil and lasted only a year, sunk like a house of cards.
The late Atlético de Madrid president had a goal in the late eighties and early nineties: to rival the giants of the ACB as he tried to do with those of football. His first attempt was with the federative rights of CB Oviedo de Segunda (today LEB Oro), in 1989, two years after winning the rojiblanca presidency, and in the Arganzuela pavilion, near the Vicente Calderón. Not only did the new team fail to rise to the elite, they were downgraded. Water. For the second, in 1990, Gil did not go too far or to lower divisions, he went directly to First: he merged Atleti with the Collado Villalba Basketball Club, a town 40 minutes from Madrid, which had concluded the ACB League 11th.
Atletico Villalba emerged there. And that's where Berry landed after his 205 NBA games with an average of 14.1 points between Portland Trail Blazers, San Antonio Spurs, New Jersey Nets (current Brooklyn Nets) and Houston Rockets. The Oregon franchise selected him 14th in the first round in 1986, the year Fernando Martín landed on the team. Only seven games played before the power forward was traded to Texas by center Kevin Duckworth.
His 1986 draft pick was not as high as expected after dominating St. John's, New York's quintessential college, his home. In his academic years, he accumulated as many awards as points (20.1 on average): Adolph Rupp and John R. Wooden awards, and the Oscar Robertson Trophy. In addition to being part of the first All American team in 1986 and being named best player in the Big East Conference. A string of unrewarded mentions on a rookie night forever remembered for the sudden death of its number two, Len Bias, from a cocaine overdose 36 hours after being picked by the Boston Celtics. Arvydas Sabonis (24), Dennis Rodman (27) and Drazen Petrovic (60) were other names spoken by Commissioner David Stern that day.
His journey through the North American League ended under the label of conflict and, like many others, he tried his luck in Europe, where basketball was still galaxies behind the American. He became a true backpacker. In 13 years he was in five countries: four in Italy, six in Greece and one in Spain, Slovenia and Venezuela. In South America he closed his career in the Miranda Panthers at the beginning of the 21st century.
The Italian Lega was his first stop on the Old Continent, with Paini Napoli (later the Cantú and Aurora Basket would arrive); the next, just a year later, the capital of Spain to form together with Shelton Jones, another former star of St. John's, a wonderful couple ... and expensive: according to rumors of the time Berry had signed for 180 million of the old pesetas, while his partner, for 120. They were the first years of Gil's megalomania. Ruiz Paz, Rementería, García Coll and Carlos Gil were part of a staff led by Clifford Luyk… until in January he was replaced by Tim Shea.
His exhibition against Madrid
His debut was made to wait three games due to injury ... but it was worth it. Madrid derby, against Real Madrid, and with Carl Herrera and Pep Cargol supporting a historic display: in the first half he added an almost immaculate 10 of 11 in field goals and closed with a 24 of 38 plus a 4 of 6 from the personal for 52 points. He added 15 rebounds (10 offensive) for a PIR of 56. Despite this defeat: 99-107.
He was an assassin with a more than reliable throw from 4-5 meters, with no difficulty rising above his peers to throw and with astonishing ease with finishing after reverse. Added to that was a devilish physical power that intimidated on defense and allowed him to run in the open like a lion hunting his prey.
A sum and continuum of skills that turned this southpaw into a unicorn and that did quite justice to the words of Ronnie Arrow, his college coach: "In terms of talent, I don't see any difference in Walter from Hakeem Olajuwon or Michael Jordan. The only difference is in its intensity ". Because all his ills, the handicap that kept him from absolute greatness was his allergy to exertion: "If they make me run two more miles in the sun again, I'm going home," they recall that he said once. It was said that while teammates ran, he only shot at a basket.
This did not prevent him from finishing his only Spanish season with 33.4 points and 11.7 rebounds for a 36.9 average PIR. Neither other big men like Sabonis (34.2), Middleton (30.8) and Marc Gasol (27.8) surpassed his performance in credits and only Drazen Petrovic scored more than him with 1,033 for the Harlem player's 1,003. . His numbers that season are scary: in 26 games he scored 30 or more goals. His maximums were 18 sacks, 6 blocks and a PIR of 59, a figure he made twice. Only twice under the 20 rating. Had 11 duels with 40 or more and 4 of more than 50.The Swiss Air flight
Exhibitions match yes and match also that gave Atleti a balance of 17-17, the ticket to Korac and a playoffs for the title whose barrier was the quarterfinals against Joventut de Lolo Sainz (2-0), at the Dessert League champions, after beating Valvi Girona (2-0) in the second round. The tie against Penya, moreover, was his farewell to Spain as well as the Villalba project. In summer, a vote of no confidence against Gil put an end to the president's dreams. In 1992, without a sponsor and with a delicate financial situation, Villalba sold its ACB seat. Disappears from the elite of Spanish basketball.
His career continues on the courts of Europe, where he wins two Greek Leagues (PAOK and Olympiacos) and a Hellenic Cup (PAOK) with MVP included. In Thessaloniki he rises with the Korac and has a near-death experience in 1998. The Swiss Air flight that he had to take to travel from the United States to Greece via Geneva (Switzerland) suffers an accident due to a fire that takes the lives of 229 persons. He should have been 230, but he misses the flight and saves a life that after hanging up his boots focuses on construction with companies in New Jersey and Georgia.
Photos from as.com