"When we went down, in the dressing room there was no unit from this year"
Mumbrú is convinced that permanence is possible this season for Bilbao Basket. "The normal thing last year was to be down. We had to have lived it and we didn't."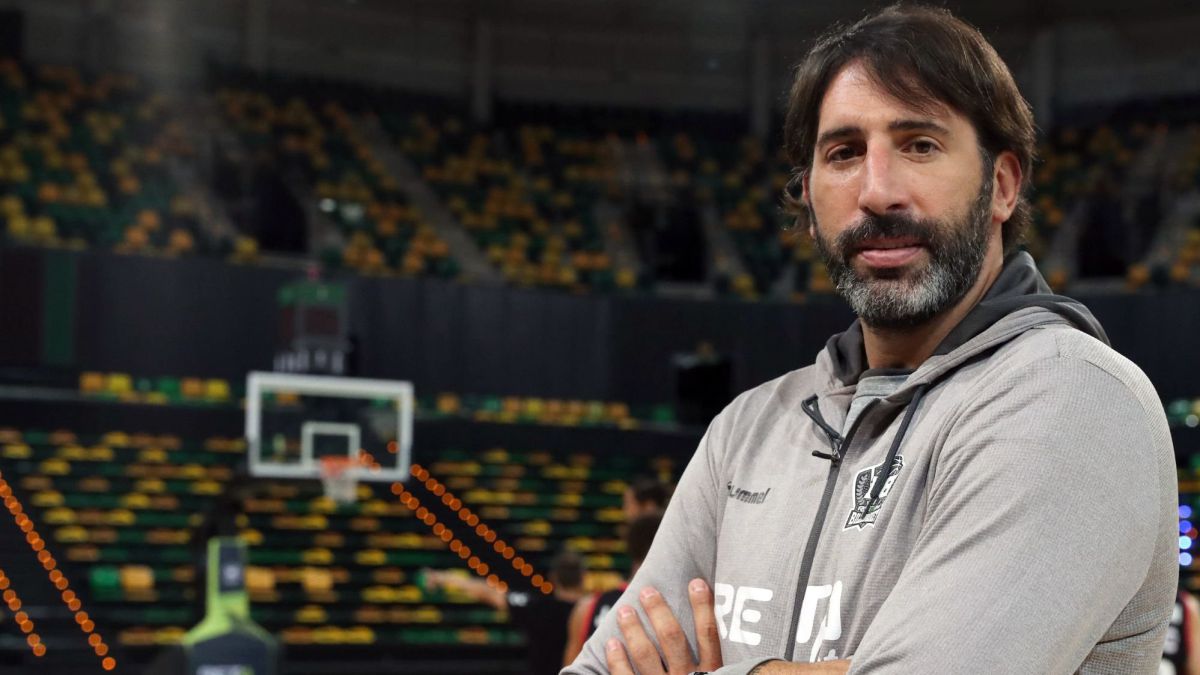 Álex Mumbrú celebrates this competitive break in the League, first for the Cup and then for the FIBA Window. At last he has been able to gather a large part of his squad and put the relevant tactical load. The only thing missing is Miniotas, who is with Lithuania, and Rousselle, who has physical discomfort. "It touches to squeeze the ass and pedal, without looking beyond the next game", focuses on the three commitments that come in the resumption of the regular phase, against Gipuzkoa, Betis and Estudiantes. showed his optimism on Radio Bilbao.
How is this stop progressing?
Well, with a lot of workouts, charging the batteries and adjusting everything. Emotionally we are well, the important thing we can hold on to is work, it is that it gives you confidence.
Does the situation allow you to sleep normally?
It does not take away my sleep. I focus on the day to day. We know what sport is like, it changes in two days. If Barça does not win as it did against Unicaja in the Cup, the champion would have been Madrid, or Unicaja himself. It could be a matter of that lack that everyone protested. I dedicate myself to training and think about the day to day more than the future.
Everyone is aware that they have to suffer.
You have to know why you find yourself in this situation, where we come from and where we are going. Last year was extraordinary, we lost the north and the situation due to circumstances this season is like that. Now we have almost the entire team and it is growing in confidence.
Now with everything you see it easier, therefore?
You have to relativize things and know why you find yourself in this situation. Miniotas has played two games with Balvin and Huskic, the same with Hakanson. We have been 30. This is like a family, you need people to be together and everything to be polished.
The previous two seasons were dreamy. Is what is happening this year hardening you more as a technician?
To be on a bench you learn from day one. At LEB, a squad was made to be at the top and it was required of us since the beginning of the year. We lost three games in a row and it already looked like a disaster. Last year we were the 'Cinderella', it was a success although there was a lot of work behind it.
Being last and having spent the bullet of the player changes, do you fear for the position if they do not start?
I don't think about it. What has not happened to us these two years has now cascaded down. You know how stubborn I am, everything must be dealt with with work, until it goes well.The point is that many do not know what it is like to fight in the depths of the table.
The normal thing last year was to be down. We should have lived it and we didn't. We must remember who we are.
Their teams have always defended well, not so much ago.
The loss of Balvin has hurt us. It is our basic piece in the defensive structure. Now Serron returns and is an important piece behind, a bulldog.
Do you see any differences between this year and the one you had to lose as a player?
That year the budget was higher. We didn't think we were going to be that low. First we walked up and fell suddenly. That made us a little nervous. Now we know where our site is and we have to trust our daily work. When we went downstairs, the locker room did not have the unity I notice this year.
Cheerfully the team collapses when a wide partial arrives.
But if there were an audience, it cheers you up and in those two minutes of downturn the same for one and a half gets you up.
Who's going to be the leader to get the team out of there?
The team, he has to be. You cannot focus the task on someone specific, the strength comes from being a team and being all united, supporting each other, because we do not have ten thousand behind.
They have relied heavily on Rousselle.
You've had extra pressure these three months. He has not been able to rest. Since the Barcelona game, he has not trained yet because he has discomfort. It carries a significant burden, apart from stress.
Do you look at the calendar? How many victories will it take to stay? 444 444
We have a trial every weekend. We do not think about what others are doing or take accounts. There are five or six teams that are involved down there. The others also work and prepare. you have to do things well to get to this moment in the best conditions. Everyone will be better after this Window.
The quarry has appeared for the first team.
When we decided to play the Champions League, Rafa (Pueyo) and I decided that of the five training, one would be from the quarry. They come from junior and jump three or four categories. Hopefully the kids who come from below do not have to emigrate and see that they can reach the ACB in Bilbao Basket.
Have the transfers not destabilized the budget?
The club hasn't done anything crazy. Moses and Jones arrived, but they did not adapt to the club or the team or the League. By mutual agreement they left. And then for the two injured we brought in Aminu and Jenkins, and this one has stayed. Others keep bringing players, we don't. Surely it will be noticed in the budget, but everything is very calculated and well added, nothing that cannot be moved will not move. The counselors are very clear that there is a sports and an institutional part.
Photos from as.com