Vinicius does not respond to the winks of Florentino Pérez
The Brazilian revealed that the president of Madrid usually encourages him by saying that he is his biggest fan. So far, it has not returned so much faith in its possibilities.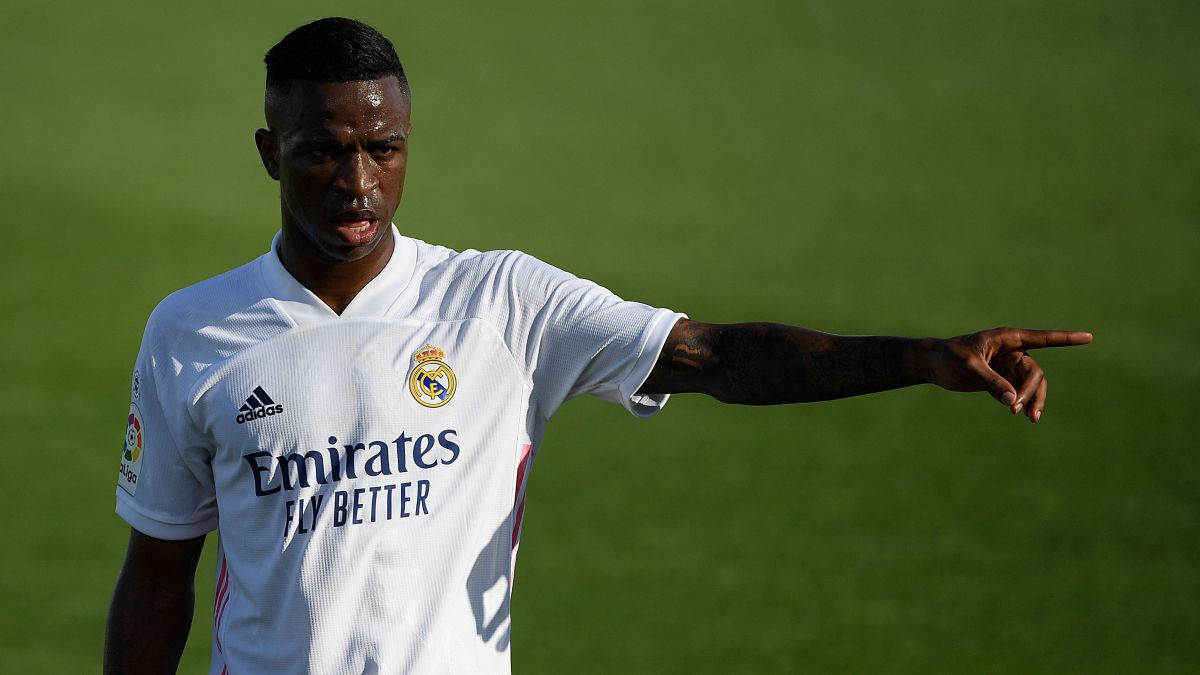 "I want to stay at Real Madrid forever. Florentino Pérez always gives me the greatest strength in the world and tells me that he is my biggest fan after my family. I'm happy and content with that and I want to continue helping Real Madrid and put Madrid in the place where it should always be… ". This was the affirmation of Vinicius in an interview granted to TNT Sport Brasil before the dispute of the first leg of the last 16 in the Champions League against Atalanta. With his statement, the Brazilian, signed for 45 million euros, revealed the unshakable faith that the president of Madrid has in him. A faith that Florentino transmits, too, in his closest circles ... and that for the moment has remained without an answer. It has been three empowerments since he arrived and Vinicius has not been able to return so much confidence.
In the Bégamo game, Vinicius' offensive deficiencies in the face of goal were once again revealed. Above all, in two actions. One in the first part. A pass from Kroos left him only in the front of the area. It took too long to shoot and gave an opponent time to arrive. On the other occasion, in 52 ', something similar happened to him. Only, in the area, he thought too much and was late. But beyond that, in this umpteenth opportunity to settle in the eleven that have been awarded to him by the injuries of his teammates, Vinicius still seems a long way from taking off ... 444 444
His signing inaugurated a series of hires made in Brazil and devised by Juni Calafat that sought to find the new Neymar at a reasonable price. Madrid formalized his hiring (when he was still 17 years old) in May 2017. He paid 45 million (although Minguella later revealed that, with commissions, the operation went up to 61). After him came Rodrygo, from Santos, for 40 million and Reinier, also from Flamengo, for 30. None of them has met expectations, although it is Vinicius who, undoubtedly, has enjoyed more opportunities: there are already 99 games with Madrid's first team, where their presence is no longer a novelty.
Benzema's confidence in Mendy in the dressing room tunnel of the Champions League game against Moenchengladbach was, without a doubt, a turning point in Vinicius' career at Madrid. "He does what he wants. Don't play with him, brother. Play against us, "he said about the Brazilian openly. And the truth is that Vinicius has been losing joy in his game over time. Or confidence. According to a study published by UOL, his average dribbling attempt since he arrived until today it has plummeted 66% .
Within Real Madrid they try to take care of the product. The perennial smile of the player masks a reality: that he does not go through his best moments. Beyond the problem with Benzema that he has accused so much, as UOL also reveals, Vinicius is having a hard time due to his habit of visiting social networks, seeing himself regularly as a center of criticism, jokes and memes in them after his performances, who have not been the luckiest lately.
A delicate situation that of Vinicius that the white entity is very interested in reversing. When he signed the Brazilian, Transfermarkt gave the Brazilian a market value of 35 million. Shortly afterwards it doubled to 70. But in the last update of this German reference portal, its price has fallen again to 40. Without a doubt, Vinicius is far from the expectations that the president of Madrid could have had with he.
Photos from as.com