Vettel wants to forget Ferrari
About to start his first season with Aston Martin, the German puts on sale the cars he had in his possession of the Italian brand ... among others.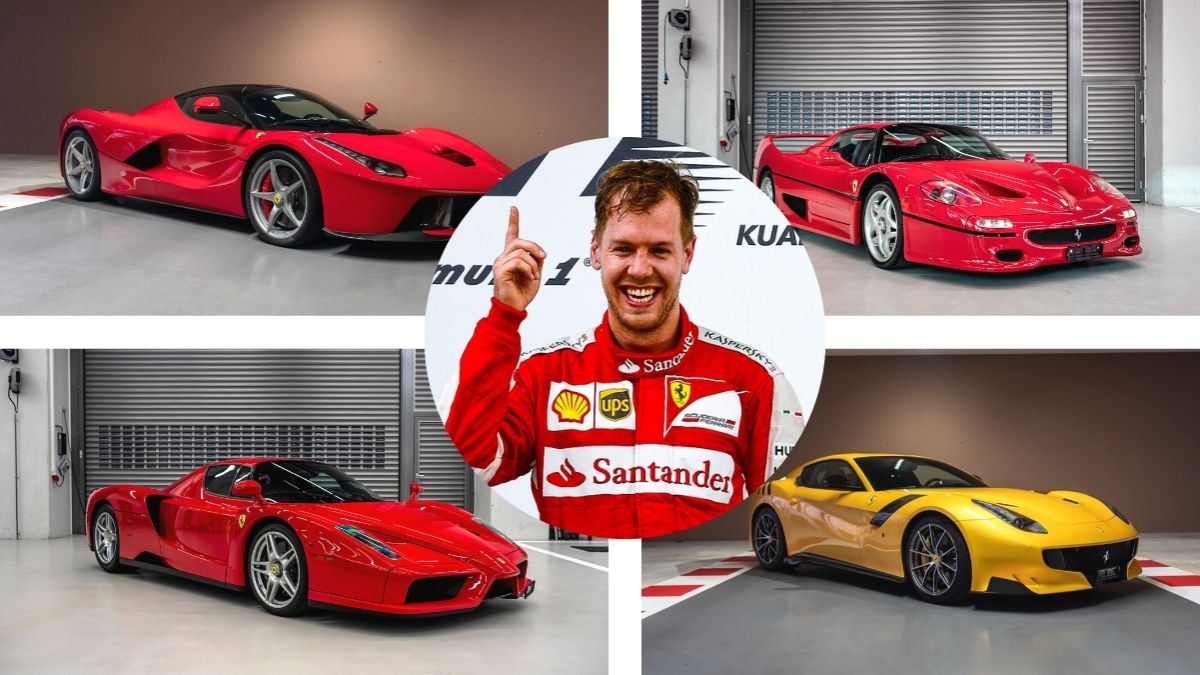 New year, new garage. This is how Sebastian Vettel has decided to start his adventure in what will be his first season with Aston Martin in the Formula 1 World Championship. The German, with a discreet profile but a recognized sports car collector, has put on sale some jewels from his collection that, above all, they feature the Prancing Horse.
After seven seasons with the Scuderia, after his goodbye Seb wants to turn the page and for this he has put up for sale five Ferrari collectors that he had in his possession ... among others. The British company Tom Hartley Jnr, a dealer specializing in high-end cars, has announced that it included in its catalog an important part of the collection of supercars that the German owned.
"We are delighted to share with you some of our latest acquisitions, all direct from the collection of four-time F1 world champion Sebastian Vettel. All these cars are located, registered and registered in Switzerland ", the company assures us on its Instagram profile, where it shows the parts that the new Aston Martin driver had disposed of and which also included two Mercedes and a BMW ... to receive new acquisitions? 444 444Ferrari LaFerrari 2016
This model is part of a limited edition of 499 units and is the latest Special Series from the Italian firm. "A specimen produced at the last minute and with only 490km. From a single owner and a huge list of optional extras", reads the description.
Ferrari Enzo 2004
This hypecar from the Maranello brand is one of the best preserved on the market. "At just 1,790 km, it also benefits from a fantastic service history and Ferrari 'Red Book' Classiche certification," meaning its engine, chassis, gearbox and bodywork are original.
Ferrari F50 1996
"A very original specimen with little mileage, with only 6,940 km under its belt", they highlight.
Ferrari F12tdf 2016
"A car that has many special features and only 1,200 km" in the tachometer of the most current model that the brand sells.Ferrari 458 Speciale 2015
The sportiest version of the 458 Italia, "from a single owner and with just over 3,000 km".
Mercedes-Benz SL65 AMG 'Black Series' 2009
A German model that Seb acquired the year before his first title at the Grand Circus. The filming is still minimal since it only accumulates 2,800 kilometers.
Mercedes-Benz SLS AMG Gullwing 2010
Another model with extensive equipment and 571 hp. "A really impressive and equipped version of a single owner and 6,928 km" .
BMW Z8 Roaster 2002
Although it is the model with the most kilometers in the Vettel collection, it adds more than all previous models combined, the dealership boasts the status of this German jewel: "Only 21,700 km and presented in fantastic condition".

Photos from as.com