Varane, in the shop window
Real Madrid will listen to offers, given the little interest it has shown in the renovation and aware that it is one of the few for which a good amount can be obtained.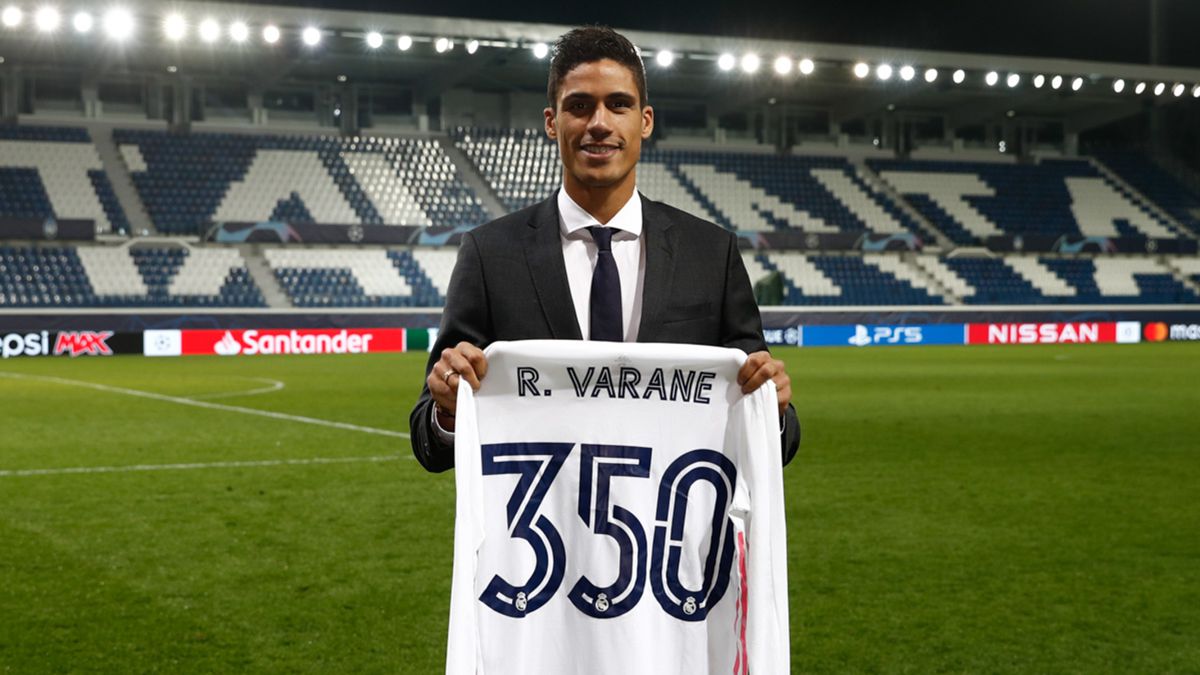 Raphael Varane closed a perfect duel in Bergamo in the defensive field of Real Madrid and, personally, of the French central: 84 passes, 78 of them good, 93%; six duels out of ten won; four clearances, seven losses, 12 recoveries (the most from Madrid) and not a single foul. Remarkable numbers to celebrate their 350th encounter at Real Madrid. In his tenth season in white (he arrived in the summer of 2011) and 18 titles later (including four Champions League, three Leagues, a King's Cup, four Club World Cups ...), Varane is in his prime. He's not even injured anymore, which was a recurring problem in the past. And yet his future at Real Madrid is more uncertain than ever.
Varane ends his contract in June 2022 and talks to extend his relationship with Real Madrid do not settle. The center-back already went through a stage of doubts during the first months of 2019 and considered a change of scene, but the return of Zidane turned that situation around, for now. Then, Madrid sent a resounding message to the market: "Varane is worth 500 million", which is stated in its termination clause. Now, the white position is very different.
At the white club they are aware that the defender will enter in June in his last year of contract; therefore, the summer of 2021 will be the last opportunity to get a good figure for him as a transfer, provided that he has not opened to negotiate the renewal of his contract. If in June the circumstances remain as they have been until now, Madrid will listen to offers, knowing that Varane is one of the few names in the Madrid dressing room for whom he can negotiate a powerful transfer.Varane is worth 70 million
At 27 years old, which will be 28 in April, Varane still has rope for a while and has left behind stages in which his physique seemed not to support the dynamics of two games a week; In the current situation of lack of top-level centrals at affordable prices (Sevilla, for example, asks for Koundé the 90 million of the clause), a player like the former Lens for a reasonable amount (Transfermarkt values it at 70 million euros) would have insurance suitors in the market.
It was not the idea of Madrid, who hoped that Varane would inherit the position of Ramos as head of the white defense, accompanied by another great figure when the captain leaves (if it were this summer, the idea is that Alaba arrives). But if there is no agreement to extend the contract this summer, the club understands that Varane's stage in Madrid could be considered absolutely profitable for all parties: he arrived in 2011 with only 18 years from Lens, in exchange for 10 million euros and by personal advice of Zidane. His prominence grew year after year for Mourinho, Ancelotti, Benítez, Zidane, Lopetegui, Solari and again Zizou, to the point that this season he is the second player with the most minutes played, only surpassed by Courtois; the previous campaign touched 4,000 minutes, as in 2018-19.
Photos from as.com