Van Rossom: "Prepelled? Maybe a pill to calm down ..."
Ponsarnau confirmed that the safe casualties for the quarterfinal match are San Emeterio and Joan Sastre. "We hope to have the rest of the team."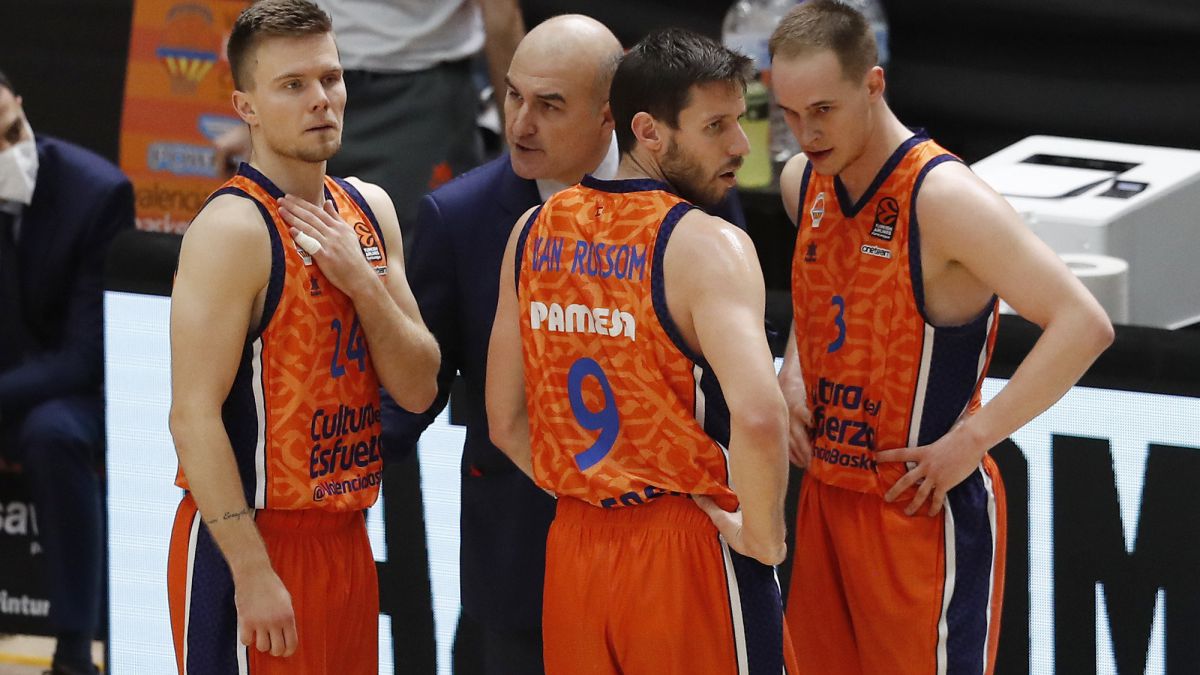 The Valencia Basket coach, Jaume Ponsarnau, has referred to Real Madrid as "a great team" whom they respect "a lot", but added that the 'taronja' team has "shown" this season that it is capable of "winning anyone ", so they face the Copa del Rey with" great enthusiasm ".
"This season we have shown that we can beat anyone. To beat a team like Madrid, things have to turn out very well for you. It is very important to understand the game 40 minutes away and live each moment as it should be because there are moments when you cannot control its quality one hundred percent despite doing a good job. We must take advantage of our best moments. It is clear that we are facing a rival with a lot of talent, many possibilities and many strengths, and we will have to face all ", Ponsarnau analyzed before the press.
Surprisingly, the coach assured that his team is not at its "best moment despite the good results". "We have the feeling that we are better than a couple of weeks ago. There are people who have come out of injuries and have taken shape and we have a competitive 'feeling'. Some players have had to take on a lot of responsibility and they were not quite right. But we are growing and we can be even better, "he warned.
A day after making their debut in the Cup, the Valencian club arrives with "great enthusiasm" for the tournament at the WiZink Center. "And I have also been able to perceive that there is a lot of enthusiasm in the team. We do not have pressure, but we do want to do very well and demonstrate our competitive capacity at our best. We are willing and we are very excited," he said.
Asked about the way to stop Edy Tavares, Real Madrid's most decisive player this season, the Catalan explained that they must "take advantage of the versatility" of their pivots. "They can play inside and outside, but we can't make the mistake of only playing outside. By playing inside you create space for your outsiders. The key is to find the right balance. The key against Madrid may be to try to get Tavares out, yes, but without abusing ", he clarified before measuring himself to" a great team ".
Regarding the physical condition of his squad, Ponsarnau confirmed that the only safe casualties are Fernando San Emeterio and Joan Sastre. "We hope to have the rest of the team. Kalinic's feelings during the week have been progressively positive and we believe that we will have one hundred percent of his strength, which will help us a lot," he said about the Serbian forward.Van Rossom: "We are going to give it our all"
Sam Van Rossom, for his part, admitted that Facundo Campazzo has had a great influence on the game of Real Madrid in recent seasons but assured that after his departure to the NBA, his rival Thursday in the quarterfinals of the Copa del Rey "play something different without him but still maintain the level" .
"I think that for them he has been a very important player in recent years but they have been without him for a long time and they have had time to adapt to playing differently," he explained at a press conference. "With the bases he has, he maintains a lot of quality in the position of 'one' with (Nico) Laprovittola, (Carlos) Alocen and (Sergio) Llull. In the ACB you can see the results," he said. In fact, Van Rossom insisted that despite arriving with an open streak of twelve wins in the League, Valencia is not the favorite for this match.
"The streak, the results, are good but not only that makes you a favorite. Madrid in the ACB have lost only one game this season so their streak is better than ours. We know what there is, they always make teams to win it Everything. It is clear to me that they are the favorites although we are going with ambition, "he said.
Asked if both he and captain Bojan Dubljevic are prepared to calm Slovenian guard Klemen Prepelic if his strong character plays a trick on him, he said that they are but that it must be everyone's help and that this momentum also brings them good things.
"I'm ready but still a pill to calm down is better," he joked. "Each one has his character and Klemen goes all out on the court. He is a very expressive player, who has a lot of emotion in his game and we have to try to help him. When we see that he goes a bit we have to put him in the right direction for the team and for him, that is the work of the whole team, not just Dubi's or me, "he added.
Van Rossom also admitted that the Cup is special because of the atmosphere created by the public in the pavilion and that this time it cannot happen. "We are going to miss them but we are going to give everything to bring joy to our people," said the point guard, who asked them to shout "from Valencia" .
Photos from as.com