Valencia also punishes a Unicaja who does not give for more
Prepelic and Tobey bombed Unicaja, whose slight improvement with Katsikaris is not being enough. Eleventh victory in a row for Valencia in the Endesa League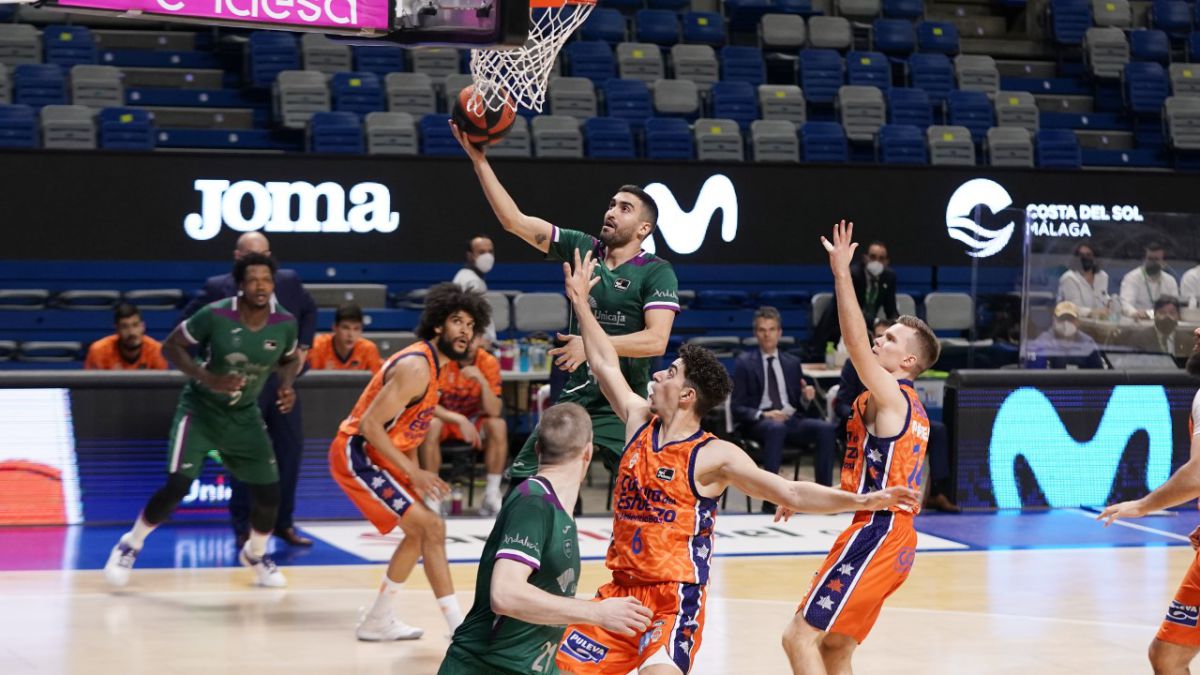 Valencia's eleventh consecutive victory in the Endesa League against this Unicaja whose slight improvement since Fotis Katsikaris arrived is not helping him find the way to victory. There are already 12 defeats out of 13 possible games and seven in a row at Carpena. Worse, a disturbing departure from the top eight qualifying playoffs for the title. Ponsarnau's team was able to resolve the duel in the final stretch when they lost 77-76 thanks to the success of their shooters and the loss of intensity of their rival at the most inopportune moment. Great game for Prepelic (25 points and a PIR of 26) and Tobey (23 points, eight rebounds and a PIR of 34). Frankie Ferrari, again, did not play a single minute. Jaime Fernández, who goes to more, 19 points.
Katsikaris, in his third game as Unicaja coach, has already found the diagnosis, but needs surgery. Some details are visible. Better defensive work, more minutes for Nzozsa fighting under hoops, Gerun, the Ukrainian pivot who is looking for a way out, out of the call, reset with Francis Alonso and longing for a tower of marvelous physique. Valencia arrived somewhat tired after two defeats in the Euroleague, with their long journeys of rigor. It was not noticed. The fact is that the first half was very even. The good defensive work of the malagueños was not complemented by the success of the shooters while Tobey, infallible with field shots (5/5 in shots of two, a triple and a free throw) and Prepelic with his 10 points, were the taronja arsenal. The first half, very even, left a 34-34.
After the resumption Prepelic began to unleash. 44-47 (min. 25). He already had 19 points. Valencia got 54-61 smoothed out with a 4-0 run that led to 58-61 in the 30th minute. Unicaja more or less kept the type until the 36th minute when a Waczynski triple put the scoreboard with an emotional 77 -76. But the omelette took a radical turn. Kalinic's triple, another that Carlos Suárez did not put in, and three points from the voracious Tobey turned the fate for the Valencians. 77-83 already unrecoverable for those of Katsikaris who do not finish waking up. Too much Valencia for this limited Unicaja that does not raise its head.
Photos from as.com