United's 2004 shopping list: one was a City legend and one was Barcelona
A leak reveals the objectives that Ferguson had for his 'Red Devils': Gabriel Heinze, Philippe Mexès, Vincent Kompany and Gerard Piqué.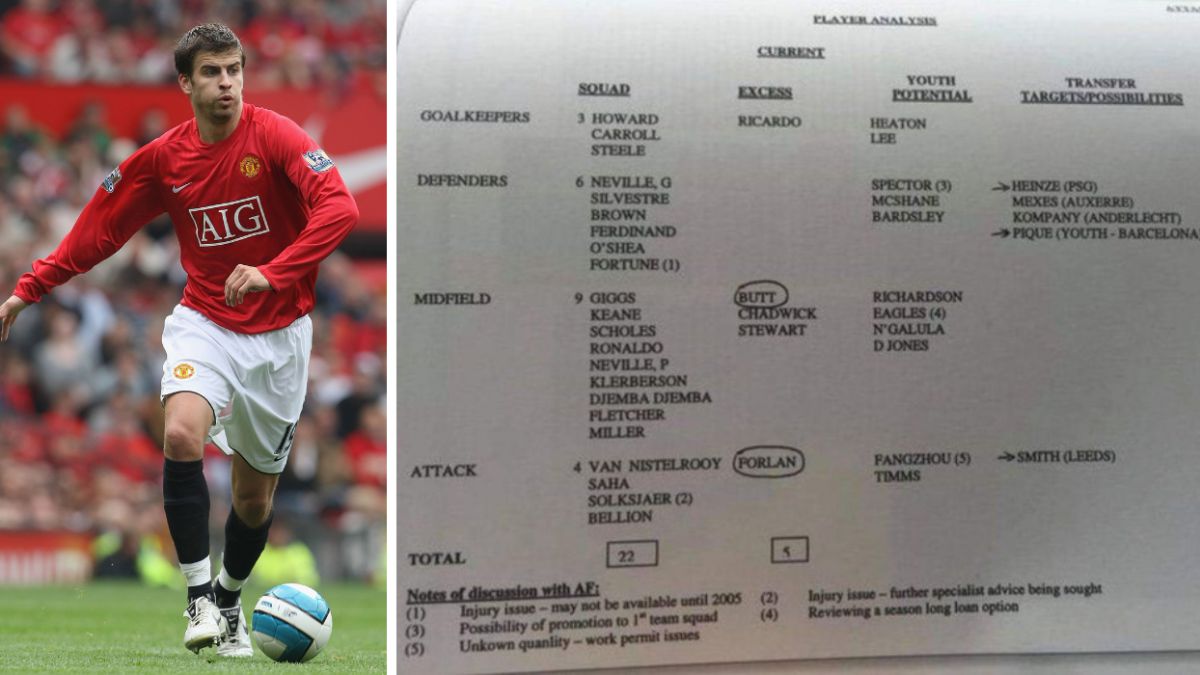 What do Gerard Piqué and Vincent Kompany have in common? And Gaby Heinze and Philippe Mexès? And all of them, reputed center-backs, with Alan Smith, the iconic early-century English forward? Manchester United. Piqué (in the Barça quarry at that time), Heinze (PSG) and Smith (Leeds) ended up dressed in red, but not a Mexès (Auxerre) who triumphed in Serie A, between Rome and Milan, or a Kompany ( Anderlecht) who became the watchword of the great rival for the preponderance of Manchester, City. However, the latter could also have ended up at Old Trafford like his other three 'companions', since they were all on Sir Alex Ferguson's list of goals for United in 2004.
The person in charge of the leak was the Twitter portal 'utdreport', which accommodates everything related to the Red Devils and has more than 365,000 followers. The list, which came out in 2019, many years after Ferguson's farewell to the benches, shows an analysis of players spread over four columns. The first two correspond to the squad that at that time, in the 2004-05 season, the Scotsman had under his command.
In the first one appears the word 'squad' (template), while in the second one it reads 'excess' (excess). In this way, we find that Ricardo, Nicky Butt, Luke Chadwick, Michael Stewart and Diego Forlán had their days numbered at Old Trafford. Three of these names are worth highlighting, the first two and the last. Ricardo made a career in Spain in clubs such as Valladolid and Osasuna, but he spent a season in Manchester acting as a substitute goalkeeper. Nicky Butt, on the other hand, is a legend of the club who gave his last blows in the elite. While Forlán would explode after his departure from the Premier and would become a double Golden Boot (Villarreal and Atleti) and the best player in the 2010 World Cup with Uruguay.
Three peripheral signings
The other two sections are divided into 'youth potential' and 'transfer targets' (transfer targets). Kieran Richardson, Mads Timm, Phil Bardsley or Chris Eagles are the youth players at the time who, in Ferguson's eyes, had great potential. The last one is the one that corresponds to the five names previously slipped. That season, United would end up losing the Premier crown to Arsenal and it is clear that Sir Alex blamed the woes on the defense, as four of the five candidates are (were) centrals. Three of them ended up arriving (Heinze, Piqué and Smith), although none would make history at Old Trafford. That's the story of a goal list that includes a Manchester City legend and a Barça legend, but, curiously, none from United.
Photos from as.com