"The triumph of Kobe Bryant was to survive his self-destruction"
Roland Lazenby, the writer of the Jordan and Kobe biographies, talks to AS: "Kobe wanted to ask Jordan about math."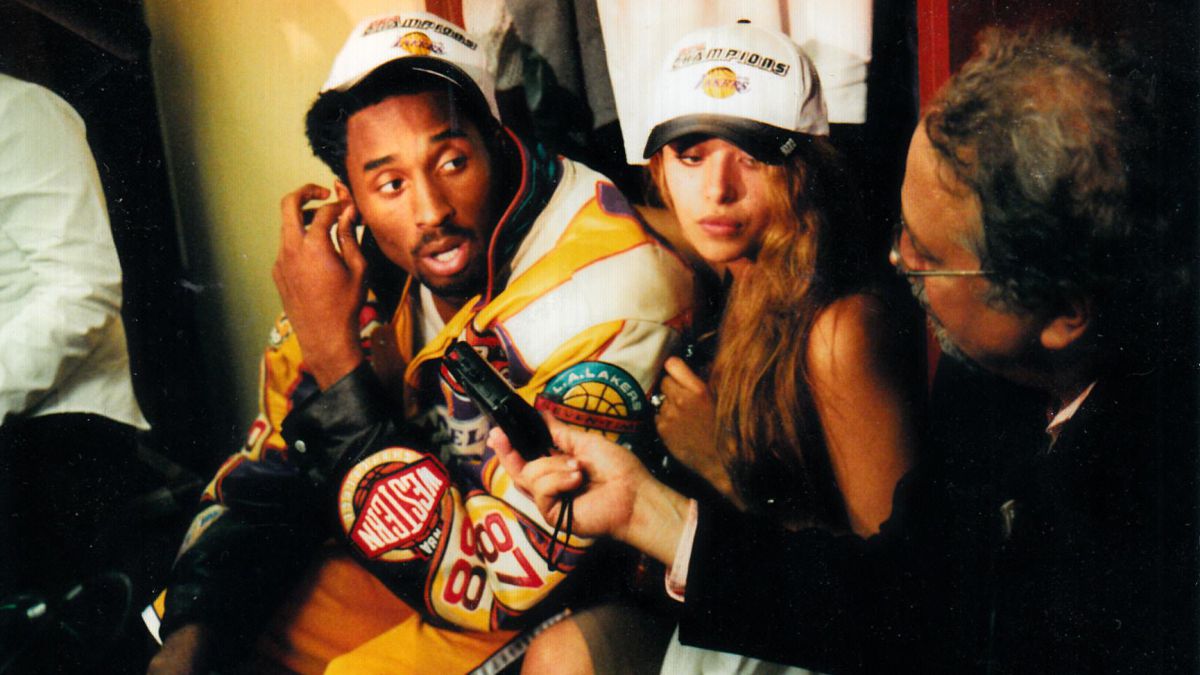 Roland Lazenby boasts of good health at 68 years old. And he does it because he remembers the aneurysm he suffered when he was 24. It was 1977, and the doctors told him that the next thing would be a hemorrhage that advised him to leave his things in order. Just in case. But those dire omens were unfounded. And as soon as he was discharged and went home with his wife, he ran five miles to check that everything was going well and began to wonder what he really wanted to do with his life. At that time he was a language teacher and coach of the basketball team at a high school in Virginia. From there, he set out to be a writer.
Since then, he has written more than fifty non-fiction books, almost always focusing on football and basketball, his great passion. Johnny Unitas, Tom Brady, Larry Bird's Celtics, Showtime's Lakers, Detroit's Bad Boys, Michael Jordan's Bulls, Kobe Bryant's Lakers and Shaquille O'Neal have passed through its pages ... Journalism teacher at Virginia Tech and Hollins Universities and a contributor to various print and broadcast media (ESPN), he is now engrossed in a biography about Magic Johnson. And he says afterwards, it's over.
In 1997 he received the award for the best sports book of the year for Bull Run !, the experiences of the historic Bulls of 72-10 (1995-96). In 2015 he repeated the award with The Life, the great biography about Michael Jordan, published in Spain by GeoPlaneta. Then, in 2016, he published Showboat, an essential review of the life of Kobe Bryant that in Spanish came from the hand of Cúpula. Roland Lazenby chats with AS about his unique approach to two of the best players ever, two with many things in common but also abysmal differences. Two unique, complex and essential characters to understand NBA history.
We will never forget the image of Michael Jordan crying uncontrollably, with an open heart, during his speech at the Kobe Bryant tribute ceremony at Staples Center. Surely, a much more human version of him than we have come to imagine.
Yes, in a way I can say that I was surprised. Michael has grown older and more and more sentimental. And yes, it really was a very emotional moment. But Michael Jordan has never been a guy without emotions, in fact he has had a load of them. Basketball is an emotional sport that emotional guys play. And that was one of the most exciting moments in the history of the sport.
That speech also made it clear that Jordan and Kobe had ended up being very good friends. I do not know if it can be considered a surprising or simply natural evolution after those first years in which Kobe did not make things easy with his obsession to reach Jordan, and how scrupulous he was with the care of his dominant place in the hierarchy NBA.
Actually, this I don't think is a surprise. Kobe always had a huge interest in everything that had to do with Michael Jordan. I myself used to be messenger between them, with messages that were sent. I remember once I had to ask Kobe what he would like to ask Michael and he said he wanted to ask him some questions about math. What we interpret is that Kobe wanted to learn how to improve his scoring averages, to know how Jordan did it. Kobe was still very young. Michael laughed and said I could teach him a few things about that.
How close did Kobe end up being to Jordan, the gigantic shadow he always chased?
There is something very important about this: they ended up playing for the same coaches (Phil Jackson and his team of collaborators) and in the same attack system, a very particular one (the offensive triangle). When Kobe was fifteen years old, Adidas had already told the coach of his amateur team (AAU) that they wanted to make Kobe the new Jordan. It was a time when every kid who played basketball was dazed by Michael Jordan.
But there were differences that finally were never closed ...
Tex Winter, Phil Jackson's assistant and father of the offensive triangle, once told me that the big difference between them is that Michael Jordan had gone to college for three years, and had learned to know and understand basketball in that stretch in North Carolina. Kobe jumped straight from high school to the NBA. And it didn't go well at first. It was a League of grown men and he was still a kid.
And of course, and their books contextualize it very well, they grew up in totally different family environments from almost any point of view: cultural, economic, geographical…
Yes, they were very different childhoods. In the end, I think Kobe always knew that he was destined to be very great. Michael Jordan and his family never had such a notion during their childhood.
His parents were essential influences in almost opposite ways. That of Kobe, a former NBA player who played in Italy and knew the world perfectly, that of Jordan a fan of baseball. The two had a complicated relationship with them.
And they were both very different from their own parents, too. Michael spent many years trying to overcome the disapproval he felt from his father as a child. Kobe, on the other hand, adored his father until the troubles in his family made him lose faith in almost everyone, also in him.
Why is Michael Jordan such a global icon and so transcendent even beyond sports, in popular culture?
He told me himself: 'timing is everything'. He achieved greatness at exactly the right time. Nike, Gatorade… all those brands had never before had an interest in investing in an African American athlete. But he had a way of playing that inspired, that amazed the fans ... and all that together gave him more and more that exposure that became universal.
And Kobe too, and everything that happened after his death proved it, he ended up being admired, loved and respected around the world on a colossal level. And the truth is that it had not been exactly like that during the first chaff of his career ...
With Kobe there was no doubt that, when he was still very young, he was brilliant, he had enormous talent. That is why I was so interested in writing about him. But then he started to derail and tried to destroy his own life. But he was lucky and determined to survive his self-destruction. I think that was ultimately his biggest win.
Kobe ended up being one of the greatest legends, perhaps the greatest, in a franchise of legends like the Lakers. Jordan is certainly the great icon of the Bulls, but his relationship with the franchise has been complicated and cold since he left it in 2001.
All of the years when Jerry Krause was the general manager who built that team. Michael ended up totally hating Krause, and Phil Jackson used those bad feelings to keep control of the team and locker room and channel it against Krause to motivate the team. That ended very badly, it got very ugly. And that's where it came from.
In any case, Michael Jordan is indisputably the great legend of the Chicago Bulls. With Kobe in the Lakers, I do not know if the same can be said because it is the franchise of Jerry West, Elgin Baylor, Kareem Abdul-Jabbar, Magic Johnson ... but finally Magic may be the only one that Kobe did not take away from that status of banner. .
Now I'm writing a Magic Johnson book precisely. And one thing is clear: without Magic Johnson, the Lakers would not be the enormity they became and are now. But it's not about ranking, I never do. I think the greatness on the track speaks for itself. And what I believe ... doesn't matter (laughs). I'm just a writer.
What's your favorite Kobe anecdote?
Almost all are small memories ... one day he was shooting from the personnel line after training and I was in charge of catching the rebounds and passing the ball to him. He was coaching match situations where he had to score after a free throw failure. And he wanted to meet Tex Winter at all costs and I was able to introduce him to him. Then he worked with him on the Lakers. Kobe was very young and the intensity he had was incredible.
And with Jordan?
Well, it saved me from a fall that could have left me seriously ill, even have killed me. We were at the Hornets pavilion in Charlotte, and I was walking with my back to him so I could interview him. And he caught me just as I was about to fall through a huge concrete hole in a loading bay of the pavilion.
The two survived very tough times in their careers, Kobe between his first three titles and the last two, including the sexual assault complaint in Colorado, Jordan between the two threepeats with his first retirement, the death of his father, the rumors about his addiction to gambling… The two of them shared one thing: they were extraordinary, out of the ordinary, in terms of iron will and determination.
Reading the two books it is clear that the sports brand industry has become an essential player in understanding the dynamics of professional basketball.
Yes, the basketball landscape has changed dramatically. And also that of other sports. There is a lot of money in motion there, a lot at stake.
Sonny Vaccaro is an essential figure in it. He signed Michael Jordan for Nike and Kobe for Adidas with the idea of creating 'a new Jordan'…
Yes, he's quite a character… I've written quite a bit about him. I knew a lot of people in the underworld of America…
Do you like this time of sport or are you nostalgic for bygone times?
No, these times are not my favorites. I loved the eighties and nineties…. But what am I going to say, I'm already very old. I think the empowerment that players now enjoy is a very good thing overall. They exercise that power, and that doesn't make them worse than franchise owners.
I'm sure you saw The Last Dance, the gigantic Michael Jordan documentary that swept through last spring. What did you think? One of the things that is criticized is that it is very biased because Jordan had the final control over everything that was broadcast.
is a very good product. It is very good, but it is clear that it does not teach everything. There are more parts to many of the stories he tells. The whole part that talks about Jerry Krause, for example… there are two sides to that story. But he was a very complicated person anyway.
Did Jason Hehir, the principal, speak to you? I remember he said that his biography had been like a bible for him during the making of the documentary.
No, we don't talk. I saw those comments he made on social media and he thanked me directly.
Would you like to see a The Last Dance about Kobe Bryant?
It would be very interesting, he had a tremendous career ... if it is done it will be another super success, of course.
Continuing with Kobe ... after difficult years, in which it was not easy to define him as a happy person, he seemed to be fully happy precisely when he died. He gave the feeling that he was in a very sweet vital moment after his retirement.
Yes, yes, it is. He had given his all for basketball, had put his heart into the game, and seemed satisfied with what he had accomplished when he left it behind. While playing, he never felt fulfilled, satisfied, never until the end of his career.
Do you like to see this current Michael Jordan much more involved in politics and more committed? In his years as a player, he was widely criticized for his lukewarmness.
Yes, because it is also a clear reflection of personal growth. It was something that Michael needed to do.
Did you have a very close personal relationship with Jordan and Kobe?
Michael was always nice to me. When I took out the book he shook my hand ... but he wasn't happy. Issues of his life come up that are very hard for him. With Kobe, we were friends for about ten years, but he had a tendency to alienate or alienate the press people from his inner circle. Afterwards, the relationship was always cordial, but I was one of those who moved away.
What did you learn from them by writing the books, did you discover facets that you had not seen before starting these projects?
Well, you see, writing about Michael made me more aware of how I had never had my father's approval, either. And analyzing Kobe allowed me to closely study and analyze how young geniuses work.
Do you think fans see you as you are?
Oh yeah, I think they are two very well-loved and deeply studied figures.
Says he is now writing a biography on Magic Johnson. What other players do you have in your sights?
After Magic, it's over. They are books that require a very tough process. It is not easy to tell the lives of these gigantic players, to harmonize so many voices. I like it a lot; what else, do the interviews. I like to write the books. But this will be the last.
The most transcendent figure in the NBA of this generation is LeBron James. What do you think of him?
It is very big. And it is what I call the citizen athlete. It is truly impressive how he has always behaved throughout his career.
Do you voluntarily leave many things out of your books? Stories too hard, complicated ...
Some, yes. Sometimes it is simply to avoid legal complications. Others it is, above all, because I do not want what I publish to impact too much on the families of the players.
Do you have favorite players? Of all ages, I mean.
These are not thoughts that I spend a lot of time on. I prefer players who are very good people and who have helped me: Joe Dumars, Reggie Lewis, Derek Fisher, Steve Kerr… And I loved Michael and Kobe, of course. And many more ... another type that is one of my favorites is Tex Winter.
I read that you decided to dedicate yourself to storytelling after having a tremendous health scare in your youth.
Yes, I was diagnosed with an aneurysm. But I didn't get to have bleeding ... Now I have reached 68 years, so everything has been perfect.

Photos from as.com