Towns and his healing: "It's been a lot of scary nights"
The NBA player talks about his experience healing from a virus that took his mother last year: "There was nothing going for me."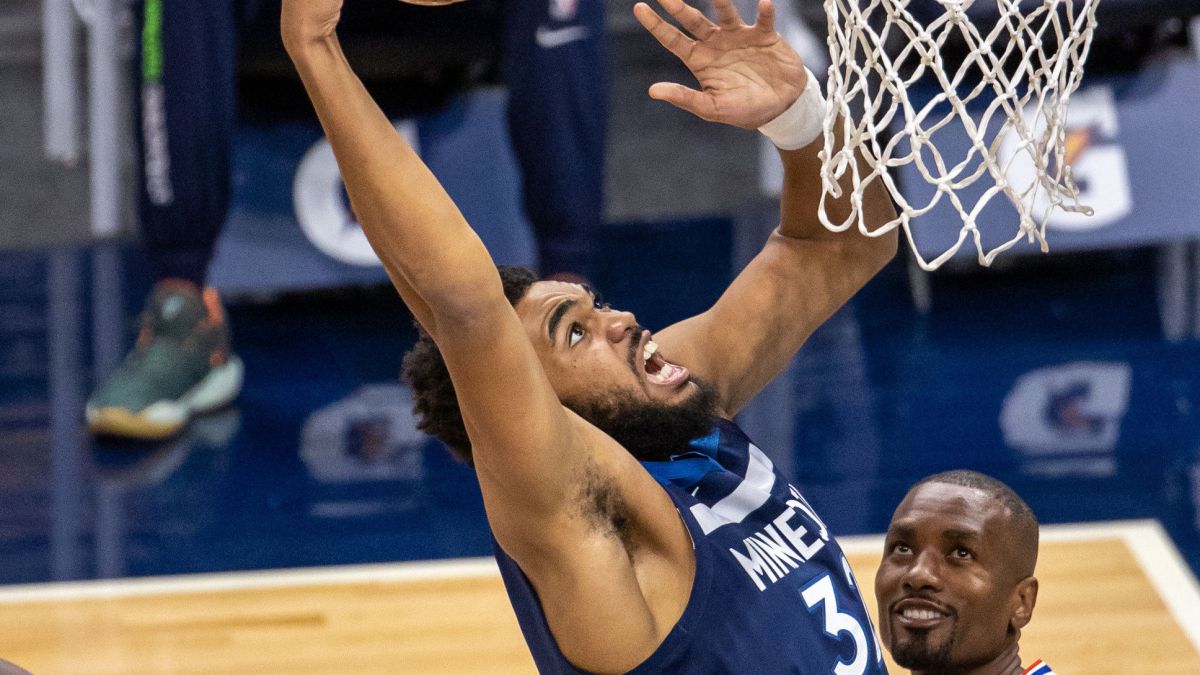 After a hand injury, Karl-Anthony Towns suffered the coronavirus in his flesh, from which he was infected and which forced some direct contacts to quarantine. His team, after losing again in the game in which he returned (Clippers), is the worst in the Western Conference with 6 wins and 19 losses. Sunk in the rankings, Towns (who has missed 20 of his team's 25 games) only thinks that he has overcome a challenge: his own health.
The 25-year-old American player has confessed to the media.
Towns confesses that, after hearing the news that he had been infected, one of the first to whom he notified was his sister: "I told him: 'Hey, I have it. I have a lot of COVID inside and it is not a good variant. But I'm going to fight and I'm going to beat him. " After that, he addressed his nephews, Jolani and Max, via FaceTime, whom he treats like children because his sister is a single mother. "I saw them and said: 'Why are you crying? The uncle is going to be fine. Don't worry about that.' They replied: 'That's what the grandmother said.' I sent them a message on Instagram, where they go to See what I post, saying that I promised that I would not end up in a coffin next to Grandma and that I would get over this. " Jacqueline Cruz died in early April 2020 after complicating her contagion case, leaving the family devastated and rethinking Karl's priorities.
Towns has lived not only with his illness but with the memory of his mother's. "My conditions did not work in my favor at all in terms of COVID. One of the scariest parts is that I am genetically very connected to my mother, I am the closest and I am quite similar. It was something that scared me. my favor. I knew it was going to be a long and difficult journey. " During the isolation he has remained in daily contact with his father by phone, but not like that: "There have been many scary nights. It was good that we spent time, that we raised our spirits. I think we had many great conversations and moments and we had many great moments. I wore it with a lot of emotion. " It was not just talks between father and son, it was to endure in company that the matriarch was no longer with all of them.
Karl-Anthony's confessions to the press did not stop there ...
About her life: "I have seen so many tragedies in my life that I have been unfortunate. You live and die. I guess I take what life gives me, the good and the bad. When the bad thoughts came, I focused on the children and the my family. I was trying to do everything I could to obviously not only survive but not have long-term negative effects. I was looking beyond. "
About the All-Star: "I don't think there should be an All-Star Game. But what do I know? It is clear that I do not know what COVID-19 is, right? ... No, I don't think that should be played ".
On the pandemic: "Mask? Does it bother you? Come on, don't be lazy. Think of others before yourself. Put on the mask. Do your part. If you really hate this disease and this virus, help us stop it spread. Put it on, go about your day, and be smart and responsible. It's that simple. Workers on the front lines, with the way they engage and the mental strain that comes with seeing people like this, deserve a lot of credit. They are giving you a chance to survive, thank them. "
RELATED | Towns's Dangerous Tale: "Karl died on April 13, 2020"
Photos from as.com