Toni Nadal: "Piqué? Let's not think that Rafael Nadal is mother Teresa"
Coach and uncle of the successful Rafa Nadal, he has joined the candidacy of Sí al Futur because Víctor Font "is the president I would like to have." Praises Messi: "He's up with Jordan."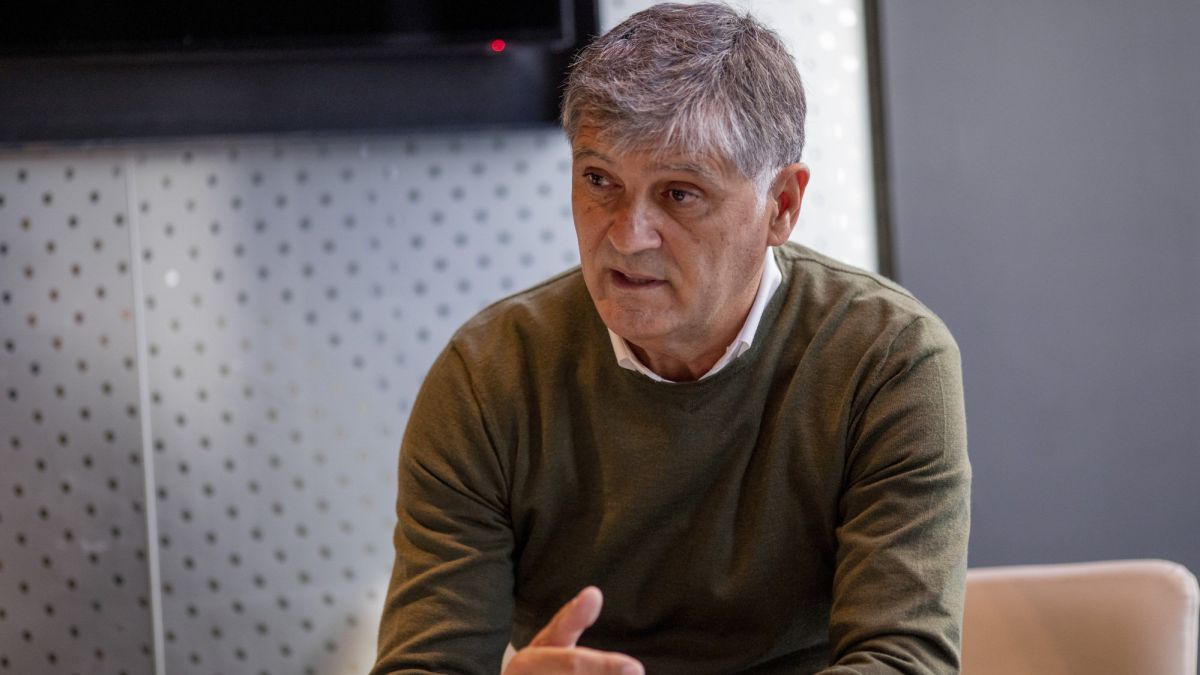 Toni Nadal Homar (21-2-1961), Rafael's uncle and brother of Miguel Ángel, a former Barça player in the 1990s, is one of the most impressive names accompanying Víctor Font in the Barça presidential race . Future responsible for the behavior area, joins Font for his club vision.
-The first is from comebacks. You, who lived through so many of your nephew Rafael, capable of winning three sets after losing 2-0, how do you think a tie with Sevilla is going back? (the interview was conducted before 1-4 to PSG)
-I'm not the right one to say it. Koeman is the one who will give the advice he touches. We weren't very lucky in Seville, I think we didn't deserve to lose 2-0. For me, in life, the advice is preparation. Confidence and preparation. If you are well prepared, you usually win. If not, you earn less. I could give Rafael advice because he was number one or two in the world ... and then he had the tennis to do those things.
-Is it done with anger or with a head?
-With heart and with head. Rage, no. What you have to do is give your best, that is the commitment that must be required of our players. I am convinced that we will pass. I trust our players and our coach.
-Taking advantage of the fact that he is going to advise in this area of behavior, Koeman complained about the referees. From your way of understanding Barça, is it understandable? 444 444
-Do not exaggerate anything. It is one thing to make a comment and another thing to make derogatory comments. I don't know what comments they made because I disconnected after the game. But if we have a VAR, it is normal to look at it. Because then the result is immovable. I don't believe in anyone being intentionally wrong. But sometimes we are wrong. But the behavior is not not saying things, but not saying them in a certain way.
-Too bad that VAR is not like the Hawkeye in tennis ...
-It's different. With VAR you know if there is an offside because there is a line and the norm is the norm. The same thing that you know if a ball has entered or not. But you do not know how intensely the rival has elbowed. You do not know if he has put the elbow, if the rub is enough. There are things that are difficult to determine. Even if there is a VAR, there are always different opinions.
-After so long in the world of tennis, it was shocking to see him in a candidacy with Víctor Font. What surprised you?
-Obviously, I come from tennis, but I am a lifelong soccer fan. My brother played for Barça for many years. I know football even if I am not an expert. But I like to analyze sports. Because everything in life has a similarity. Víctor Font convinced me. He is the president that I would like for my club. In Font I saw the person who I wanted to represent me in the box. I like good behavior, on and off the field. I have not always seen it in the presidents that we have had. Víctor Font is a capable person, with a project prepared for years. And then a sensible person who made it clear that sports would be handled by sports people. And he has a very clear vision of the future. And that made me excited about his project. And of course, if they offer you the possibility of being in Barça, it is difficult to resign or say no.
-Did you know him before?
-He came to talk to me and made a good impression on me, but the more we get to know each other, the better and better it is. I think he is the only person who can place Barça where it can be.
-He is very specific on the subject of good behavior. But group sport is different.
-Not true. There is good behavior in rugby. I do a hiatus. I have never claimed that my nephew was an example for society; but at least it wasn't a bad example. Barcelona is much more. Millions of people follow him. The behavior of the players sets trends. Sometimes I am in Rafael's academy and I listen as a model: "Kyrgios" ... The responsibility of those involved is that Barcelona is something else because it is the most representative institution of Catalonia in the world. The image that the president gives is the image that the rest of the world will have. It takes people involved and with love for the club. And the behavior. If someone in their private life wants to do something silly, I understand it, but if you represent a club, you should not.
-At the seny level, is Barça as it wants?
-I do not come to talk about what is missing or not missing. I come to talk about what I would like to see in a president. And what I would like to see is someone like Víctor Font. Someone prepared, who does not seek more prominence than necessary. There is a forced role because you are the president of Barça, but you don't have to look for it. I do not like presidentialism because other areas tend to interfere. I like someone who responds to the idea that Víctor Font has.
-And what would your role be?
-When Víctor Font came, he explained to me that he believes that we would have to look for a model of behavior for everyone, from top to bottom; and he believed that I can be a person who does a job in that area. I understand that personal development is important. I trained Rafa to be a great tennis player, but I always thought that the best way for him to be a great tennis player is for him to be the right person.
-Does that mean to put a discipline?
-It means to put a discipline, but above all it is to mark a line of behavior that helps. Because that is the speech that I constantly make to the boys in the academy. Sometimes we look for models who have strange behaviors. Kyrgios excites a lot of youngsters and has a natural talent and is a great player. But he has not won any Grand Slam, with 25 or 26 years already. He is neither seeded, nor among the best in the world. His behavior makes it difficult for him to achieve goals. And that is transferable to other sports
-Valero Rivera imposed certain codes of conduct in his time, including aesthetic ones. The players had to have their hair cut, start breakfast when everyone was in the dining room, get up together ...
-Man. I would not do an interview with you with sunglasses on. It is education. Starting from that base, it makes everything in life easier. Once I was at a tennis symposium in Milan and the one before me said; "The problem is that when you ask parents if you prefer to win Roland Garros or have a well-educated child, they answer you than to win Roland Garros." And for me that reflection is poorly formulated because it is easier to win Roland Garros with a good education. I am not the one who has to say what the rules are, things have to be agreed. But the idea is very clear. Let everyone know that they represent a great club, and that they represent Catalonia. That's the idea. It is ugly to say it maybe because he is my nephew, but Rafa does not make the people who support him look bad.
-There is a controversial character, Piqué, who is also related to tennis. A spectacular race, and great preparation, but also with slips. What would you say to Piqué if Víctor Font is president and you were in charge of the behavior area?
-I would tell you in private, I would not tell you. I've been able to talk to him sometime. Piqué is a great player and I stay at that. If it happens that Víctor Font is the president, which I hope that is the case and we are increasingly heading towards that, the time would come. Well ... Let's not think that Rafael is Mother Teresa of Calcutta and the Barça players have to be Vicente Ferrer. Normal. Each one has their own way of being and their way of understanding the world.
-And in that sense, do you like the values you see in Pedri?
-Yes. I like normal people. My nephew has been a great player and a normal guy. When he's on the track, he doesn't insult. And I like that. Everyone has their way of understanding the world. Pedri is going to become a great player.
-Have you been surprised by what is inside Barça, especially during the electoral campaign?
-The electoral campaign that I see from Font is correct. I do not like much to do of others. I like to talk about what we do. Víctor Font's campaign is correct. Try to explain an idea that Xavi has worked with for a long time. I don't want to be aware of what one and the other are saying.
-Is Víctor Font the rookie going to weigh down a lot?
-He is burdened because people do not know him. But I trust people, that the partner should look for the person who can lead us to achieve what we want to achieve. It is true that Laporta is a notorious guy who was already president, but sometimes people get confused. The president does not score goals. I'm not going to ask Victor to be responsible for winning the Champions League or LaLiga. The Leagues are won by Xavis and Iniestas. The one who manages sports is the sports director, and I am going to ask the president to allow all this to happen. And how do you allow it? With a great economic management. At Barcelona, in the years of greatest success, financial management was not good. Thats the reality. And that's why I trust Víctor Font. What is ballasted? Well, he has proven himself in the professional world, he is a successful businessman. And that guarantees that he will know how to manage the club well. But also, when you listen to his vision, he convinces me. I know that in football you have to combine that with emotion. But the emotion has to be put by the player. And the president has to allow that to happen, but not to meddle in the game.
How important is winning in formative sport?
-Sometimes we fail. I believe a lot in training and I don't quite remember who said it. One of the main reasons for failure is trying to anticipate success. Sometimes a base team looks too much for the result. From the sports field that I know, tennis, I did not want Rafael to win when he was ten years old, what he wanted is for him to win when he was 20 and 25. A victory present in the formation cannot be damaged. Obviously, you are Barça
-Nadal's successful career began in 2004, like Messi's, who debuted in the 2004-05 season. Could they be compared, what do you admire about Leo?
-They can be compared because the two are having a very long successful career. They asked me who was the best athlete. I don't know if there is an athlete in history better than Messi. Because it is in a global sport, which the whole world sees. And it does things that nobody else does. He's up there with Jordan ... with quite a few. For one to stay up there for so long, many circumstances have to be met. The first is commitment to what they are doing. Messi and Rafael have that commitment. Of continuing to be there, of wanting to play ... And then Messi has stratospheric conditions.
-When you hear that there are teams with a full belly to win, what do you think?
-Which is a bad approach. Many times I have been asked: how do you motivate a guy who has won everything? And I have always answered the same. The first thing is that my nephew has not won everything; and the second is that, from what comes in the future, he has not gained anything. You have been able to win Roland Garros in 2020, but not in 2021. If you are not motivated by that ..., you are ungrateful with life. I don't think it's a full stomach issue. Because Barça players are always very helpful.
-But that has happened in Ronaldinho's Barça.
-Bad administration. The necessary measures were not created to get the commitment of the players. If you have people who fail in training, you have to be how brave Guardiola was. If you are a member of Barça and you are not willing to perform at your best, the presidency has to seek to change that.
-What do you remember and what does your brother think of Koeman?
-We all remember the lack ... It was a bulwark. As a coach, he is our coach. I always support one hundred percent of the people who defend the club. He came to the club in a difficult situation, but in recent games he has given me the feeling that he was performing well.
-Do you like what you see in the Dutch press rooms?
-The first thing is that when the games end, I change the channel. It's not for me to judge people for what they do. Let them do what they understand.
-Are you passionate about watching sports?
-Punctually. I understand that not always everything works perfectly. At one point with Rafa when he didn't play well in London, I told him: "We're not going to jump into the Thames." Barça is an emotional company. We all have to be aware of that. But if you want to be the best in the world in the future, which is the pretense, the heart cannot be above.
-Could Víctor Font be a Thiem, an outsider who wants to be Barça's number one?
-A Thiem? Victor Font is a Federer. Not because of what he has won, but I think he is a very prepared man and that he will lead us to great success at Barça. It's what you want for the club. And I totally believe it.
Photos from as.com