Medvedev, magnificent with the backhand, gave Tsitsipas no option, unable to overcome an unapproachable rival who has 20 consecutive wins and 11 against top-10.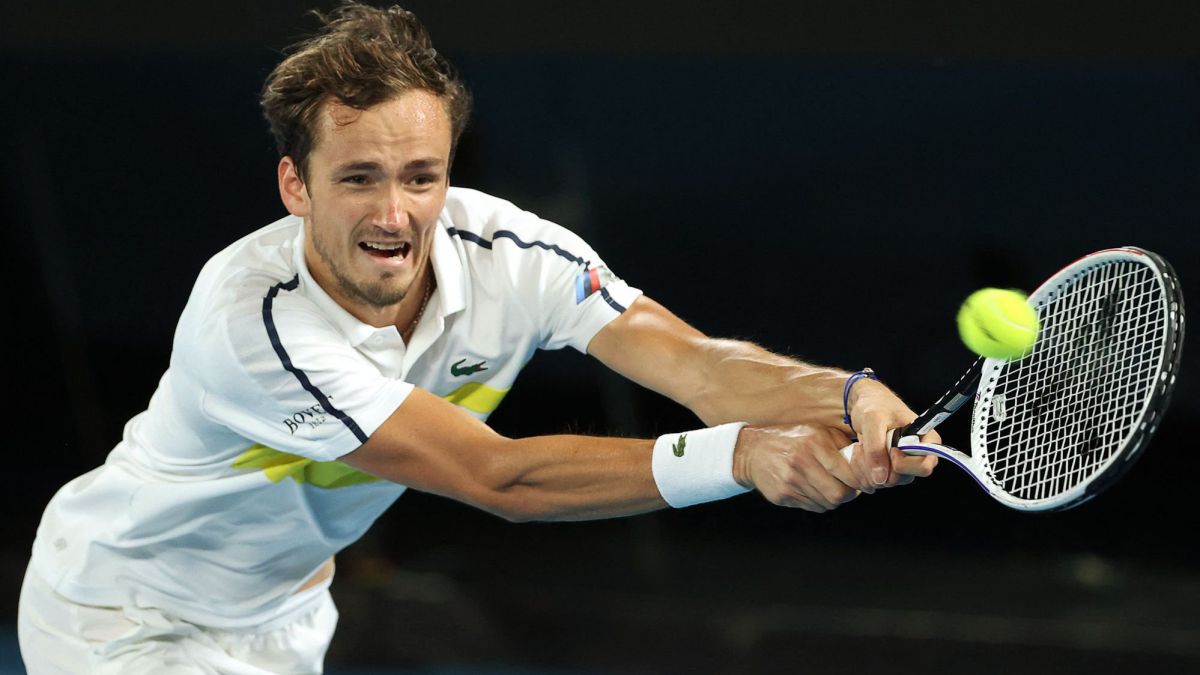 Daniil Medvedev decided on Friday that his semi-final against Stefanos Tsitsipas at the Australian Open had little history. Only what he dictated. And so it was, the 25-year-old Russian, virtual number three in the world, passed over the Greek of 22 and sixth in the ranking (6-4, 6-3 and 6-4 in 2h: 09), who had just eliminated after traced a 0-2 nothing more and nothing less than Rafael Nadal. Perhaps he paid for the physical and, above all, mental effort that he had to do to overcome the winner of 20 Grand Slam and, in addition, he ran into an unapproachable rival, who has 20 wins and has won 11 consecutive games against top-10 tennis players . The last star to beat him was Thiem in the penultimate round of the last US Open. In that brilliant streak he has been able to twice with Schwartzman, three with Zverev, and once with Djokovic, Nadal, Thiem himself, Berrettini, Rublev and Tsitsipas. The Muscovite will play his second Grand Slam final, after which he lost, although he was about to flip it, against Nadal at the US Open 2019. And he will do so on Sunday (09:30, Eurosport) against another Big Three legend, Djokovic, whom he has already beaten three times, yes, never five sets. "He has more experience, but also more to lose," he said of his next match. He is the third Russian to reach the title match in Melbourne after Kafelnikov (2000 and 2001) and Safin (2002, 2004 and 2005). He also shares with them the privilege of having reached finals in several majors.
As usual, he hardly celebrated his tremendous success. So is he. Quirky, dry, sometimes angry and sometimes challenging with the public, although he has been controlling himself quite recently in all aspects. He did it this time in front of a hobby that mainly supported Tsitsipas. "When I'm scared I try to serve serves and winners, and I did it very well. So I was able to contain my nerves. I think I kept calm very well, "he said, more than enough, to former tennis player Jim Courier, still on the track. You are now one step away from glory. Medvedev, spectacular with the two-handed backhand, a blow, the best he has, with which he added nine of his 46 winners. He played a lot towards Tsitsipas, who executed him one, and did not allow him to reverse to hit him from the right. Thus he controlled the rhythm of the match and did not yield a single break option in the first two sets, totally dominated by him. In that aspect of his tennis, it could be said that he is the reflection of Djokovic.
Reaction stifled
"His father is talking too much," Daniil complained to the chair umpire, just before the third set got a bit complicated for him after opening it with a break and having two balls to take a 4-1 given the triumph by an even faster route. The Hellene weathered the downpour and found a more fallen and disorderly version of his hitherto impregnable opponent. He broke his serve and had the opportunity to even do it again in the seventh game. The Rod Laver Arena, officially about 7,500 people, although it seemed more, and a lot of Greek emigrant in the stands, roared to cheer on their idol. Tsitsi threatened to go to death for another feat like the quarterfinal against Nadal. Medvedev wouldn't let him, refining his backhand to nail an impressive winner and add another break. Then he solved with his devilish service (17 aces, 88% of points with first).
Calendar and Results.
Photos from as.com