Tiger suffers "leg damage" after car accident
The player has "multiple injuries to his legs" and "has undergone surgery" according to his agent. It had to be removed from the vehicle with a power saw.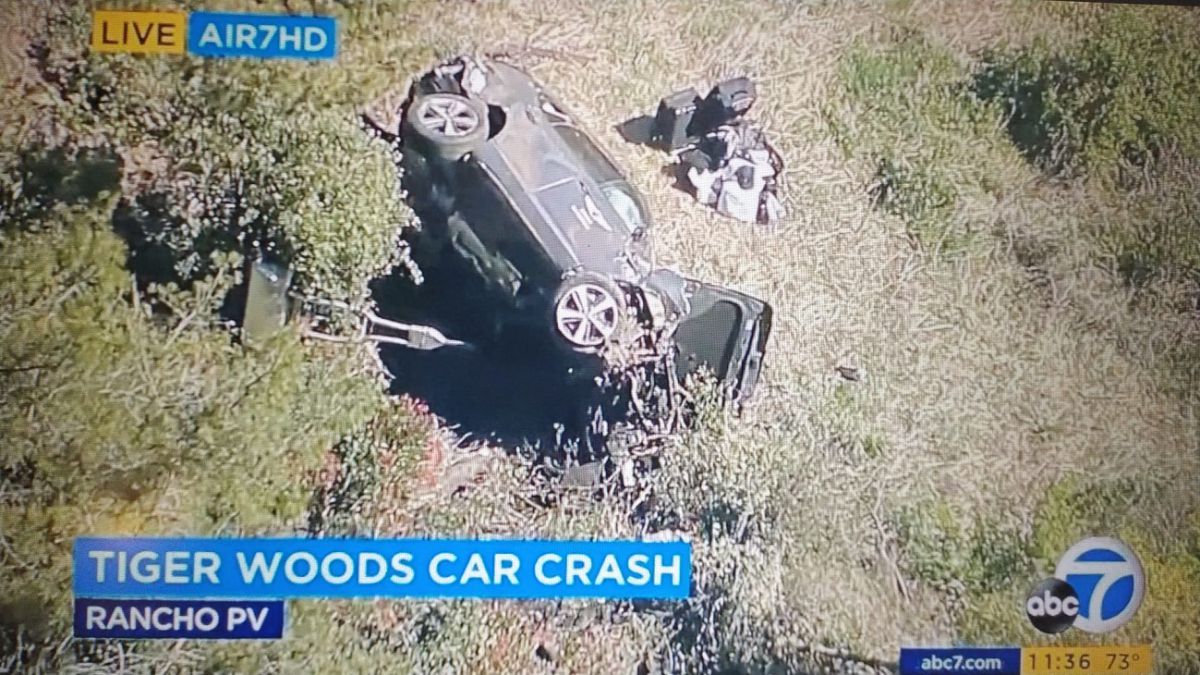 Tiger Woods is hospitalized after suffering a traffic accident this Tuesday in Los Angeles, in the state of California (USA). The historic golfer suffers "multiple leg injuries" and "has already undergone surgery," his agent, Mark Steinberg, said in a note. CNN, citing official sources, reported that the golfer's injuries ranged "from moderate to critical."
The accident, which occurred around 7:15 in the morning, occurred in the Rancho Palos Verdes area, when Tigre was returning from playing a game of golf with former NBA Dwyane Wade. He was traveling alone in the car. According to local police, the vehicle in which Woods was traveling gave a round of the bell and was stranded in a position that made it difficult to remove the player. To the point that it was necessary to use a mechanism known as 'jaws of life', a kind of mechanical saw, to get him out of the jumble of iron. No more cars were involved.
Woods had just been hosting the PGA Genesis Invitational. He did not play because he had just recovered from the umpteenth surgery on his back. It seems that his return to the fields will have to wait longer. Authorities have not disclosed the cause of the accident, but the New York Times reported that Woods was traveling at high speed before losing control of the car he was driving. Images taken from the Tiger Woods accident show a pickup truck bearing the 'Genesis Invitational' (GV80) logo, which was badly damaged after the Los Angeles incident.
"Today we learned of the Tiger Woods car accident," the PGA Tour said in a statement. "We are waiting for more information when he comes out of surgery. On behalf of the PGA Tour and our players, Tiger is in our prayers and will have our full support as he recovers." Last January, the player underwent a surgical operation "to relieve pain in the nerves in his back." It is the fifth time that he has undergone surgery since he began to suffer these discomforts more than six years ago (he has also undergone another five operations on his knees). In his last appearances he always regretted that his performance was not full due to the pain.
In 2009, Tiger Woods already had a car accident near his Florida residence, hitting a tree, and after that an infidelity scandal was revealed that cost him the divorce from his wife Elin Nordegren and that splashed squarely on public opinion in the United States. It cost Tigre the loss of numerous sponsors and a game slump, which has been exacerbated by his physical problems.
The American golfer is a five-time champion of the Augusta Masters, four of the PGA Championship, three of the United States Open and as many of the British Open, he is unanimously considered one of the best players that this sport has given, especially in the decade of 1990 and 2000, and one of the most prominent in history. Son of an Army officer, Earl Woods, and a Thai, Kutilda, his original name is Eldrick, although his father nicknamed him Tiger (Tiger) in honor of a comrade in arms during the Vietnam War. From an early age he demonstrated an aptitude for golf. With just three years he completed a nine-hole course in 48 strokes and with eight he won his first international tournament, the Optimist Junior, which he won five more times until he was fifteen.
Photos from as.com