The VAR, Stoichkov and Mackay are worth a point against Zaragoza
Sabadell equalized Jair's goal thanks to Stoichkov's panenka penalty. The harlequinado goal stopped Narváez a maximum penalty with 1-1.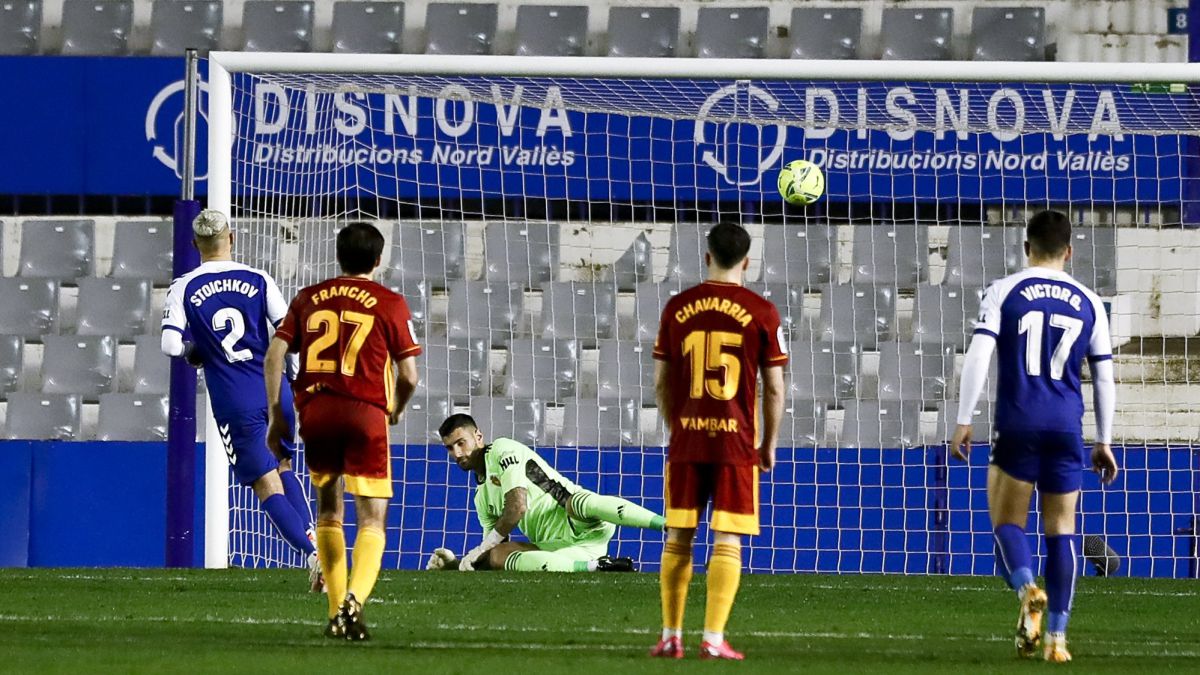 Sabadell knew how to react in time to rescue a point and embitter Zaragoza that was punished for its lack of ambition and the VAR. Jair overtook the Aragonese in the first half, but in the second, Sabadell was more intense and cheerful. Stoichkov, from a penalty shot from panenka, put it 1-1 on the scoreboard and Mackay was in charge of doing it well because, just a minute later, he stopped a maximum penalty from Narváez. The harlequins seal their ninth match without falling and leave Zaragoza without their third consecutive win. Of course, the point knows little about both because they cannot detach from the lower zone and they will be very attentive to the results of Cartagena and Albacete this day.
The duel already gave signs from the beginning that neither team was to spare any effort. Sabadell wanted to present a high pressure that would leave Zaragoza with doubts, but the Aragonese team, with JIM, seems to be comfortable in any circumstance. What's more, the majority of dangerous occasions that occurred in the opening bars were visitors and made Mackay shine. As the minutes passed, Sabadell, apparently with greater possession of the ball (ineffective), devoted his life in the game to the inspiration of Mackay in goal and by playing Víctor García in attack. The problem is that when one of the two staggered, Zaragoza did not forgive. It ran on 32 'and, after a great chance from James, Bermejo served a corner that Jair headed to goal. The center-back anticipated Jaime and the Harlequin goalkeeper, who until then had been prodigious, in the small area and signed the 0-1. After the goal, Zaragoza continued to his own, collected and waiting for a robbery in the medullary to go against it, and Sabadell impotent. Víctor García led some dangerous actions, but it was necessary to have more presence within the area and to be successful.
Already in the second half, Zaragoza came out to see them come and football hit him hard. Perhaps excessive because Sabadell lacked a lot of poison, but the VAR gave him a push. In 68 ', Guruzeta shot from outside the area and the ball touched Chavarría on the arm. At first, the referee pointed to a corner, but the VAR warned him to go see it on television and in seconds it was clear: penalty. Stoichkov took responsibility and, from panenka, he did not fail. But the happiness of the Harlequinado block was about to last for a few seconds because, in a mistake, Zaragoza came out in a rush and Narváez caused a maximum penalty (Undabarrena was the offender). He challenged Mackay and the goalkeeper emerged victorious with a great save. He guessed her intention and reigned in a mad duel stretch. In the final minutes, the lack of control prevailed, although none wanted to see the point in danger.

Photos from as.com