The rojiblanco team has 44 goals in the first 21 league games, more than two per game and double that of last season at this point.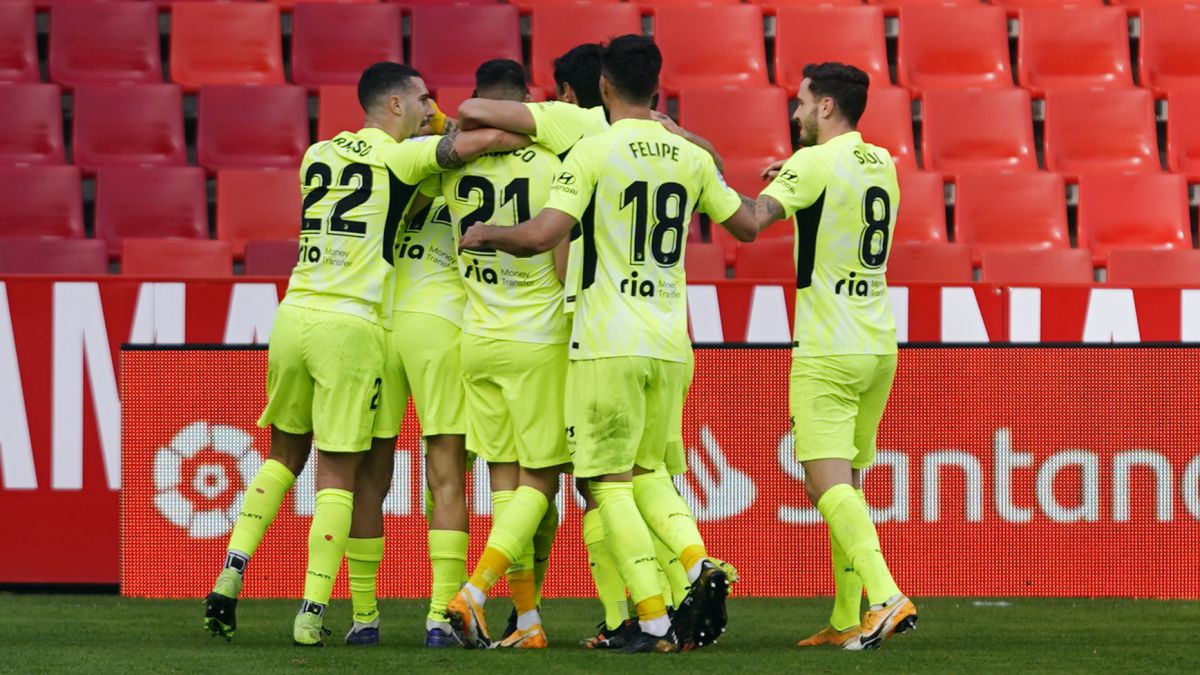 EI Atlético is suffering in the last games a greater defensive fragility. Five consecutive games conceding, with a total of seven goals against when in the previous 16 games only six had been received. However, he continues to command LaLiga with a lot of sobriety despite the continuous losses and the draw against Celta, with a balance of nine victories in the last ten league games.
An ability to continue adding from three to three points largely thanks to his forcefulness in the rival area. Despite the fact that players like João Félix, Carrasco, Lemar or Dembélé, who arrived in January to replace Costa, have been absent in recent games due to contracting the coronavirus, Atlético has been able to boast of offensive muscle thanks to Suárez's aim, Llorente, Correa and company. In total, the rojiblanco team has 44 goals in 21 league games, more than two per game.
Figures that are already the second best of the Simeone era, only surpassed by those of the 2013-14 season, when the League title was lifted with 90 points in the locker. Since that year, when Atlético had scored 52 goals in their first 21 league games, there had been a worrying fall from head to toe (43 in 2014-15, 30 in 2015-16, 36 in 2016-17 , 32 in 2017-18 and 32 in 2018-19) that hit rock bottom last season, when at this point the rojiblanco team had only scored 22 goals, just half that now.
A year of transition for the newcomers who in this second season are showing their best version. Case of Llorente, who at this stage of last season had not made his debut as a rojiblanco (his first goal was on February 14, but corresponding to matchday 24) and who in Granada added another goal and another assist for a total of seven in each category, the player with the most goal passes in the competition. João Félix has already reached the six league goals he scored in all of last season and Lemar has surpassed a year completely to zero and has had to stop when he was living his best moment.Suárez, the gunman
But the great leap in quality has been caused by the signing of Luis Suárez. The Pichichi of LaLiga with 16 goals in 18 games has only needed 23 shots on goal to achieve it. In Granada, the crossbar stopped his streak of four straight games by scoring, but Suárez is a nightmare for the rival defense. He has four more goals than last season's top scorer (Morata, with 12) and despite not going through the best physical moment of his career, his positioning and scoring nose remain unmatched. A more offensive Atlético that is finding the prize in the form of goals with extraordinary numbers.
The most combinative
Atlético's 44 goals place them as the second LaLiga team with the most success on goal, only surpassed by Barcelona (49), although the rojiblancos have played one less game. And two games less than a Real Madrid that is third on the list with 42 goals scored. But where the rojiblanco team stands out the most is in the assists section. With this more choral game that has been seen all season, taking the ball played from behind and combining in the attack zone with high quality players, Atlético is the LaLiga team that achieves the most goals preceded by the assistance of a teammate .
A total of 35 of the 44 goals scored by the rojiblancos (79.5%) have had a last passer in the play (in Madrid there are 30 and in Barça 29). Marcos Llorente is the top assistant in the competition with seven passes, closely followed by Correa with six and João Félix and Trippier with five. A total of 12 Atlético players have given at least one goal pass in the league. In addition to the four players mentioned, Carrasco (four), Lemar (three), Lodi (two), Suárez (two), Koke (one), Vitolo (one), Hermoso (one) and Manu Sánchez (one) have contributed in said facet.
Photos from as.com