The numbers of Santi Aldama, the best Spanish in the NCAA
Spain has one of its brightest pearls in the NCAA and it's really starting to shine. Santi Aldama hangs out with the Loyola-Maryland Greyhounds.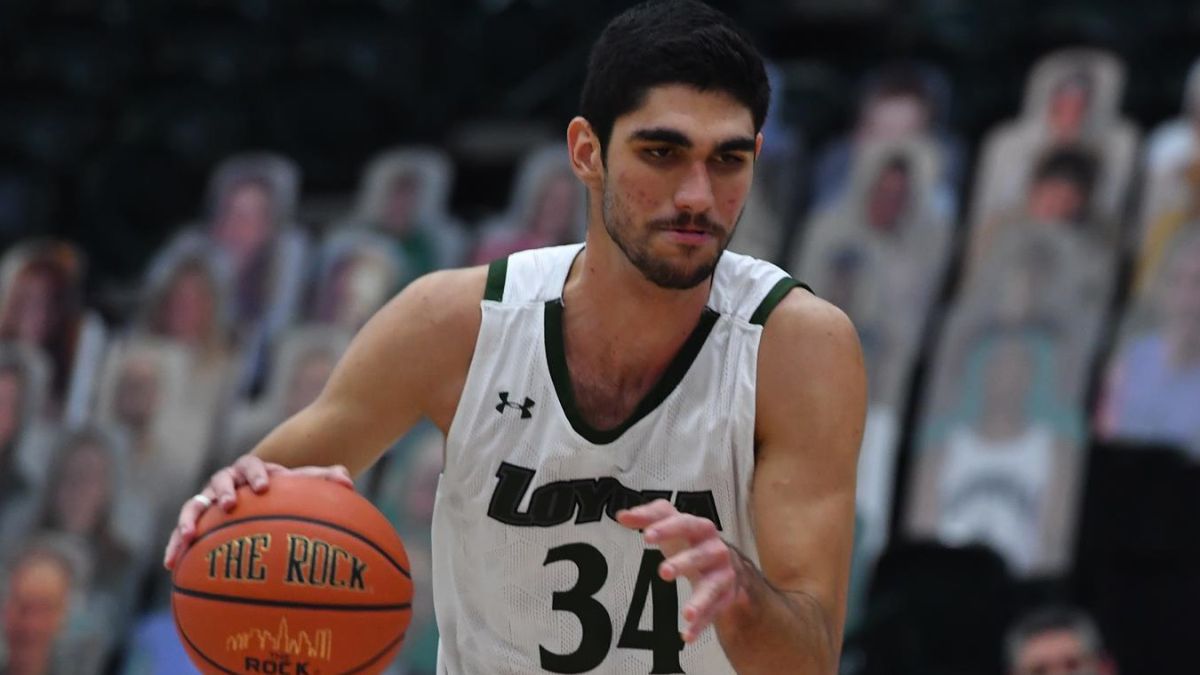 There is a Spanish player who is under the radar, he does not appear in the 2021 Draft projections, but who is closer to beginning to sound like the NBA scouts than others. He is 20 years old and is training in the United States, slowly but surely, in Loyola-Maryland along with other compatriots (Golden Dike, former Real Madrid, and Alonso Faure, former Valencia Basket) and a coach, Ivo Simovic, that he has recruited talent in a country he knows well. The player in question is called Santi Aldama and his name will be familiar to basketball fans since 2019.
Aldama stood out strongly in the U-18 European Championship held two summers ago in Greece. He was the MVP of the tournament ahead of Usman Garuba, a player who with Madrid is playing in the League, Cup and Euroleague and not with a few minutes. That is the parallel that speaks clearly of the talent that it treasures. From that moment on, the ACB teams focused on him, but Aldama decided to go to study in the United States and there he is developing his life now. He does it, as a player, in the NCAA, the country's university league, which plays with the Greyhounds in the Patriot League, a not very complicated conference where he is beginning to take his head as the most thanks to his quality.
For those who do not yet know who he is, his father (Santiago Aldama Alesón) competed in the Barcelona Olympic Games and now he is on the way to overshadowing him. Raised in the Canterbury of Las Palmas de Gran Canaria, he is 2.11 meters tall, has a huge wingspan and shoots very well from outside. Due to physical complexion, game characteristics and what he promises from so low, it is inevitable to compare him with Pau Gasol. Record after record
Last season he suffered an injury that cut his progression shortly after arriving and then came the pandemic. He has not played for ten months and, when he comes back, he has seen the work done in this time of impasse and how he has jumped more than one step suddenly. He is already a second-year player and that also carries more responsibility, which he is combining in an extraordinary way.
28.8 points and 10.3 rebounds are his averages after nine games. The increase according to the previous campaign, where he already had games in which he was the best, is noticeable: from 15.2 it has gone to 20.9 in valuation per appointment. The game with which he has garnered the most attention came last week against Lafayette: 30 points and 22 rebounds. Nobody had done a 20 + 20 with Loyola, so neither a 30 + 20. Santi just broke the team's single-game sack record and equaled the conference record held by ex-NBA champion Adonal Foyle.
Gone are the dreams of March Madness and the fight for the championship, the priority is training. Aldama has stressed on several occasions that for him it comes first. A possible inclusion in the draft, either this year or later, should not take you away from the goal no matter how much the NBA draws attention: college, as a cushion for the future. From his progress, one could guess that in the medium term he may not need them: he has a place in professional basketball and he opts for everything.
Photos from as.com