The 'Silas miracle': Rockets are better without James Harden
Surprising stretch after the departure of the franchise player. Stephen Silas rises in a team featuring a new star: Christian Wood.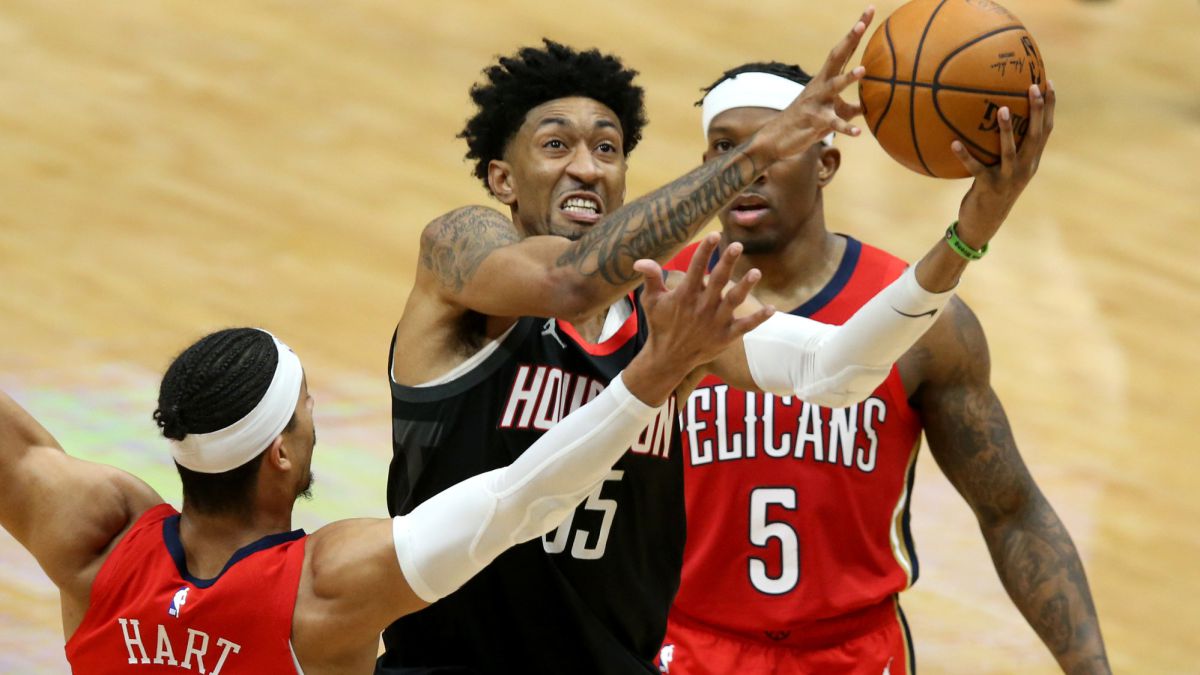 Anyone who wants to air that money does not bring happiness, here is the Rockets 2020-21 as an example. Metaphorical, at least. After years in the elite with the best open streak in the playoffs (eight in a row, all from the James Harden era), the franchise faced a change of cycle that ended up being inevitable. And he did it with the bitter aftertaste of what could have been and was not, especially in those 2018 playoffs in which after being the best of the season, the Rockets had the untouchable Warriors on the canvas (still with Kevin Durant). With 3-2 in favor, came Chris Paul's injury, the missed triples, the shaking ... you know. The ground disappeared when there was only one step left to the finish line. There, even though it lasted a couple of years more, that team had actually died.
The shaft dispatches (Daryl Morey) -bench (Mike D'Antoni) -track (James Harden) was blown up after a less than decorous defeat in the bubble playoffs against the Lakers. A culture that ended up being harmful, with Harden in the center of the target, and a team abandoned in its leadership and entrusted to a new owner, Tilman Fertitta, who has already earned a reputation for stinginess. They all came out, the last one a Harden who had to spoil his history in Houston, the city that made him an NBA MVP because, after all, the end justifies the means. After not being comfortable with neither Dwight Howard nor Chris Paul nor Russell Westbrook, everyone pointed to everyone and The Beard appeared at the center of all the messages crossed, transmuted into the famous culture. Westbrook, after just one year, also asked to leave. The feeling in the Rockest ended up being, basically, the last one out to turn off the light.
Stone and Silas build in the storm
What's left? A new general manager like Rafael Stone, trained alongside Morey. A new coach like Stephen Silas, the son of the great Paul Silas and one of those immaculate appraisal assistants who traded a seat alongside Rick Carlisle (a teacher extraordinaire) at the Mavericks for what ended up being an electric chair at a Rockets at Los Angeles. It smelled rotten when he was still putting things away in his new office. And a team that was a strange conglomerate of players or very veteran and theoretically unmotivated in that context (PJ Tucker, Eric Gordon), or young for so much fuss (Christian Wood) or united by the misfortune of injuries between very serious and devastating: John Wall, DeMarcus Cousins, Victor Oladipo, David Nwaba…
With Harden riding the circus to get the ticket to Brooklyn (again: the end justifies the means), the script followed the planned line: 2-6 in the eight games played, with his head elsewhere (and delighted that he aired on a good basis), by James Harden, the ninth worst defense in the League, a below average attack (17th) and the tenth worst net rating. Highway to Nowhere.
Since then, the Rockets have rowed to 9-9 overall, 6-3 without Harden and five straight wins. Since the transfer (January 14), they have the third best defense in the NBA, tenths of a percentage of those of the Lakers and Clippers, and the eighth best net rating with a +4.4 that pushes what a still discreet attack can, but more and more effective. In their five straight victories, the Rockets have beaten three of the teams in their platoon, that batch of teams for defining their position in the West behind the great LA contenders: Blazers, Mavericks and Pelicans.
The Rockets' unexpected good health spans all lines of the franchise sports front. Rafael Stone weathered the end of James Harden and settled for the best he could get, a pragmatic realism based on making a clean slate and not rotting what was already in the basket. His merit has more to do with a pre-season market window in which he bet on Jae'Sean Tate for just $ 1.4 million and Sterling Brown for $ 1.6 million. The first is a 25-year-old rookie who was not drafted in 2018 and has passed through Belgium and Australia. The second is a 25-year-old guard whose place in the NBA was in question after being nearly cut from the rotation at the Milwaukee Bucks. Stone, and this is an undisputed triumph, signed Christian Wood for three years and 41 million, a robbery for a 25-year-old interior who is emerging as a big star and that points to the All Star and the Team USA work block. for the Olympics. While others doubted how an expansion of his role would carry over to a team other than last season's filthy Pistons, Stone gambled. And he won, that is becoming clear.
Stone also got a couple of first rounds for Robert Covington, a player who on the basis of being considered undervalued has ended up being slightly overvalued. And he has been collecting, to see if a flute sounds, players like Dante Exum, constantly crushed by injuries, and Kevin Porter Jr: 20 years, star talent and a head so bad that he fell until the 30th draft (2019) and the Cavaliers ended up giving it away, desperate.
Silas is coming out of his debut as a head coach absolutely strengthened. Since the preseason, he elegantly managed James Harden's goring, protected and held together those he knew would still be there and was making his way, working as and when he could with those who wanted to do it and stepping on the accelerator in defense as soon as Harden left. The wardrobe, and the front that was made to shield against Harden's veneer showed it, was sewn with the needle of veterans who have already seen the worst of this business, such as John Wall and Cousins (former partners in Kentucky) and a PJ Tucker who has put aside the resentment about his contract and his future. Victor Oladipo, who came on the rebound in Operation Harden, is another very good player who is already engaged, hard-working and with an optimal spirit for a block that has clung to the (always a great fuel in sport) spirit of us against the world, to the no one expects us to do this, that and the other.
Christian Wood, new franchise player
Wood is the axis of these new Rockets, a player who improves almost game by game and is at 23.6 points and 10.7 rebounds per game with visible growth as a defender, more versatile than in Detroit within more aggressive schemes in the coverage of the pick and roll. Oladipo is an excellent defender, as is Tucker, who continues to contribute what he can at 35 years old, and to a lesser extent Danuel House and an improved Eric Gordon (leg issue) compared to his terrible last season, in which he played (when did) crunch from injuries. But the real glue of the hard is in the rotation with Sterling Brown, David Nwaba (contract of 1.8 million and broken Achilles tendon overcome) and Tate, a small forward (1.93) who has stabilized as a starter and has provoked (muscle and versatility in defense), a huge finding, comparisons with Tucker himself and Draymond Green himself for profile behind and his good touch when generating attack.
Silas' new block has little room for a shooter like McLemore, a role that Mason Jones, undrafted rookie with a two-way contract, has covered well and elevates Oladipo (who ends contract at the end of the season, important issue) as a figure key next to Wood. The Rockets don't need miracles from DeMarcus Cousins, who has helped where he could and had his best moment in a long time (too much): 17.3 points, 14.3 rebounds and 4.7 assists in the three games in the which was a starter in the absence of Wood. A problem in defense and with poor percentages, DeMarcus has appeared as a proud and stabilizing figure, with a very significant and very loud public barrage of James Harden shortly before the transfer.
And they do not need John Wall to be the one from 2017 again, although they are counting on a good version of the point guard, who had not played for two years and has one of the worst contracts in the NBA (he is 30 years old and almost 133 million to collect until 2023). The point guard has played at a good level (almost 18 points and 6 assists on average), above what is expected physically and without the turbo of yesteryear but more energy than could be expected. And with an also optimal attitude as a unifier of a team that does not have the theoretical path of previous seasons nor is it going to be as dangerous as in its highest format with James Harden as alpha and omega. But who wants to establish himself in the race for the playoffs, builds an optimal culture where there were only ruins and scratches on the surface of what may be a new top-level project, with a coach with an excellent stroke and a new franchise player who is at hand. about to become an all star, the excellent Christian Wood. New and interesting times in Houston: money does not bring happiness…
Photos from as.com