The Loneliness of Stephen Curry
The point guard reaches 17,000 points, the only one in the history of the Warriors to do so besides Chamberlain. He did everything against Boston, but he succumbed.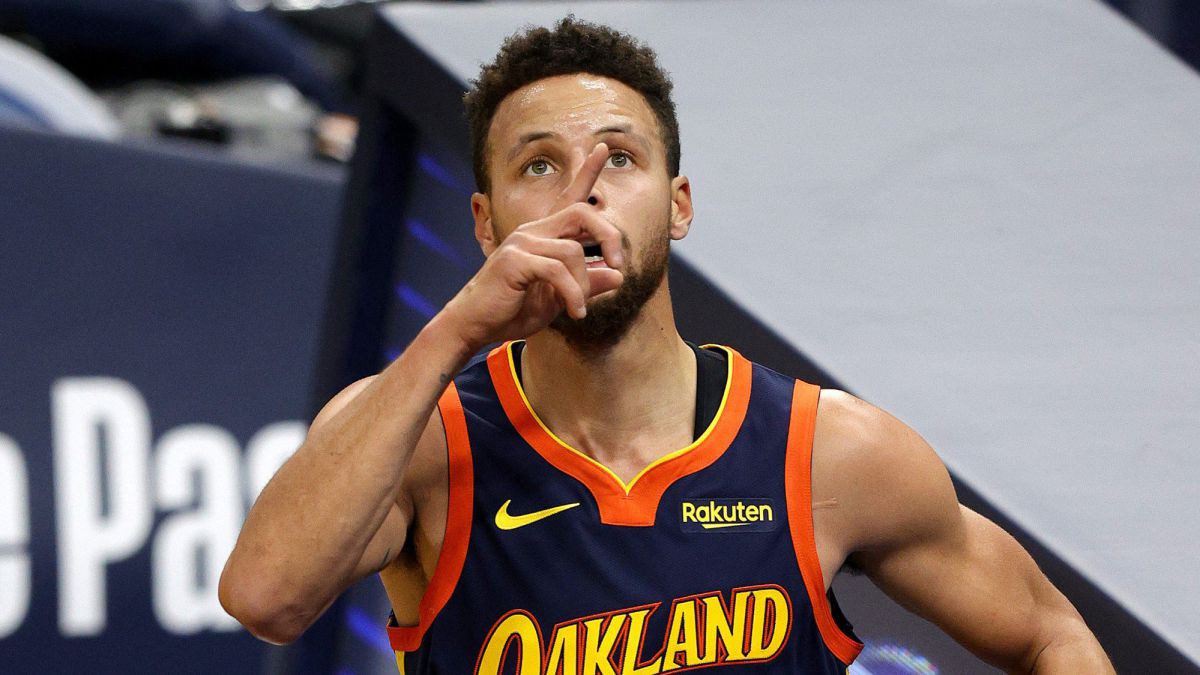 Curry makes history, but the Warriors lose. It is a headline that will serve for many chronicles in a year in which the point guard, without Klay Thompson at his side and no real chances of qualifying for the ring, will assume a lot of prominence in attack, grab headlines and lose more games than he's accustomed. Not in vain, and if we ignore the last almost blank year he has had (he only played five games), he came from five Finals and three titles in a five-year net and completely dominated by the Warriors, a historic franchise (it was the first that won the NBA, in 1947 and when they were in Philadelphia), converted into the last great NBA dynasty and replacing in that section the Spurs of the five titles or the Lakers, either the three of Kobe and Shaq or exclusively those of the Mamba Negra, which has added the same championships as its Texan rivals in the last two decades. There have been, therefore, three dynasties that have existed since the retirement of Michael Jordan until now, and one of them, that of Golden State, has changed basketball forever, leaving the pick and roll era behind to dedicate itself entirely to the triple, one in which they have been pioneers and forerunners, makers and creators, and for which they have had a trace that is now in a different phase of their career, but that maintains a magic that few players have had: Stephen Curry.
The point guard went, against the Celtics, to 38 points, 11 rebounds, 8 assists and 3 steals, with a very good shooting series: 12 of 21 in field goals and 7 of 14 in triples, a statistic in which he can catch up with Ray Allen ... for next year. He has 2,584 for the 2,973 of the historic guard, who has more than assumed his defeat in this classification and whose greatest merits is having scored huge amounts of outside shots when the North American competition was not yet dominated by them. Fewer than 400 triples separate the two stars, and it seems that if there are no injuries and everything goes well, Curry could have him in sight in 2021-2022. Another record that joins the one he has achieved today, surpassing 17,000 points, all of them with the Warriors jersey, which he has not taken off since he landed in the fans, in 2009. He is the only one to do so in that team with Wilt Chamberlain, who did it in the 60s (first in Philadelphia and then in San Francisco) and in those years of 100 points, averages of 50.4 + 25.7 in a single season and an infinite string of records impossible to break today. Curry has, by the way, 784 points left to become the top scorer in Warriors history. And he is the seventh active player to reach that figure. Almost nothing.
Yes, the Warriors lost. The absence of James Wiseman has left them touched, and Kevon Looney's injury in the second quarter of the game against Boston, leaves them without a pure pivot, a position that Draymond Green (or Eric Paschall to a lesser extent) will surely have to fill. in a less fun way than he did in the famous and longed-for death quintet (along with Curry, Klay, Iguodala and Durant). Green made his usual numbers, only 2 points, but 11 rebounds and 7 assists, incisive in defense (2 steals and 2 blocks), but with 5 losses. And Toscano-Anderson, Bazemore, Kelly Oubre and Wiggins also passed the ten points. However, they could do nothing despite being even at half-time (52-52) and arriving with options in the last minutes of the game. Curry couldn't hold his own at the end (12 minutes in the fourth period), in a quarter in which the Warriors shot 36.8% from the field and 25% from 3-pointers, in addition to missing four free throws. which in the end were key. Moreover, because of that difference, of four points, they ended up losing the game (107-111) .
The Celtics, meanwhile, breathe. They were coming off two consecutive losses, against the Spurs with four points and the Lakers with one (in a horrible game, by the way), in addition to winning only two of their last seven meetings. The green team was led by Jayson Tatum, who went to 27 points (his season average), 9 rebounds and 3 assists. In addition, good minutes from Tristan Thompson (13 + 8), Jaylen Brown (18 + 10) and slight improvement from Kemba (19 + 7 + 5) who is still denied in the shot (6 of 18) although he has improved, it was not difficult, the disaster he made against the Lakers: 1 shot made in 12 attempts, ridiculous. In addition, Grant Williams contributed 15 points and the Celtics manage to sneak in, with more trade than conviction, in fourth position in the Eastern Conference with a record of 11-8 that leaves them tied with the Pacers, their immediate pursuers (12-9) and only half a win for Giannis's Bucks. A lot of equality in the East and difficulties in the West for the Warriors, 11-10 and ninth, out of the playoffs (the play-in is still there). And with Curry in a state of grace ... but very lonely, of course.
Photos from as.com