The keys to the Wizards: a secret meeting and a Westbrook who also knows how to win
The team led by Scott Brooks has suffered like no other from the difficulties this season. After the end of a creditable streak, look for stability.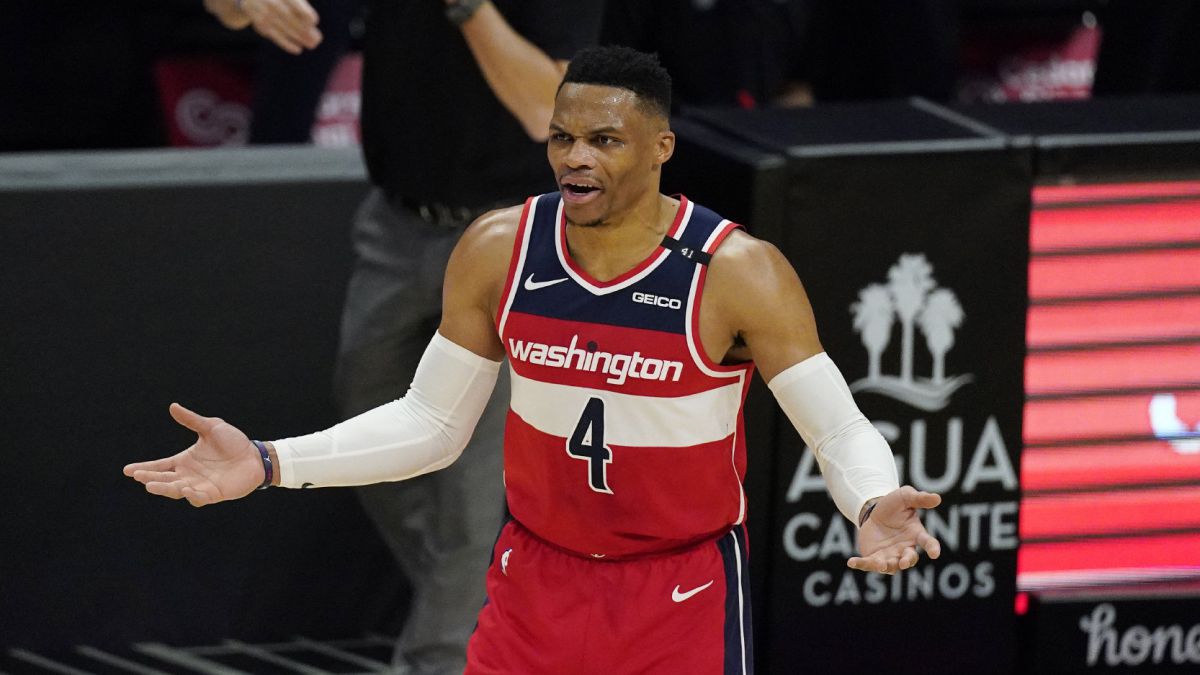 The 'new normal' is being anything but normal. And, within it, the NBA is no exception. The start of the season was a clear example: matches whose rhythm progressed stumbling, in which no one could find their place and the result was a classification that, little by little, tends to the usual. In the midst of all this, and as in all sports, injuries, injuries ... and more injuries. Busier than ever calendars and organizational lurch that make you sweat even more. See the celebration of the All Star. Not even the best league in the world escapes the dichotomy (be it more or less false) between economy and health. The 'new normal', which is becoming less new but not more normal, has affected everyone; and the Wizards, who were desperately consulting the compass, were completely disoriented. They entered the season after an anecdotal passage through the Orlando bubble: they entered as the only team in the Eastern Conference outside the first eight positions and they did it, also, without Bradley Beal, Davis Bertans and, of course, John Wall. Mission impossible that, despite being at Disney, did not have any script twists: seven defeats in eight games and a thinking corner.
The conclusions had a first and last name: Russell Westbrook. The base arrived in the capital at a very high cost. At least, on the sentimental side. After ten seasons in Washington, where he was chosen as number one in the Draft, Jonh Wall said goodbye and headed to Houston, where a Harden awaited him who, now, is having fun in Brooklyn and, then, he already imagined doing it. Wall was leaving after not having played a game since 2018, due to an infection in the delicate, and happy, Achilles tendon. Behind him, however, he left 573 games, 10,879 points, 5,282 assists and 976 steals (the last two figures, franchise records). A story of many pages, with three conference semifinals and a first-round playoff knockdown as the climax, which, they understood, needed a full stop.
Russell was arriving ... and all that it entails. For many it was a simple change of cards; for others, even an operation in which both parties lost. Few mentioned the win win. And the truth is that, to this day, we still don't really know what it was; But it has gone through many phases. Westbrook landed doing what he does best: 21 points, 11 rebounds and 15 assists made up his first triple-double of the season ... and his first loss. Embiid woke up on time and Philadelphia put the first stone in a backpack that soon became too heavy to keep going. In the second game, the script was repeated, one that DC had learned by heart: Westbrook's triple-double, Bradley Beal's scoring embarrassment and a loss at the locker. Desperate.
Westbrook before the mirror of his statistics
The ghosts of the empty numbers began to appear. In a more or less fair (there each), some who have always accompanied Russell, with three seasons averaging triple-double and an MVP under his belt, but unable to wear a ring. A statistical hunter who, whenever possible, tries to put the numbers against him. On February 11, after the umpteenth defeat of some sunken Wizards in the East, the StatMuse portal published the following tweet:
And the comments started to burn: "I detect a pattern there", "Westbrook does more harm than good to teams, it's been a no-brainer for a couple of years", "He's the most overrated superstar ever", you can read. Others, less direct, opt for originality (the first of them, of course), and take the W (for win, victory in English) from his name, calling him Russell Estbrook. And it is understood that they did. It was undeniable evidence: Washington, with Russell on the court, was losing proportionally many more games than without him. But the evidence is not always so obvious. In a similar situation, right now, is Kyle Lowry of the Raptors, whose record identifies the following record: In the last 16 games Toronto has played without him, the franchise has added 16 victories. Another very hard (and evident) pattern that, although it has resonated, it has not done so with so many decibels. Lowry has won a ring with the Canadian franchise, unlike Russell in his career, and, for him, it is easier for the public to understand the evidence as correlation. In the Westrbook case, the slab of causality is already too heavy; although he tries to refute it. A broken mirror for a player who, when looking at himself, sees numbers and more numbers. A merciless punishment.
"He's getting into a swing. He's going to have more games like this. He's a championship player. How he prepares, how he talks to our younger players ... He forces the team to be ready," said Scott Brooks, coach of the Wizards, referring to Westbrook, after the victory against Portland Trail Blazers. It was the third straight and Russell had added 27 + 13 + 11. "He is one of the best teammates I have ever had. He loves basketball. He loves this sport in all its fullness," Bradley Beal said after the team's latest win, against the Lakers. The last, in addition, of a streak of five that has returned the illusion to a team that had run out of soul. "Honestly, I do not know. I mean, I know, it is our defense. But I do not know why it is our defense. We are at a point where we could not even defend a parked car," he had said days ago. escort, starter in the next All Star, in a sign of clear impotence. In his case, he saw how, exhibition after exhibition, and with the best point average in the league (32.7), his astronomical scores were nothing.
Now when Westbrook looks at himself he sees something else. The record with him on the track is still extremely bad (7-22); But it is not the same anymore. After a good lunge at the monster of causality, he has sprinted (as much as he likes) towards a long-awaited reconciliation with his beloved statistics. "I don't like letting down my teammates. I feel so much better now. I can move and explode and bypass people and have an impact on both sides of the court, and as the season progresses I will keep improving. I'm not worried about that. , not a bit, "he confessed in the middle of the long-awaited positive streak. He had been dragging a quadriceps injury since the preseason; But right now, according to his own words, he no longer feels any pain. In his last three games, he averages 26.3 points, with 55% shooting from the field, 11.3 rebounds and 10.7 assists. He is the player with the most losses per game in the league (4.8), but against the Lakers, with two, he completed his game with the fewest records in this section since January 3. He is in the worst percentage of his career from the free throw line (60.3%), but he is aware of his weaknesses. In the last six games (five wins, let's remember) he has only shot 10 triples (1.6 on average). So far this season, he averaged 4.3 attempts with a success rate of 31.5%. Not only does he look at individual statistics ... and he also knows how to win.A secret meeting and wingers season
Kawhi Leonard and Paul George, combining for 62 points, have brought the Wizards back to earth. With a 135-116 on the Staples Center scoreboard, they clipped the wings of a team that was already getting used to flying. According to several US media, a staff meeting, organized by Westbrook himself and moderated by himself and Bradley Beal, the two banners of the franchise, could have had a lot to do with it. In it, as noted, Russell asked all players to define their roles and, in addition, promoted a collective self-criticism. Rui Hachimura, for example, sophomore and one of the featured players in the latest results, claimed that he could defend any player in the competition. Trust him, go. Whether by correlation or causality (damn it), the point is that, against the Lakers, his defense of LeBron gave a lot to talk about. Could this also be the source of the decline in Westbrook's 3-point attempts?
Whether it is or not, and whether or not the meeting exists, the truth is that the faces, and the cards, have changed notably in Washington. It has come down from the clouds, but it came from hell. Beyond the gruesome sports results. Between January 10 and 24, the franchise could not play any games due to the security protocols related to the coronavirus; the previous ones, and later ones, were disputed under minimums. "These guys are young and far from their families. Rui's entire support network is in Japan. Wagner's parents are all in Germany. Bertans, his wife is pregnant, he had to be away from his wife and children. I'm very proud of our team. The last three games were really difficult because we were literally in the bones, "stated, at the time, Tommy Sheppard, general manager of the team.
"No matter how tough you want to be, it's still scary. People are dying for this," Brooks confessed. The 'new normal', everyone's; also that of elite athletes (with their privileged positions, of course). In her case, aggrieved by some sporting results that were far from accompanying and to which the rumors of transfer around Bradley Beal were added. A thrust that would have been almost definitive for a project that was exciting at the beginning of the season and that, to this day, does not intend to do anything other than that. A project that, after living in hell and briefly touching heaven, has to find its place on Earth. Your 'new normal'.
Photos from as.com