The Garitano effect continues unstoppable
Leganés adds the third consecutive victory after the return of their coach, this one against an Albacete who was thrown, but ended up powerless.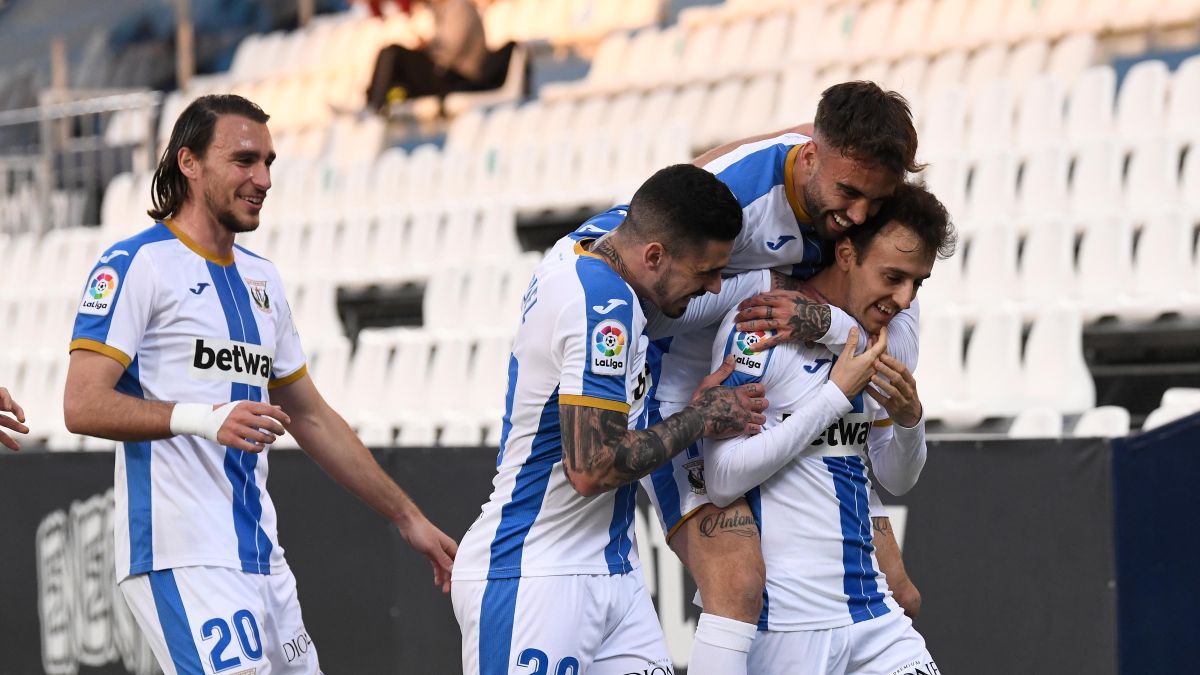 Butarque is, on Sunday, an impregnable square. Angel has the home of a Leganés who has turned this space into the best fortress of Second Division. Nobody gets as much revenue from their house (30 points) as the pepineros. In it Albacete suffered a metamorphosis that reduced it to an impotent block despite being thrown after three straight away victories. That, three victories in a row, is what the Madrilenians have accumulated since the return of a Garitano who has reformulated this team, enhancing its intensity and fueling its attack. It works. Against the Manchegos he did it especially in the first half that ended 2-0 (Rubén Pardo -goal from a foul- and Rober Ibáñez), but that could end in a landslide. Albacete tried to react in the second, but it did not give him the fuel of faith other than to cut back with Álvaro's goal. Sabin, in a counter (81 '), quelled the outbreak of surprise.
The start was dressed with an air of agitation. And the color did not matter. Because Albacete, who arrived emboldened by their good visitor results and previous sensations (their defeat against Mallorca was a waste of courage), also wanted to raise their voices. He did so so much that his were the first bars of a duel in which he even opened the chances, with Silvestre warning from afar and Álvaro raping danger on the right. The matter did not look good for the pepineros and for that reason, when he raised his voice, Garitano clarified his and released a resounding moan that tightened the rows of cucumbers. The recital began, the one that went from the bench to the grass and vice versa.
Asier shouted commandments incessantly (almost always asking to raise lines) and his people began to respond by boxing the combat in the vicinity of Tomeu Nadal. The favorite vertex for the local hosts was the left-handed side, where Javi Hernández and Kevin Bua exerted an incessant gale in this spring Madrid afternoon. They had the support of Eraso and Rubén Pardo.
The latter is one of the main beneficiaries of the metamorphosis of this more courageous Lega compared to Martí's version. Because it has become an anchor, a rudder ... and a bazooka. His goal from a free-kick (18 ') crept into the squad with sensual violence. The action was gifted by Bua in a near-penalty-by-a-meter that uncorked the blue and white effervescence.
Garitano's orders followed and the attacks, too. All with a repeated pattern of the left and worker overtones (that is Lega: work, work and work) that became a reality in the 2-0 (23 '). Goal as a result of a long string of passes in which almost the entire team participated, although the final amen was put by Rober Ibáñez, attentive to hunt down a timely rejection within the area. Having reached the halfway point of the first act, Leganés dominated and clearly won against a diminished rival who not only could not react, but also saw how the enemy tried to defend itself by besieging the Tomeu area. The goalkeeper was a quick antidote for Miguel not to score the third Vaseline at the edge of the break.
The resumption traced the premiere of the match (well Albacete, doubtful Leganés), but not its continuation. Bellows failed the locals to continue besieging an enemy of grown pride that spread high doses of fear when Álvaro Jiménez made it 2-1 after a good cut inside the area (71 '). From then on he tried in every possible way, with more heart than football and more soul than stuck in front of a firm defense Leganés, but without sinking in his area. Cucumber scare feint that went into the well of oblivion when Sabin Merino (81 ') took advantage of a counter launched by Javi Hernández to make it 3-1 and start thinking about what is to come: Wednesday, Almería and Sunday, Tenerife. Double chance to show that Butarque still has an angel in his place.
Menéndez: "We have not deserved to draw"
What have you missed?
You cannot give facilities to a team like Leganés. We don't adjust in defense. Then they condemned us for turnovers. The first comes from a loss. They are losses that you cannot make because the opponent hurts you. It was not us in the first half. In the second, we already gained in intensity and we even scored a goal that left us close to a draw. But in the end, we made the mistake of the 3-1 goal. We have not deserved to draw. Leganés has deserved the three points. What I have missed is that we realized that it had to be us.
Go to Tana to be the starter?
I have not thought about that. I repeat myself, in the first half I did not recognize the team. We have arrived very unbalanced in pressure. I've committed turnovers that we shouldn't have.
Are you concerned that the Menendez effect will fade?
With two rivals who are up, risking everything, it is always more difficult. You have to do many things well to win. I do not know how to explain it. Maybe I answer like weeks ago. We had to keep our feet on the ground. We would have peaks down and up. We will suffer it all. On the weekend we have another important duel. You have to arrive well and prepared. You have to correct things and try to beat Sporting, which is important.
Have you been surprised by the start of Leganés?
The drawing and the way of playing was clear to us. They have hurt us in the peaks of the area, where they associate well and have accelerated a lot. We knew about these companies that they get a lot out of it. I was surprised by their success and our failure. We have not been able to adjust them well in our right hallway, which is where they have hurt us the most. The facilities we have given in turnovers have made Leganés continue to grow. That disadvantage has been killing us.
Is it something more than a strong candidate to ascend Leganés?
The truth is that the teams at the top are very good. The proof is in the points they are adding. Leganés is an aspirant. He has a team and players to have that extra. He has tools to get to the end. Today I really liked it. It is true that we have not been successful in the first half. That, whether you like it or not, always makes you have a very good impression of the rival.
What were you looking for with the ownership of Tana?
He was looking for an imbalance between his lines. Their centrals are not centrals who come out to press. They defend very in position. We tried to look for superiority inside and out. We understood that Tana's role could do well.
How will you recover psychologically to the team?
I think we had a bad first half. But in the second we were correct. We have not had many occasions, but we have been more recognizable. We all know that a team that is down costs more. Players should know that this is a long run. The classification changes a lot. There will be other teams that will fall. We must get hooked on good work. To which it has given us the ability to compete in these days. Think positive.
Dani Torres has debuted, is this the best news today?
Today he gave us packaging in the center of the field. He has made few mistakes. With the change we have improved in that position. It was a question to know how he was doing after a long time. Today with those minutes the feeling is good. We have won a player in that position. You can improve more. It will help us a lot.
Does Gorosito have problems?
He has no injury, is that his adductors are overloaded. Nothing more. No doubt.
Photos from as.com