Koeman again bet on Umtiti against Sevilla ahead of Lenglet, who has lost prominence despite the fact that his compatriot repeated mistakes.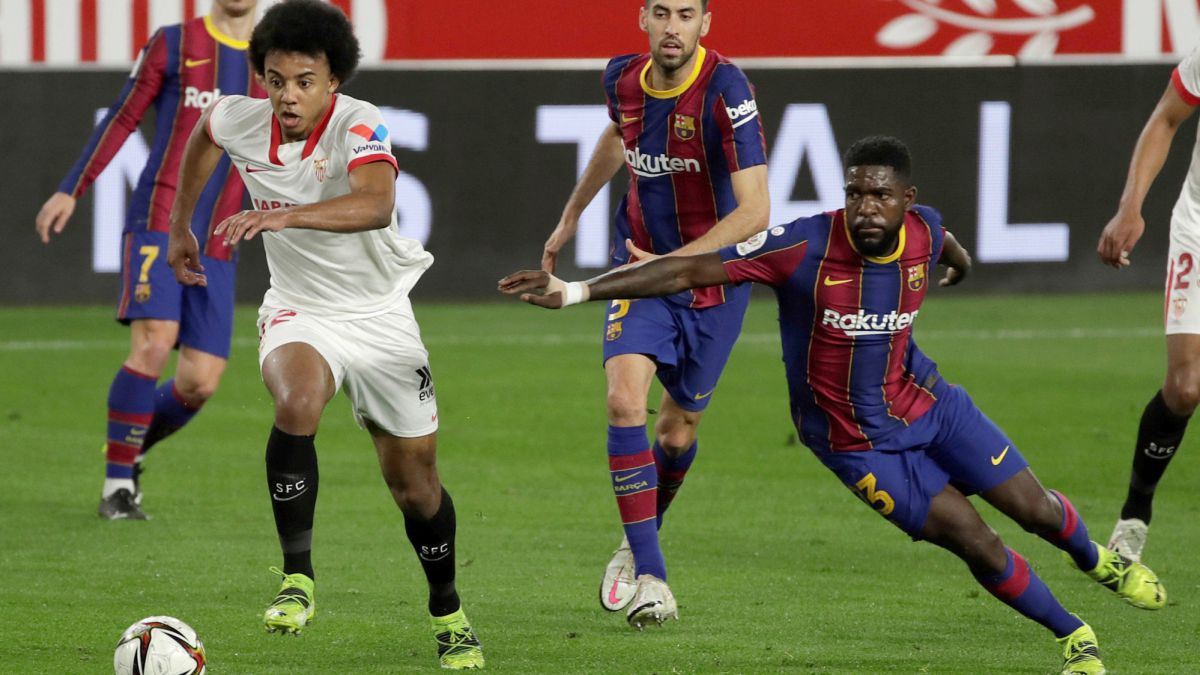 Once again Samuel Umtiti started with Barcelona and again the world champion international center-back with France was again portrayed in the two actions that cost the goals that condemned Barça to a 2-0 defeat in the first leg of the semifinals of Cup against Sevilla. Also once again, Clément Lenglet, stayed on the bench and did not play for a minute due to a "tactical decision", as confirmed by the Blaugrana coach Ronald Koeman at the end of the game.
Koeman's insistence on Umtiti is a mystery that is caused by Barça's weakness in the defense axis, where the Blaugrana team has remained in the bones. With Piqué injured for a long time and Araújo also in the dry dock since last week, Koeman has only two center-backs from the first team left to occupy a decisive position at the key moment of the season: Lenglet and Umtiti, who have the reinforcement of the subsidiary player Òscar Mingueza.
Lenglet remained since his arrival three seasons ago from Sevilla as the starter of the Barcelona team, usually forming a couple with Gerard Piqué. The physical problems of his compatriot Umtiti after the World Cup he won with France led him to the Blaugrana starting eleven. Until now, Lenglet had met the challenge with a good note until this season, when it had to be most decisive due to the absence of Piqué, he has been losing prominence to the point of being a substitute in three of the last four Barça games.
On Wednesday in Seville, in a game as decisive as a Cup semi-final, he did not play for a minute and Koeman chose to line up the limping Umtiti, who had already failed in Granada and was once again very far from the level he exhibited before his injury , together with young Mingueza.
In the face of Piqué's injuries, which still has no return date and on which a disciplinary sanction could hang for his statements in an interview with a youtuber who is investigating the Competition Committee, and Araújo, Koeman has tried to recover Umtiti, to whom he has given five starts in the last ten games.
Umtiti spent nearly a year without being part of Barcelona's starting eleven after suffering a series of knee injuries that have cut his progression. The player refused to undergo surgery two seasons ago and opted for conservative treatment in a Qatar clinic outside of the club's medical services, which clearly has not worked. With less than a week left to resume the Champions League, Barça's defense remains a worrying mystery.
Photos from as.com