The Celtics do not lift their heads: "It must be hard to see this shit"
The Sixers beat the Rockets with a scare, the Knicks hit the sand in Orlando and the Bulls rally 25 points to the Pistons in another LaVine display.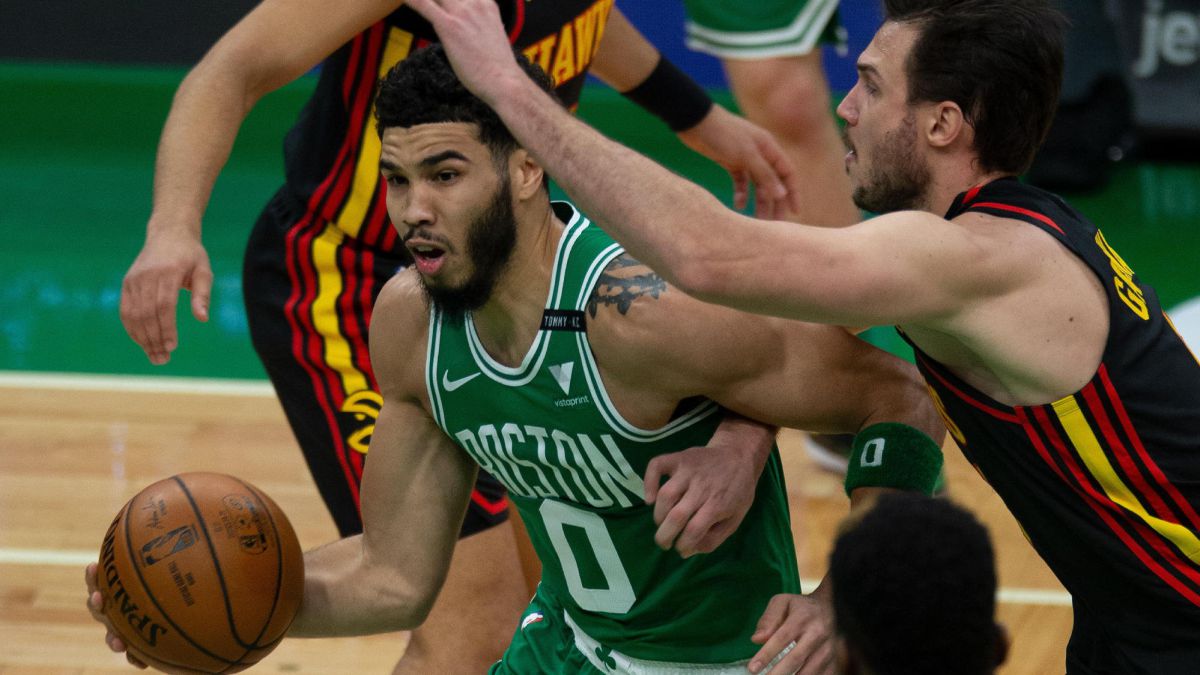 There is no truce for the Celtics in a season in which nothing is easy for Brad Stevens' team. After beating the Raptors with their best game in recent weeks, they lost horribly to the Wizards and the Pistons. And after indulging themselves against some Nuggets in the frame, they punctured again, back to back and against some Hawks who also have no reason to smile: 114-122 final. 14-14 for the Celtics, 12-16 for the Hawks. It would have been hard to believe whoever would have said, with the aspirations that both had, that at this stage of the season Celtics and Hawks would both be as they are, one in a pyrrhic 50% of victories, the other four wins from that mark after a victory in Boston that came after four straight losses and seven in eight nights. Of course, if the Celtics want revenge or the Hawks want to repeat dessert, don't worry: they will face each other again tomorrow, again at the Garden, and next Wednesday in Atlanta.
The Celtics can hide behind the casualties: three starters were missing, Marcus Smart (long-term absence), Kemba Walker (did not play because he was back to back) and Daniel Theis. But the Hawks did not have Bogdanovic and Hunter (two other starters) or Rondo and a Dunn who is still out. So the bad moment of the Hawks and the fact that, after all, Jaylen Brown and Jayson Tatum were playing, gave encouragement to the Celtics, who do not find points of support: every time it seems that they can show, they skate another time. Brown explained it like this after the game: "We are trying to make the pieces fit. There are games in which we play great against very good opponents and others, against other opponents, in which we don't. We have to find a way to be consistent. I guess it must be hard to watch this shit because so is playing like that. "
The Celtics went downhill on offense and conceded too much on defense. The Hawks made 57% of the shots, with many layups and visits to the personnel line because the outside line did not contain penetrations that generated constant superiorities near the rim. Of course, the Hawks linked errors at the end, unable to put their advantages to safety and tangled against a rival who even tried to hack Capela. Finally, the direction of a Trae Young that no rival could contain (40 points, 8 assists, 14/20 shooting) and the completions of Capela (24 points, 14 rebounds) and John Collins (20 + 6) were enough. On the Celtics this time Tatum (35 points, 6 rebounds, 6 assists) was better than Brown (22 points, 6/20 shooting), and Pritchard and Neismith were active from the bench. With the first one loaded with fouls, Stevens tried the near-evicted Jeff Teague… and it didn't work, to put it mildly (0 points, 0 assists, 3 losses). And the Celtics already have 14 losses in a season in which they are far from where they wanted. Also the Hawks, although they did take a little breather in the Garden.
SIXERS 118 - 113 ROCKETS
The East's leader remains the Philadelphia 76ers, now a game and a half ahead of the increasingly fearsome Nets. Doc Rivers' team returned home after a rough ride (three losses in a row) from a tough tour of the West. And it was balsamic ... but scary. The Sixers (now 19-10) beat the Rockets, who have fallen behind after Christian Wood's injury and have accumulated seven straight losses and eight in nine games (they were 10-9, now they are 11-17) .
But they got quite a scare. Without Ben Simmons or Shake Milton, and with Joel Embiid making gestures of pain in his back during the first half, they swept the start: 69-43 at halftime, +29 in a second half in which Embiid (31+ 11 + 9) was warming up. However, the relaxation took its toll and the Rockets rallied and rallied and rallied… a 100-82 with 10 minutes remaining came to 110-106 with less than two to go, when Wall missed one of his free throws and Embiid scored the basket of tranquility. The Sixers didn't have to come to that ... but they won. Tobias Harris added 24 points, 15 rebounds and 5 assists and between Danny Green and Seth Curry they scored 37 points with a 7/11 in triples. For the Rockets, 28 points and 7 assists from John Wall, 19 with 8 rebounds from DeMarcus Cousins, 17 and 6 assists from Gordon and 19 + 6 + 4 from the meritorious Jae'Sean Tate.
MAGIC 107 - 89 KNICKS
The Knicks had won three games in a row for the first time this season and had the option of four because they were visiting a Magic whose campaign was ruined by injuries. But it could not be: the Knicks signed a terrible second part and remain at 14-16, still better than those of Florida (11-18). After a good first half (53-56), Thibodeau's team sank in the last 9 minutes of the third quarter (25-8 partial). In the second half they only made 25% of their shots (12/48) and finished with 38% total and 7/27 in triples. Derrick Rose (1/10) and Immanuel Quickley (1/12) personified the disaster. Julius Randle finished with 25 points and 7 rebounds. Decisive for the Magic was Fournier's comeback (19 points) and Ross's deployment from the bench, key in the reaction in the second half and who finished with 30 points for the first time this season. Nikola Vucevic had 16 points, 16 rebounds and 5 assists.
BULLS 105 - 102 PISTONS
Bulls' tremendous comeback in a ghost game: Billy Donovan's men should have played in Charlotte, and the Pistons in Dallas. But the postponements and readjustments of the pandemic forced this duel, relocated by the fast track, between two teams that are outside the cheap playoff zone of the East (the Bulls are managed at least in play-in positions): 12-15 by 8-20. The Pistons led by 25 in the second quarter but sank in the third quarter (27-12). In the end they scored decisive triples Coby White (the only one who scored: 1/6, 8 points) and the remarkable rookie Patrick Williams (15 points, 5 rebounds). Wendell Carter finished with 18 points and Zach LaVine, once again imperial, with 37, 5 rebounds, 5 assists, 3 steals and 14/22 shooting. Impossible to do more. For the Pistons, 43 points from Jerami Grant and the usual work by Plumlee and Wright but too little team contribution in the second half.

Photos from as.com