The 24 that would be All Star: Wood, Doncic, Tatum, Sabonis, Conley ...
Our bet for the next All Star teams: twelve from each Conference and very notable absences: Chris Paul, Jimmy Butler, Simmons ...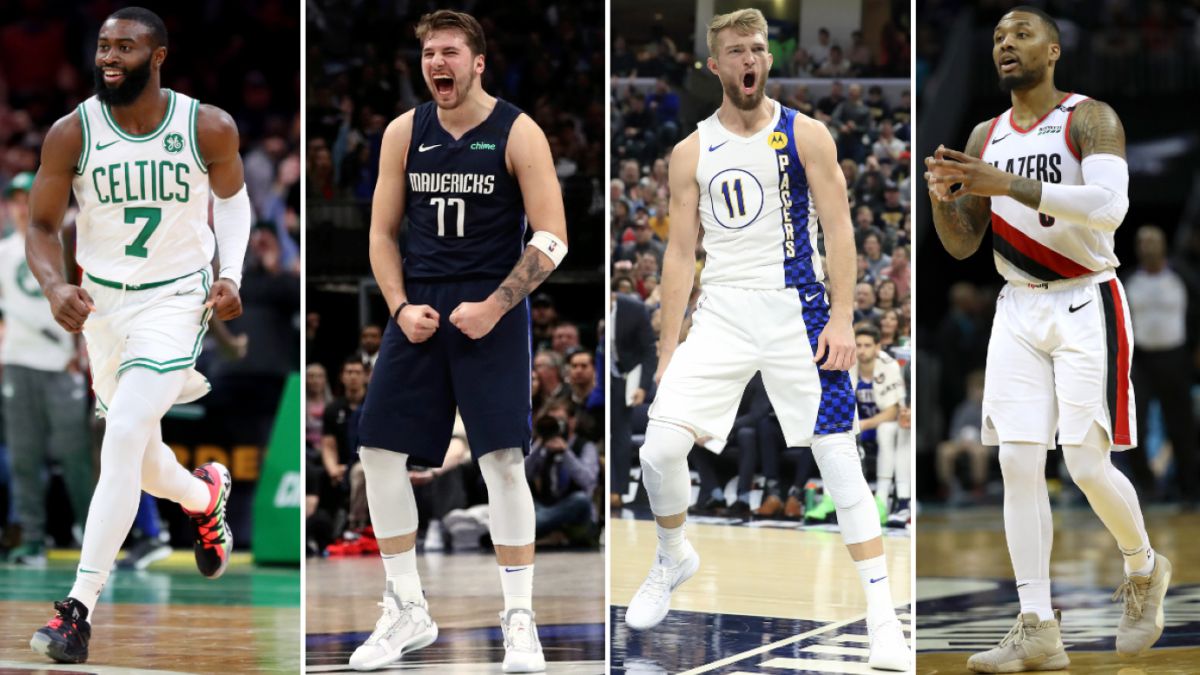 Everything indicates that 2021 will have All Star Game. In Atlanta, on March 7, probably in a compressed format but with contests (at least dunks or triples, or that's what it looks like now) and with the All-Star game as a great date, the showcase for the NBA (and its television partners : Atlanta is Turner's home) and an event that seemed destined not to be held. In fact, it was based in Indianapolis, which has kept the 2024 edition. Many believe that, in the midst of the pandemic, the All Star is a luxury that should be given up, but ... 444 444
Even so, whatever is finally decided (and it seems very likely that it is a yes) 24 players will have their all-star status, no matter what. It's important for resumes ... and for pockets. Not only because of the indirect benefits of this distinction and the income that players receive for attending (they cannot be denied, although this year there may be a pandemic clause that allows it), but also because some contracts are built including bonuses (which sometimes exceed the million dollars) if you get to be all star.
So the voting is already open for an appointment that will surely be held, which will initially return to the East vs West format (without friends against friends from) and in which we remember that there are twelve players per team: five starters (chosen by voting: 50% fans, 25% players, 25% specialized press) and seven substitutes (voting between coaches). The starters of each Conference must include two backcourt players (guards and guards) and three frontcourt players (forwards, power forwards and centers). The reserves, two from backcourt, three from frontcourt and two wildcards, places that can be occupied by players of any position.With these basic rules, these could be the chosen ones if we judge by what we have seen in this first leg of a season that has already covered more than a quarter of its calendar: CONFERENCE ESTETITULARES
TRAE YOUNG (Atlanta Hawks). Base. 22 years. Once all star. Statistics 2020-21: 26.9 points, 4.2 rebounds and 9 assists. Even with a couple of weeks of blackout, Trae is shooting better than ever out of three (36.4%), and is leading a Hawks that are aiming for the playoffs even though physical problems have not allowed them to show their new project. in fullness. Trae Young's ownership is in dispute, not his all-star status. And, also, how the game would be in Atlanta ...
JAYLEN BROWN (Boston Celtics). Shooting guard. 24 years. It was not all star. Statistics 2020-21: 26.6 points, 5.6 rebounds, 3.5 assists. With Kyrie Irving having a prolonged absence and James Harden just landed in the East, we can put them on the bench and give the start to a Brown who has leapt forward in each of his NBA seasons. This one is already the one who rises as a star and much more than a squire of the other Jay, Tatum.
GIANNIS ANTETOKOUNMPO (Milwaukee Bucks). Eaves. 26 years. Four times all star. Statistics 2020-21: 27.3 points, 11 rebounds, 5.7 assists. His numbers are a little less galactic, coming from being MVP and Defender of the Year, Budenholzer tries with systems that rely more on Middleton to avoid playoff collapses and is at a horrible 59% in free throws. And yet, and without discussion, Giannis is one of the undisputed headlines of this All Star. One more year.
KEVIN DURANT (Brooklyn Nets). Eaves. 32 years. Ten times all star. Statistics 2020-21: 30.8 points, 7.5 rebounds, 5.2 assists. After one of the most serious injuries a player can sustain (Achilles tendon), Kevin Durant is playing at his best. With that astonishing ease with which he destroys rivals and that unique ability to score. One of the best of always is back and he will start again in the All Star Game, of course. This time in the East.
JOEL EMBIID (PHILADELPHIA 76ERS). Pivot. 26 years. Three times all star. Statistics 2020-21: 28.3 points, 11.1 rebounds, 2.8 assists. In physical prime (let's touch wood), in an evident maturity and better trained with Doc Rivers than with Brett Brown, we are witnessing a definitive version of Embiid, one that aspires to the MVP and that elevates one of the players with the most impact of all the NBA if we add defense (a giant) and attack (a pylon hammer) .
RESERVATIONS
KYRIE IRVING (BROOKLYN NETS). Base. 28 years. Six times all star. 28.3 points, 4.8 rebounds, 5.7 assists). Yes: He went wrong in Cleveland, he ended up being a problem in Boston, and he hasn't won any employee of the week awards since he's in Brooklyn. And he had a strange absence for personal reasons before the arrival of James Harden. But when he does connect, he is one of the greatest offensive talents ever.
JAMES HARDEN (BROOKLYN NETS). Shooting guard. 31 years. Eight times all star. Statistics 2020-21: 24.4 points, 6.7 rebounds, 11.2 assists. He's only played nine games in the East after eight years in Houston, but these are his numbers with the Nets jersey: 24.1 points, 8.1 rebounds and 12 assists. All star, of course. Despite his horrible departure from the Rockets, a dazzling talent who is adjusting to what they need from him in Brooklyn to go for the ring.
BAM ADEBAYO (MIAMI HEAT). Pivot. 23 years. Once all star. Statistics 2020-21: 20.1 points, 9.3 rebounds and 5.3 assists. The Miami Heat season is being disastrous, a tidal wave of casualties that has prevented the East champion from defending with guarantees, for now. But, with the team low, Bam Adebayo has not stopped growing and has been, especially with Jimmy Butler absent, the leader of a team in which he continues to be the soul in defense and does more and more things in attack. His medium-distance shot, the best news for him so far this season.
KHRIS MIDDLETON (MILWAUKEE BUCKS). Eaves. 29 years. Twice all star. Statistics 2020-21: 21.2 points, 6.4 rebounds, 6 assists. Each season better than the last, Middleton is gaining weight in attacking Bucks in which he puts the efficiency that Giannis sometimes lacks. It is in rhythm, in fact, of entering the club from 50-40-90. For now, 51.7% in field goals, 45.8% in triples and 92.2% in free throws. It doesn't grab headlines, but it's terrific.
JAYSON TATUM (BOSTON CELTICS). Eaves. 22 years. Once all star. Statistics 2020-21: 26.8 points, 7.1 rebounds and 3.6 assists. Tatum has only played 14 games and has been stopped by sanitary protocols. But when he has played, he has scored with the elegance and power of always. This season, in addition, he shoots more triples than ever with an excellent 43%. More complete and more leader, Tatum should repeat as all star after his premiere at Chicago 2020. This season ... and many, many more.
DOMANTAS SABONIS (INDIANA PACERS). Pivot. 24 years. Once all star. Statistics 2020-21: 21.1 points, 12 rebounds and 5.7 assists. For the first time above 20 points on average and better than ever as a passer and point forward, Sabonis will undoubtedly repeat as an all-star in the season in which he is showing that his ceiling is much higher than some thought. The arrival of Nate Bjorkgren to the Pacers bench, with a more modern script, has served the Lithuanian wonderfully.
BRADLEY BEAL (WASHINGTON WIZARDS). Shooting guard. 27 years. Twice all star. Statistics 2020-21: 35 points, 4.9 rebounds and 4.7 assists. After two straight all-stars, Beal was out last season despite his more than 30 points a night. The terrible tour of his Wizards mattered more, who are once again one of the worst teams in the NBA. But now Beal has the solution so that they do not forget him: to lead the NBA in scoring with (35 per night) almost 5 points more on average than the second, Kevin Durant.
OTHERS CONSIDERED IN THE EAST
Gordon Hayward (Charlotte Hornets), Nikola Vucevic (Orlando Magic), Malcolm Brodgon (Indiana Pacers), Ben Simmons and Tobias Harris (Philadelphia 76ers), Jerami Grant (Detroit Pistons), Zach LaVine (Chicago Bulls), Julius Randle (New York Knicks) .
WEST CONFERENCE
LUKA DONCIC (DALLAS MAVERICKS). Base. 21 years. Once all star. Statistics 2020-21: 27.3 points, 9 rebounds and 9.4 assists. The Mavs are being a huge disappointment, for now and counting on a plague of casualties that has affected them drastically. And Doncic hits less than 30% of his 3s shooting more than 7 a night. An issue that is becoming problematic. But his place should be among the headlines again, like last season and since his all-star status is already undeniable.
DAMIAN LILLARD (PORTLAND TRAIL BLAZERS). Base. 30 years. Five times all star. Statistics 2020-21: 29.1 points, 4.6 rebounds and 7.3 assists. Crackling once again from injuries, there's only one reason the Blazers (no McCollum, no Nurkic, no Collins…) haven't slumped to the bottom of the West: Lillard. After being MVP in the bubble, he continues to solve impossible matches with an absolutely generational talent. A dazzling star.
LEBRON JAMES (LOS ANGELES LAKERS). Eaves. 36 years. Sixteen times all star. Statistics 2020-21: 25 points, 7.7 rebounds, 7.5 assists. There is not much to say. After landing his fourth ring in Florida, LeBron is going for the fifth. He aspires to MVP, leads some tremendous Lakers and is getting, every year there is a new surprise in his arsenal, 41% of his triples with almost seven shots per night. A legend.
KAWHI LEONARD (LOS ANGELES CLIPPERS). Eaves. 29 years. Four times all star. Statistics 2020-21: 26.3 points, 5.2 rebounds, 5.4 assists. Last was a bad season that ended in a nightmare in the playoffs. But in this one, the Clippers have made a clean slate, they are going for it and have Kawhi in an excellent physical moment and absolutely committed to building a team with true foundation. The rest is what we already know, the best version of an iron defender with devastating efficiency in attack.
NIKOLA JOKIC (DENVER NUGGETS). Pivot. 25 years. Twice all star. Statistics 2020-21: 26.8 points, 11.8 rebounds, 8.6 assists. The wizard of Sombor may be the big favorite for the MVP right now. At a prodigious level and with a style different from that of any other player, he scores, rebounds, grows in defense and continues to have a unique talent (throughout history, surely) as a passing center. Megastar Level.
RESERVATIONS
STEPHEN CURRY (GOLDEN STATE WARRIORS). Base. 32 years. Six times all star. Statistics 2020-21: 28.2 points, 5.7 rebounds, 6.1 assists. After his absence for most of last season with a wrist injury, we have Curry back: almost 5 triples a night with a 41% accuracy and those (house brand) streaks that seem simply from another galaxy. A unique player who lacks a bit of help (without Klay Thompson) on the Warriors.
DONOVAN MITCHELL (UTAH JAZZ). Shooting guard. 24 years. Once all star. Statistics 2020-21: 23.3 points, 4.3 rebounds, 4.6 assists. Stride to stardom of the first order and lead a Jazz who are being a revelation: better than ever with Quin Snyder and with traces of ring contenders. We'll see, but there is no doubt that Mitchell continues to grow. A player with X factor, magic touch.
PAUL GEORGE (LOS ANGELES CLIPPERS). Eaves. 30 years. Six times all star. Statistics 2020-21_ 23.7 points, 6.3 rebounds, 5.4 assists. Exceptional (watch out for his 45% on 3s) start to the season for Paul George. Gone is his disaster in the bubble playoffs. In a great physical version (another one with which you have to touch wood) and more comfortable with Lue than with Doc Rivers, Paul George is, at this level, one of the great players in the NBA.
ANTHONY DAVIS (LOS ANGELES LAKERS). Power forward. 27 years. Seven times all star. Statistics 2020-21: 22.3 points, 8.7 rebounds and 3.3 assists. He is not forcing the machine and he is not (especially in attack) at his best level. But in the bubble playoffs, where he played at a historic level, he showed that he is one of the most decisive players in the NBA. It is dosed but produced in some Lakers who only think about one thing: repeat title.
RUDY GOBERT (UTAH JAZZ). Pivot. 28 years. Once all star. Statistics 2020-21: 13.3 points, 13.4 rebounds and 2.7 blocks. At his best again in defense, he is aiming for Defender of the Year for the third time in his career. And to repeat All Star after his trip to Chicago in February 2020. The anchor of Quin Snyder's fantastic Jazz and a player with limitations but devastating against rivals who have no alternative to his size.
MIKE CONLEY (UTAH JAZZ). Base. 33 years. It was not all star. Statistics 2020-21: 16.8 points, 3.8 rebounds, 6.1 assists. One of the best players who has never been an all star in this NBA in which he has played since 2007. Generally pushed aside by the brutal level of the West, he suffered last season with the move from Memphis to Salt Lake City but now the Jazz have his best version. He has, by far, the best +/- in the NBA and is a hard point guard, who makes very little mistakes and contributes in everything.
CHRISTIAN WOOD (HOUSTON ROCKETS). Pivot. 25 years. It was not all star. Statistics 2020-21: 23.3 points, 10.7 rebounds and 1.7 blocks. He was aiming for a rising star for the Pistons and is proving in Houston that he is exactly that: a player on the rise to stardom. Many resources in attack and increasingly better in defense under the baton of Stephen Silas. It is already the soul of the post-Harden Rockets, a team so far better than anticipated.
OTHERS CONSIDERED IN THE WEST
Chris Pual (Phoenix Suns), DeMar DeRozan (San Antonio Spurs), Shai Gilgeous-Alexander (OKC Thunder), Ja Morant (Memphis Grizzlies), Brandon Ingram (New Orleans Pelicans), De'Aaron Fox (Sacramento Kings) ) .
Photos from as.com