"I spoke with Messi at his house, I knew he had problems"
Koeman gave an interview to The Athletic in which he takes stock of his first months in Barcelona and the possible departure of Leo Messi.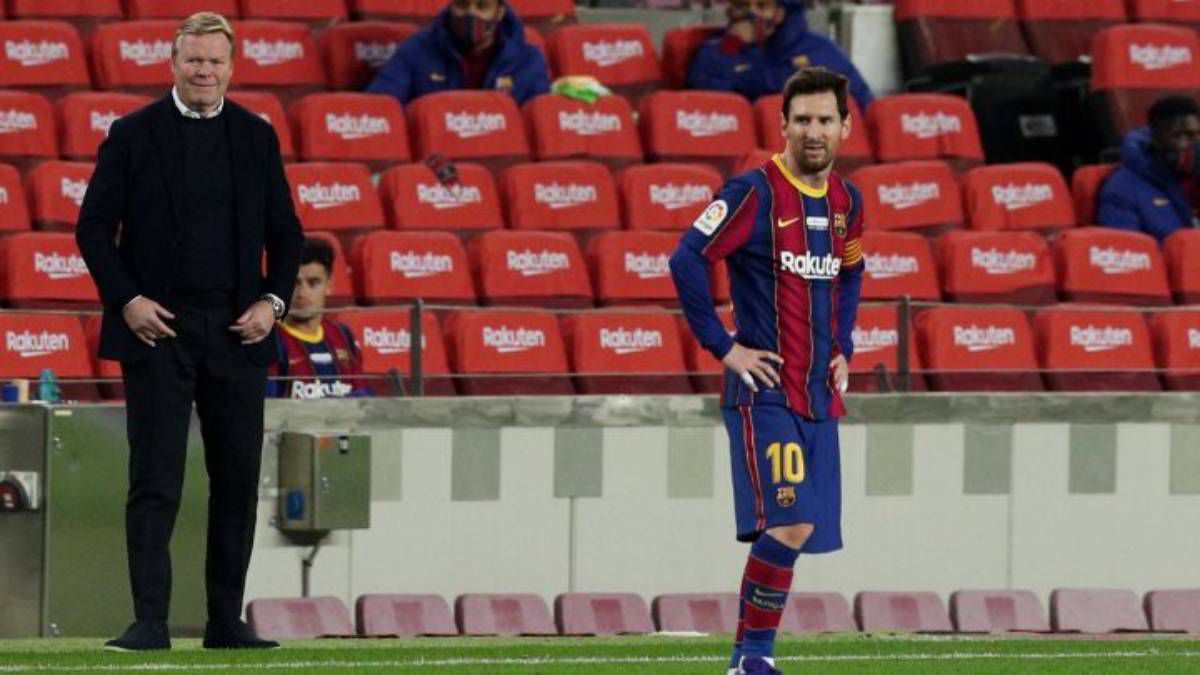 Ronald Koeman, FC Barcelona coach, gave an interview to The Athletic in which he takes stock of his first months in Barcelona. As the offer arrived, face the possible departure of Messi. In addition, in relation to this, it reveals a talk that both had at the Argentine's house to get him to stay.About Messi
Messi's departure: "It was a difficult moment because he is still the best but he was angry about certain situations at the club and he was not happy in a team that lost 8-2 in the quarterfinals against Bayern. When I arrived, the first thing I told the club was that it was not my problem, that it was between Messi and the club and that they had to solve it. In the end, the club told me "we are not going to transfer him. He has to stay. "It was difficult for Leo, but he finally accepted."
Chat at Leo's house: "I was with him at his house before the start of the season to talk about the plans I had with him and I was really excited. I knew he had problems with the club, but I was on the sidelines." I'll be really happy if you stay. If you don't stay, it is your decision and you will have to deal with the club. If you stay, you will be part of the team and this will be your position so that you can give the best of yourself "I told Leo. Little by little, he has accepted the situation and looks at how he is playing the last weeks. with the club and with the team, but nobody knows what will happen in the future ".
If Messi stays or not: "I don't trust him. I have hope because he is still a great player and he continues to win games for us. I am enjoying being his coach. If you could see the quality he has every day in training. It is Incredible. He came to Barcelona as a kid and I don't see Messi wearing a shirt other than Barça's. "
Problems with Messi: "I have not had any problems with Messi. He is the captain of the team. I talk to Leo about tactical matters and we have a great professional relationship like I have with all the players. But he is ... Well, he is the captain, we need to talk more with him ".
The departure of Luis Suárez
Making the decision: "It's part of your job. You talk to the club and you make decisions. When we arrived, we had our opinions and our information from outside. You need to make those decisions. If it goes well, everything is fine, but if not It's going so well, it has to be my way and that's important. We are changing and of course, it would have been better if Suárez had signed for Juventus than for Atlético, because he is still in LaLiga. We had to make that kind of decision. A decision tough, but always showing respect for the player and I think that's the important thing. To this day, I still agree with what I did at that time. "Requirements, transition and club management
Requirements: "No one has told me: 'You have to win something.' Everyone at the club knows that it is a transitional season. Of course we are going to compete for everything, but they know that they cannot expect that Let's win the Champions League. Maybe we can beat PSG in the round of 16 and we may reach the semi-final but there are clubs that are better at the moment. They are more favorites to win than Barça, but Barça will return there. No problem. "
Youth management: "We must give opportunities to young people and this is the way we understand to be able to change, but it is difficult for the fans because they expect Barcelona to always win. Accepting that it is a transitional season for the team is difficult for people but it is the only way to bring Barcelona back to the top. We have good young players, but they need time. Sometimes we play with five or six players in their 20s and they need to make mistakes to gain experience. I'm very calm but it's difficult because everyone keeps asking for the team to win. The Super Cup final was the first for twelve players in the squad with Barcelona. We came out disappointed and for them it is fierce learning but they should benefit from it. We are lucky because we have great young players. Ansu Fati, who is injured, but also Pedri, Mingueza, Araujo, Serginho Dest. We have great talents, but you can't expect the same as from Barcelona a decade ago. It is impossible ".
Playing well: "What I want to achieve as a Barcelona coach is to play football well. It's what we all hope for: good possessions, attacking players, fast transitions to recover the ball and create opportunities to score and mix the best with various of the youth of the club. This is the way to win here ".
To continue with the Cruyff legacy: "I hope so. I played with him as a coach and he changed the club, starting with the way he played. With Lineker and Hughes we played 4-4-2 but Cruyff turned it into a 4- 3-3 with attacking and pressure football and that's the way we like the players to evolve. If we sign someone, they have to succeed playing this way. "
Elections: "We need a president who will build the future of the club. The most difficult thing for me, as a coach, is that there is no president, there is no number 1 who makes decisions. All these kinds of decisions are made by the Management Board and it is more difficult. Right now, you don't have anyone to talk to about how we can continue. The club needs a president as soon as possible. "
His arrival in Barcelona and the first months
Many things in a short time: "It is true. It is really difficult, a great challenge but I have enough experience to deal with it. We will see how it ends" .
What Barcelona means to him: "They are one of the greatest teams in the world. There are a lot of fans with great expectations and they always hope to win great titles. I am sure it is my most difficult job as a coach even though I know the club, the people and that I am an idol for the fans because I scored the goal with which we won the first European Cup at Wembley. Even with these kinds of difficulties, I like being here. I like the club, the people, the fans, the city to live in ... It was my dream. I had several opportunities to be Barcelona coach before but circumstances made me not decide to come. Now it was time to say yes when they came to offer it to me. "
Leaving the Netherlands: "Barcelona called me a year ago in January and I told them no, that I was staying in the national team because we still had the European Championship in summer and there was no Covid. After this, with the Covid complicating everything and doubts about if there would be a European Championship next summer I said: "I can't wait any longer, this is my last chance to coach Barcelona." All the players understood and told me I had to go. "
His role as a coach
Respect in the Premier: "What I saw as a coach in England is that there is a great respect for managers. The players think that the coach is the most important person in the club and it is not difficult to deal with players ".
Communication: "The way of communicating with the players is different than it was 30 years ago. Before they said" you, to the left "and we all went to the left. Now, communication, the way of being of young people, social media ... It's totally different. Now you have to handle more than just training or just talking about football. You have to help the player also develop as a person. Now, the pack is bigger than before. "
Dealing with the players: "You have to deal with them but, I like to talk to any player before they sign to know their way of being, what they think about football, how they like to play, their favorite positions. Know if they would fit in in the context of our team ".
Being a coach: "It is not an impossible job but you have to be realistic. You know that you will have ups and downs and that you do not always depend on yourself. You need good players, luck in difficult situations and everything depends on who is in charge: if they trust and know how to wait, everything will be better ".
Stage in the Premier League and the Netherlands
Pression in different clubs: "I was very calm in Southampton! I enjoyed in that sense, since I did not have so much pressure. It is different. In Southampton there was not the same pressure as in Everton and Everton , There was not the same as in Barcelona ".
Everton: "It was difficult because at Everton the fans sometimes expect too much. I think they continue to live in a certain way in the past in the great seasons that they lived years ago. My first season was very good. Lukaku scored 25 goals, we scored goals City at home and we beat all the greats. Taking the next step was the difficult thing. We spent a lot of money on Pickford, Keane, Sigurdsson and some other players but, the big mistake was not having a forward like Lukaku. That hurt. We were there. close to signing Giroud at that point and in the end, we put Calvert-Lewin down to 9. He was too young at that time, but you see him play now and he's really good. I like him. When we lost Lukaku, we lost 25 goals. Difficult. We signed Rooney and in that position we had Klaassen and other players. It was difficult but at that time, we were missing a scorer.
Back to the Premier: "To Newcastle? Sorry Steve Bruce! (Laughs) I don't know, I'm happy now. The Premier is a great place. All the facilities ... You enjoy a lot, the games, the stadiums. You can be proud of this competition ".
Change in the Netherlands: "When I arrived, people were not happy because we did not have results and we did not play the way people liked. We changed that kind of thing with younger players. We reached the Eurocup and the Nations League final and we had great games. We had Depay, Wijnaldum and great center-backs like De Ligt or Van Dijk. It was a shame not to be able to finish in the European Championship because we had a really good time together but, we managed to change the atmosphere in the team and more. Now, to the people like to see the national team play again ".
Photos from as.com