Spanish tennis vibrates with Carlos Alcaraz: "He has everything to be a great champion"
Nadal, Carreño and Feliciano López praise the 17-year-old from Murcia, who has drawn attention to the international press covering the Australian Open and the tournament itself.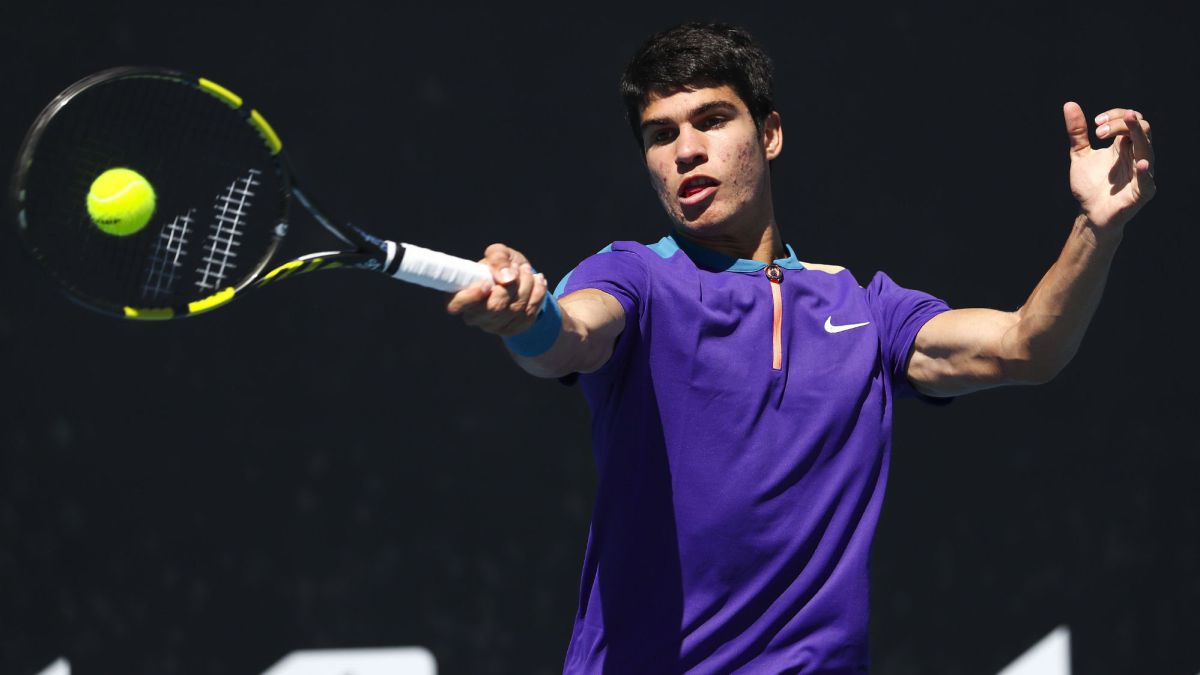 Carlos Alcaraz plays his second match at the Australian Open this Thursday, the second also in a Grand Slam, after making a remarkable impression and producing a great impact with his debut last Tuesday against the Dutch Van de Zandschulp. The 17-year-old from Murcia won in three sets with a solvency and a handling of the match that surprised him and that caught the attention of the international press, which in good numbers followed his first press conference, and of the tournament itself, which He wrote on his Twitter account: "Remember the name Carlos Alcaraz" .
Meanwhile, some of the best Spanish tennis players congratulate themselves on the appearance of Carlos on the world scene and predict "a great future" for him. It is said by the number two in the world, Rafa Nadal, who praised him after having trained with him for a few days at Melbourne Park: "He is very good. He is very young and has everything to improve in the future with his age. He is already where he is, and he has a lot of good things in his game. He has a future because he's a good boy. " For the Balearic, Alcaraz "has intensity, passion, blows ... He has all the ingredients to become a great champion." For Rafa "everything depends on how much he can improve to make the difference between being very good and being an amazing champion, that's all" .
Feliciano López gets emotional when talking about the boy. "I'm very happy, because I haven't seen a Spanish player with that potential in years. We should all be happy with that. It's special and unique, then what is going to win or not depends on many things, but we have to be happy to have someone who can do great things for our tennis. " The man from Toledo believes that it is very important for the young player to have "a person like Juan Carlos, a great coach and a great person, who knows this perfectly and has been number one and champion of Grand Islam." "I am very happy for him and for 'Juanki', they are a great couple, I wish them all the best. It is impressive to see a player of his age play the way he does and I think he will give us a lot of joy," he concludes.
"He works very well, he sacrifices himself"
Pablo Carreño, who often lives with him at the Equelite Academy in Villena, is the one who knows Alcaraz best and speaks even better of his commitment to work than of his talent: "He is a great Boy, above all, very humble, very hardworking. I met him in 2017, during the London Masters, I rallied with him in 02 and he was able to exchange blows and not fail in a scenario like that when he was 14 or 15 years old. I saw that it was a little different. " The Asturian explains that Carlos "has a very high ball speed, it seems that he does nothing and it comes out a lot, he has a very high level of effort, he works very well, he sacrifices himself, he learns very quickly ..." Carreño says that he has shared with he "a lot of training sessions over several years and you can see that he is improving very quickly and that he wants to continue doing it. He has a very good team behind him in Equelite". Finally, he asks for caution with him: "I hope he continues to go forward because he has a very good future. But let's not wait for him to reach the final or win the Australian Open." For now, this Thursday (around 03:00, Eurosport), he plays against the Swede Mikael Ymer (22 years old and 95th in the world) with nothing to lose. With his first win in Australia, he climbed 16 places in the ranking, to 125. If he wins again, he will advance another six and will be 119th, closer to the top-100.
Photos from as.com