"In Spain, no one presented me with a project like that of Roma"
The 22-year-old midfielder attends to As before meeting Juve. He has Italy hypnotized, where he is one of the revelations. Fonseca gave him the helm of a Rome that fights for everything.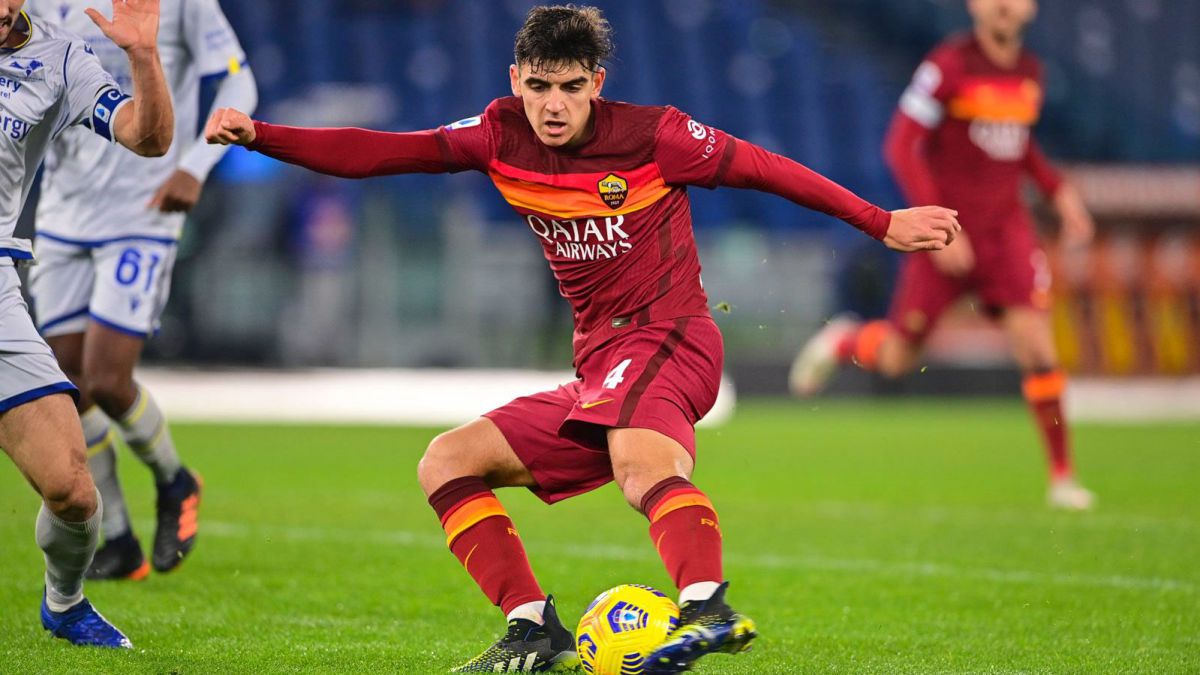 You have been in Italy for a year now, how are you doing?
I'm phenomenal, in the best moment of my career in a long time.
For many reasons, the game against Juventus is very important to you.
The computer is ready. We have managed to calm down after a difficult few weeks. I see the team psychologically very well. We have returned to the path of victory, rediscovering our game, something that had cost us in the two previous games.
Pirlo's Juventus is an asymmetrical team that stands on defense with two lines of four, but takes the ball with three from the bottom, it has several records. How is it hurt?
We have worked hard based on our game and looking for its weaknesses, which it has few because it is a great team. We have a very defined game with which we hurt most of the teams. We are third in the league on our own merits. As much as Juventus is, we should not obsess over it, but rather give the highest level of our game.
For both proposals, it will be a fight to have the ball.
It is the basis of our game. That is why I decided on this project. Time is showing me. They also want the ball and have people for it. It's going to be a great battle to impose style.
Before you and Veretout are probably Arthur, Bentancur or Rabiot and this Mckennie with so much impact in the rival area.
His core has quality. I know Arthur well, he likes to have it, he turns around and it's very difficult to take it off. It complements well with Bentancur or Rabiot, and then there's the McKennie factor. It is very intense, very reaching. You have to be careful. But our midfield is very strong and ready for battle. We have the loss of Pellegrini, who is an important player for us, but whoever comes out will do very well.
In the league, Roma is blamed for missing a victory against the greats. Can winning against Juve be a turning point?
It would be a good turning point. So far we've been flawless against most teams. But when direct rivals arrived, we had to be ourselves, which is what leads you to win. Against Inter we were very good and with Milan and Juve in the first leg, too. But we are missing that victory against a great one that shows that this team plays well against everyone and that we are capable of being at the top.
Does the locker room talk about fighting for the title?
It would be a mistake to think like this. The main objective is to enter the Champions League, but we do not say no to anything. We are not afraid, but we go game by game. We are third and the mentality is to catch up with Inter, who is second (the talk takes place before Inter play in Florence). Catching up with the one in front of us, that's how you get things done. Sure, it would be nice to be in the fight for the title at the end of the season.
The team is going through a difficult time that has ended with a change of captain. Tiago Pinto, the sporting director, explained that Dzeko is no longer the captain. How do you see this decision and what happened?
I think it is not a subject on which I should speak. Tiago Pinto has already spoken about it. Roma is a very family club and both the dressing room and all the levels that make up the club all go to one.
His evolution in Italy could not be better. At 22 he has been given the keys to the team and his teammates are constantly looking for him on the field.
My goal was to be an important player here and I have to be grateful to the coaching staff for the confidence they have given me. I'm giving it back to him on the field, helping the team. It gives me a lot of confidence that my colleagues look for me, even when under pressure. They know they can pass it on to me because I get to go out and make the team play from one side to the other. Direct the rhythm of the game and guide the team towards the spaces. I enjoy it. I'm not about making the play of the game, but about setting the pace.
The numbers say that he is the Roma player who touches the ball the most per game. Is it born or acquired for a responsibility like this? The other day I was talking to Borja Mayoral about exactly that. I think I have grown in personality in the sense that I enter a game with the idea that I have to relate to the ball the more the better, without eating a teammate's space, of course. But always being an option to pass, receiving and unmarking quickly to give the teammate an option again. I prefer to touch the ball 100 times in a match, like on Parma day, which I think was my record, making the team play well than touching it 20 and scoring the winning goal. I'm leaving happier like this. Little by little I have more personality in that sense.
But not only that, he is also the Romanist who tackles the most by 90 minutes. He does not shy away from melee either. How do you leave that data?
This I have been developing. As a cadet or youth he defended very little. I felt like he was a quality player, but it was always my partner at double pivot who did the dirty work. Then you realize in professional football that this cannot be the case and more so in the position that I am playing now. Playing with Veretout, he has more freedom to arrive and I, apart from kicking the ball and holding the position longer, I have to do more defensive work. This is one of the things that I have tried the most, it was something my father always told me. That I had to try harder on defense. The gym is helping me, I am more prepared to win duels, to jump head first or to go to the ground, which I like a lot. It's making me much more complete.
But what is mesmerizing Italy the most is their way of protecting the ball, the defensive dribbling they call, to get out of the pressure. There is no midfielder like you in Italy, with such a high volume and 89.25% accuracy. It is striking because you are compared to Iniesta, but you have a much lower center of gravity.
It's something I've had since I was a child. I would grab the ball and dribble without brakes. They called me 'sucker'. I've always liked it a lot. At Valencia I had a coach who told me that I wasn't going to be able to drive the ball in professional football, that I had to play two touches. I like to receive advice, but if I see that maybe it does not work for me, I analyze it and see if I take it or not. If you take one that affects your game, it is not the best. I arrived in Elche and the first day with Pacheta he asked me: "What are you good at? In driving, right? Well, drive ". All he asked me was to know when to do it and when not to. With Pacheta I learned to differentiate when to receive and remove it quickly and when to drive and overcome a pressure line. It seems to me key in today's football, so physical and tactical, where there are no advantages, that a midfielder receives between two rivals and manages to free himself, overcome a line and connect with his teammate. If you leave one behind, it is 11 against 10 and if there are two against nine, you have already generated the advantage. It is a risk to do it in your field, but if you succeed, you offer a huge advantage to your team. If I do it in my own field and link up with Mkhitaryan in the rival's field with a tense pass, with whom I understand wonderfully, in the end he receives in three quarters with many options to do damage with a definitive pass. Those I do in front of the gallery are not dribbles, they are to give my partner an advantage.
Leveling the Mkhitaryan ...
'Miki 'is spectacular. At the beginning of the season I would talk to him. It helped me a lot. We spoke in English, at the beginning. One day I sent him a message to tell him how well he had done in a match and he replied: "Yes, brother, but I can't score." He was not satisfied. At a week and a half he started scoring and now look at his goals and assists numbers. He's an amazing gamer.
Of his dribbles, the one between Lukaku, Barella and Brozovic against Inter went viral.
If I'm honest ... He was full of confidence because he had just given the assist, but if you analyze it, it was the 92nd minute and almost last man, between Lukaku, Barella and Brozovic. If I lose it, I have to leave the field hooded. It went well and was for the highlights ...
When you post photos while studying, they also go viral.
Yes, because it seems that it is not normal for footballers to do it. I try to force myself to put on, which is difficult sometimes. It also serves as an example. A lot of people look at us. I try that what I do, if seen by a small child, is a good example. Let them see what a footballer also has to be.
How do you feel you still need to improve? The shot on goal?
Yes. On the physical issue I feel better and better. I keep working out a lot in the gym. Following what the preparers of the club tell me and then, apart, I work with Pep Roig that plot. Since I started with it, I follow it almost every day and I am taking it very seriously. More than the shot on goal, perhaps, reach more to the area to help the team with a goal. With my role it is difficult, because I am more protective, but yes, a goal from time to time. I'm just starting out, I haven't done anything in football yet, I'm ambitious and I have a lot to learn.
There are five Spaniards in Rome, I imagine that the guide of the group will be Pedro, from his experience. What is the value of having it by your side?
For me, who has grown up watching him win the World Cup or watching him play with Guardiola, it's amazing. Borja Mayoral, Carles and I are kids who really like to listen to older people and tell us stories. In the rallies, after dinner we often have a coffee around Pedro so he can tell us stories. We are stunned by what Guardiola and other technicians have had. Anecdotes from the National Team ... Having him is a privilege and that there is a group of Spaniards who are friends, more. We spend a lot of time together.
Borja Mayoral has taken a huge step forward as well, with an impressive goal average.
It is at an incredible level. I'm happy you came. First of all, because he is getting better every day, everything he touches he puts. But he is also becoming one of my best friends. With Carles, too. We had a great time.
If a few years ago they told us that young Spanish talent was going to go to Italy to grow up, we would not believe it. There is a change there and not only in the big ones, even the little ones want to be protagonists in rival field.
Those who do not follow Serie A keep thinking about the catenaccio, but you only have to see the results of the matches. The volume of auctions. Yes it is true that here you almost always play with a defense of five, but it is done to have two very tall lanes. Italy has changed. Borja, Carles or I decided to come here for the proposal. An outside club like Roma came to me and they showed me a project that no one in Spain had put me in front of, without disrespecting anyone. In Spain they have not valued me much, I am better known in Italy. There I did not play in First. They never valued me like when Roma arrived and presented the project they presented to me. In the end I took the step and I am happy. I had some other project on the table and this was to go alone to another country, but it has helped me to mature, I am settled in a top team.
He was talking about the defense of five, which in Spain is already beginning to be imitated. You have a lot of flight outside with Spinazzola and Karsdorp.
It's amazing what Spinazzola runs and Karsdorp has grown a lot. They are two very important players because we play a lot on the inside, but then we connect on the outside. They are both doing a season and are key in our game.
At the end of the season there is a Euro Under-21. At this level it will assume that, at the very least, it will be there.
I no longer take anything for granted. Other times I have taken for granted and then the stick comes to you. The only thing that is in my power is to work and play the best possible in Roma so that later I can represent my country, because that is the most beautiful thing there is. Between now and summer there are many important national team competitions and I would love to be there, it is a dream.
And why not a jump higher than the U21?
I am ambitious and as a child what you dream of is to one day reach the absolute. Hopefully. It is always in your head. Without losing it, since I started in professional football it became a goal. I have to keep getting better.
What do your colleagues from Elche tell you?
I left friends there. I watch all their matches and then I have a group still with them. Also, Gonzalo Verdú is like an older brother to me, I talk to him almost every week. I also keep in touch with Josan, Dani Calvo ... Now they are suffering a bit, but I hope they will turn it around soon and manage to keep the category.
How is Kaiser Verdú ...
It is a piece of central. It puts you to the fault. He is imposing, a real captain. He has tact with young people, he brings out his temper when he has to, he corrects you kindly ... I see him as a center-back to be in first class for many years.
And has a double pivot Gonzalo Villar-Javier Villar passed through your head?
To be honest, my brother is super competitive. He is in the youth Elche now. At home we played and we poked each other, but he is five years younger than me. So it seems that he is always ahead of his age. He always says he wants to be on my rival team. It stung to death. (Laughs) Hopefully one day I will play with him. If it continues like this and with the humility that my family has taught us, it will arrive.
Do they help you keep your feet on the ground?
Your education has done. They no longer need to be on it all day. But yeah, they keep my feet on the ground. And if not, my friends do. They are the ones who 'crack' the most. If one day I play well, then they come and tell me that it is good, but 'you have less goal than…' It's good, the friend who flatters you all the time doesn't help you. Having a close circle of those is not advisable.
Pacheta has returned to the benches and, above, in First.
It was a brutal joy. He called me earlier to chat. I asked him about his situation, but he didn't know anything. We talk a lot, I consider him a sporty father. It's another team that I see every game of, Huesca. Hopefully they turn the situation around, they play good football.
How long a Gonzalo Villar in Italy?
I am completely happy here, I feel a love that I had not felt before. That is very important for a player. I have just arrived and I am involved in making a winning team.
Photos from as.com