Serantes and Valera, ready to debut on Sunday
The last two reinforcements were officially presented and both will join the duel against Rayo Vallecano. Both will play on loan until June.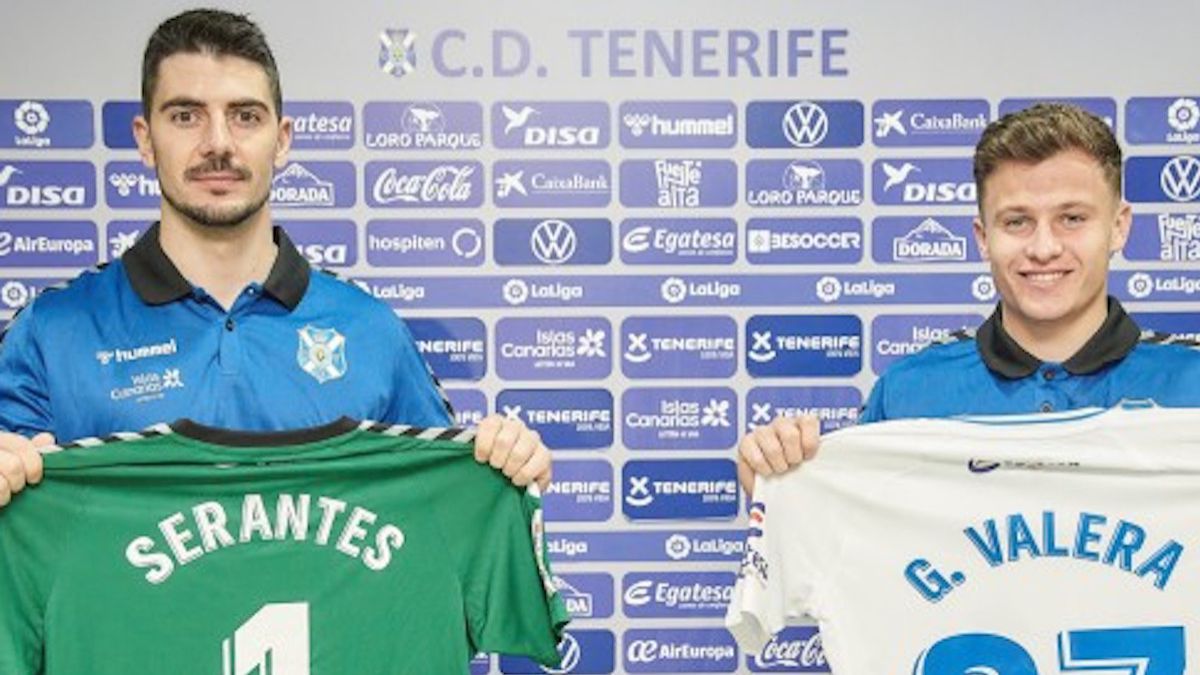 Jon Ander Serantes (Barakaldo, 1989) and Germán Valera (Murcia, 2002) came to play and are ready to debut with the Tenerife shirt. "Although the season ended in Japan on December 20, I have continued training and am available for this weekend," said the Biscayan goalkeeper. "I want to work hard, with humility and take a leap as a person and as a player. I'm ready ", added the winger. Both, officially presented this Thursday, will be on loan to Tenerife until the end of the season.
The goalkeeper said that it is not easy to come back from Japan after two years and that Tenerife notice you. "I am very grateful for the opportunity, and I hope it will be much longer than these five months. I did not know anyone, only to play against some, but the references in this dressing room are very good," said the Basque. Serantes highlighted the reception of all and especially Dani Hernández. "He and Suso are very close," he revealed.
He said that he barely had time to speak with Luis Miguel Ramis because everything has been very fast: "I'm sure that tomorrow [Friday] we will speak more calmly. He has received me very well and explained the idea of the game." He reported that he had other offers, but did not think about it, "because I wanted to be here" .
The young footballer on loan from Atlético de Madrid showed something more concise, who stressed that he knew Fran Sol from when he was at Villarreal "and that made everything easier." "I feel at home, very comfortable. The teammates and the coaching staff have helped me a lot, "he said.
Renewed by Atlético for five seasons, the attacker believes that the club thinks this experience is good for him to mature as a footballer. "With work, effort and humility, you can achieve anything." He said that he had a meeting with Cordero in Madrid: "He explained the project to me, within a beautiful project in a historic club" .
Valera has also been called up by Santi Denia for the U19 national team for the 22nd and 25th of February. In principle, no match for the blue and white will be missed (he will be playing against Leganés on the 21st and against Alcorcón the following day).

Photos from as.com