Senegal's Henry, the great market opportunity in the Europa League
Abdallah Sima, 19, is the sensation of Slavia Prague. In a few months he has gone from playing in the fifth division in France to beating Leicester in the Europa League.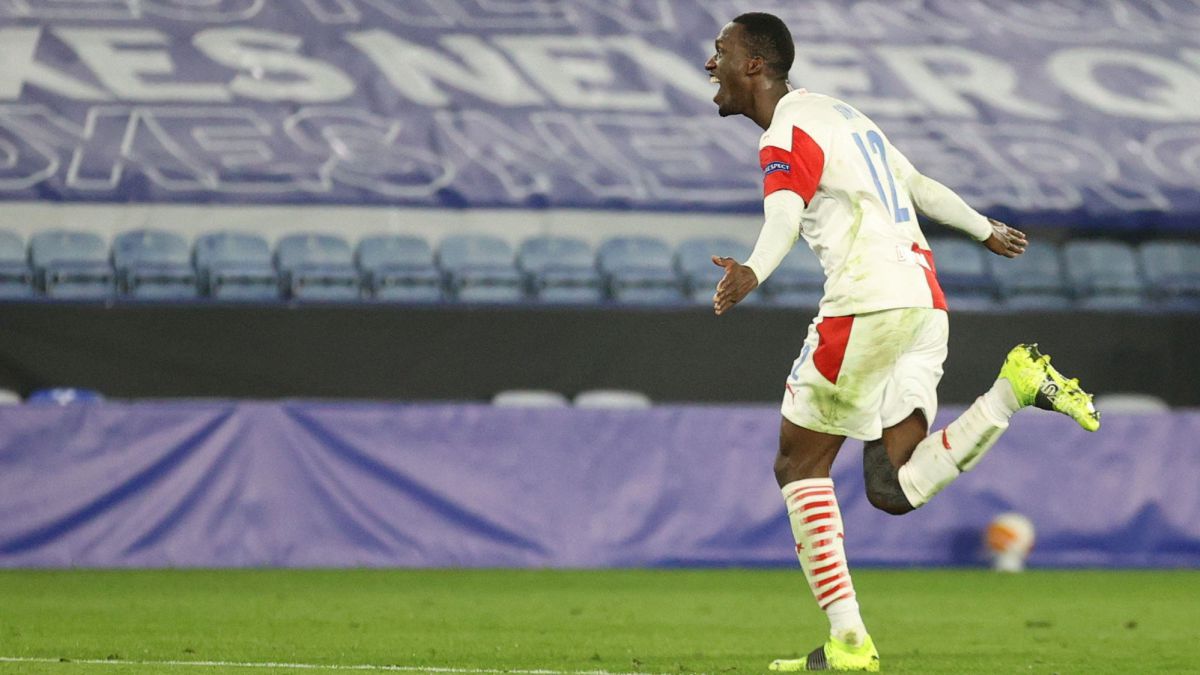 In the 79th minute of the game, Leicester received the final slap that took them out of the Europa League for good. The very young Abdallah Sima was in charge of delivering the final blow to the English team that will bet to focus on domestic objectives and that witnessed another step in front of a coming star. At least his numbers and the interest he's generating point to it. The 19-year-old Senegalese is the sensation of the Czech league and the Europa League. Against Leicester he did not have to play a superb game to shine. The Czech team played with the Leicester emergency. He waited for him to go against him and in 49 'he caught him. Provod made it 0-1 and gave a classification that sealed in 79 'Abdallah Sima with a whip from 25 meters that surprised Schmeichel. The young Senegalese had not had to do much to shine, but with his shoe he made it clear why it is the revelation of the Europa League and a great market opportunity for next summer.
Against Leicester he played lying on the right, although his preferred position is the front. However, Slavia manager Jindřich Trpišovský uses him wisely across the attack front to benefit from his powerful stride. its arrival and its verticality. It can act on the right, on the left or as a reference point. These attributes have earned him to be compared to Henry, and his name has also been associated with Arsenal. The young African is the Czech sensation and what is most surprising is that until he arrived at Slavia he had not worked on the structure of a professional team. In one year, in fact, he has gone from playing in the French fifth to shining in the second continental competition.
How? Well, the pandemic has had a lot to do with it. At the beginning of 2020 he was recruited by the MAS Taborski of the third division from Thonon Evian, of the fifth in France. In July and after only two games with his team in the Czech Republic, Slavia quickly noticed him and captured him, but in principle it was for their second team. He had no experience, neither competitive nor training, at the highest level and it seemed premature to promote him so quickly. That was then. Months later he is the sensation of Czech football and already has the scouts excited. Injuries and COVID positives caused Trpišovský to pull him and in December he starred in a spectacular double against Sparta Prague. Since then it has not stopped and is still a rough diamond to be polished. But his physical and technical conditions, adorned with his 1.88 wingspan, make him an opportunity to take into account for the next transfer window.
Its current market value is already 8 million. Waiting for more of the same makes everything go off because it has gone from having no registered value on the specialized Transfermark site to directly breaking into 8. It has a contract at this time until 2023, another detail to take into account. Sima has 19 goals this season, four of them in the Europa League, with an average of one goal every 108 minutes, according to data from Sofascore. The biggest transfer in the history of Slavia was carried out by Soucek last summer, when he went to West Ham in exchange for 16 million. Sima's projection may leave that short.
Photos from as.com