Rudy: "Tenerife have two of the best guards in the League"
Pablo Laso, coach, and Rudy Fernández, player, talk about Real Madrid's next rival in the Copa del Rey 2021: Lenovo Tenerife.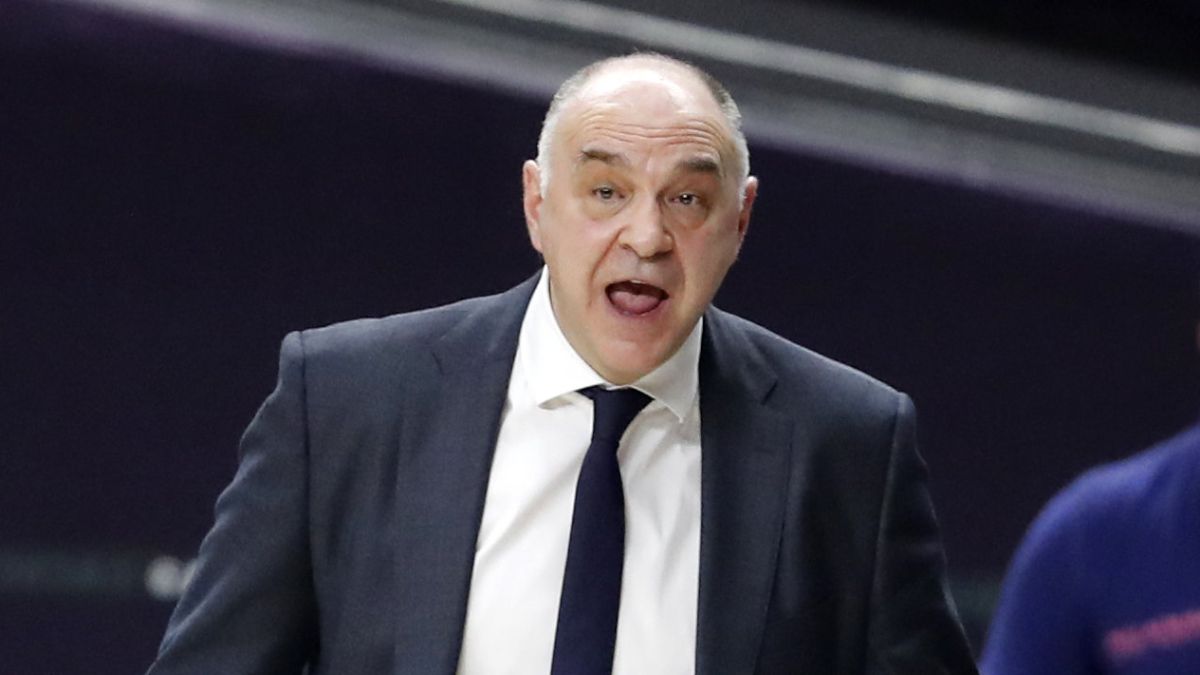 Pablo Laso, Real Madrid coach, stressed that "the Copa del Rey is a final every day" and that now, in the semifinals, it is "another just as difficult" against Tenerife.
"Winning always gives confidence, but in this sense I have no problem with the team, despite the circumstances we have. It is a special competition, very short, and now we have to change the chip to face a great team," he said Laso, whose team beat Valencia in the quarterfinals in one of their best games.
"We have had good games, we have been in our forties. In general I'm happy because we played a fairly complete game, I don't know if the most complete, but a good game," he commented.
Usman Garuba did not play and Felipe Reyes, the captain, delivered perfectly. "Usman could have played against Valencia but we prefer not to risk it. When you have been with a player like Felipe for so many years, it is hardly necessary to talk to us, just by looking at each other we know what the other thinks. He is a reference, a player who has nothing to do with it. demonstrate, but he wants to demonstrate it every day. We talked about it within the match plan and he knew his role and his moment, "Laso explained. "Felipe serves us a lot as an example for young people, for coaches and for his teammates. Always add," added the Real Madrid coach.
The technician was also asked by Carlos Alocén and by Gaby Deck. "From the beginning I said that Carlos has a magnificent future. He is 20 years old and I have confidence in him as a player. He needed a little time to adapt to the team and everything. Gaby is a very complete player. We knew we were betting on a young player and that he came from a different competition, "he commented.
Regarding the semifinal clash, Laso indicated that "the Cup is a final every day and now it is Tenerife's turn." "On Wednesday I said that I felt favorite and I have not changed my mind," he said. "We know each other perfectly. The Huertas-Shermadini connection, his percentage of success from long distance, the growth of Sulejmanovic. It is a very complete team and we have a lot of respect for the trajectory of recent seasons," he acknowledged.
Regarding his pending renewal with Real Madrid, Laso quickly settled the issue: "My head is only in the game, not in anyone's renewal."
Rudy: "We have to give one hundred percent, like in the quarterfinals"
Rudy Fernández, Real Madrid forward, emphasized the intensity of the team to reach the semifinals of the Copa del Rey and commented that just as they did against Valencia , against Tenerife they will have to give "one hundred percent" .
"Those of us who are here are lucky to experience one more Copa del Rey and against Tenerife we have to give one hundred percent, as seen in the quarterfinals," said Rudy.
The forward talked about his rival in the semifinals. "Tenerife has two of the best point guards in the competition [Marcelinho Huertas and Bruno Fitipaldo], they are very important because the team plays at a great pace. They have very successful outside players and inside players at a very high level. We know the difficulty of the game" , highlighted.
Real Madrid knows how to isolate itself from all difficulties in the form of injury or fatigue and give the best of its game in the important moments.
"It is the demonstration of the pride that this team has. In important moments we are more united than ever and we have shown it in recent years. We come from a situation with many games, with injured players, but we have to reset everything and in a competition differently, everyone give their best, "he commented.
The departure of Felipe Reyes to the game was a small surprise. "If we talk about fighting and representing a shirt, there is Felipe and that is why he is our captain. He may not have had many minutes in the last games, but he is always prepared and that is why he is a legend and our captain," he said.
The penalty is to play a competition like this without an audience in the stands. "Unfortunately we have already gotten used to playing with the empty pavilion, but in this competition it is strange because of the fans and the great atmosphere that there is. We compete for people who are having a hard time at the moment and if we manage to disconnect little of everything that we are going through, it is a job well done ", he stressed.
Tiredness is forgotten when the team hits the track, according to Rudy. "We are tired, we come from three weeks with 9 games and both Pablo [Laso] and the players know about the demands of this competition, but sometimes we draw strength from where there are none," he acknowledged.
"We knew that against Valencia we had to give one hundred percent. Offensively we were good, but defensively it was one of the best games this season and that is why we will play another semi-final", concluded Rudy Fernández.

Photos from as.com