Rubén Pardo, the new Leganés sniper
The Riojan midfielder adds two goals in a row from a foul in a luck in which Leganés had not yet scored. He opposes the replacement of Óscar Rodríguez.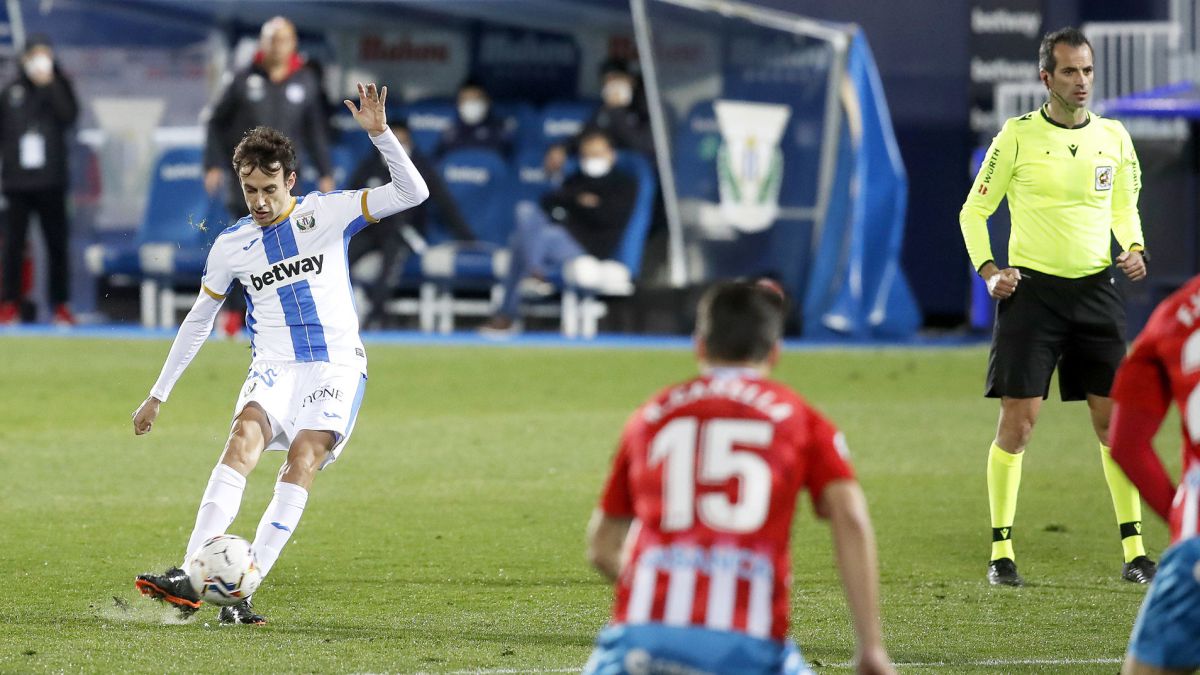 Rubén Pardo does not have among the extensive cast of his abilities that of being a recurring scorer. His thing is to move in the core, create game and generate assists. Until now. The Leganés midfielder has two consecutive goals and both fouls in a luck that, until his goal against Las Palmas two days ago, had not yet been released. Neither he, nor any teammate Against Lugo repeated both direct launch, although this one was much more aesthetic. Leganés once again have a sniper.
In the last two years, that role seemed reserved for an Óscar Rodríguez who, paradoxically, arrived in Butarque with a reputation for blowing it up on set pieces. However, that first cucumber campaign, 2018-2019, none of his four goals were of this kind. Everything changed last year when he assumed stripes, he grew up in the desperation of fighting for permanence and mutated into one of the best specialists in the First Division, capable of even competing with Messi to see who would punch more goals with this luck. Of the nine goals scored by Los Navalmorales, four were free. Messi scored just one more, five.
The fact is that, without Oscar, the role of free-kick goal busters seemed deserted. And that in this squad there are a few specialists in hitting it well from set pieces. Gaku, Arnáiz, Juan Muñoz or Avilés do not hit him badly. None so far had been able to score from a direct free kick. It had to be Pardo who released this statistic with two goals, by the way, of different reading.
While the one from Las Palmas served to give hope to the possible continuity of Martí (it was the tie at one and shortly after a shot at the post of Arnáiz came), the one he made at Lugo served to channel the first triumph in the new era de Garitano (it was 2-1 that came back for the first time in the season a result against for Leganés) .
The execution of this last goal was almost perfect and confirmed that yes, Rubén Pardo is predestined to be the specialist of a Leganés that already used him previously for slate actions, whether they were in corners or lateral fouls. In some of these plays predestined to the center Rubén was about to premiere previously. Against Rayo Vallecano he hit a ball at the post in an action in which he barely had an angle. Against Girona he almost got an Olympic goal that saved the rojiblanco goalkeeper in the last gasp.
The repertoire is high and the hope that it will repeat, too. After a good month of January (the fans have chosen him the best player of the month), the confidence of the Rincón de Soto footballer has been growing. With Garitano (he already had it in Real Sociedad) he could become a key piece in a core in which he creates play, generates assists and, now, also, goals on a recurring basis.
Photos from as.com