Rossi's shadow is less elongated with Quartararo
The Frenchman and Viñales excited the house of the tuning forks as a new couple in their official box. "We are prepared to win," says Jarvis.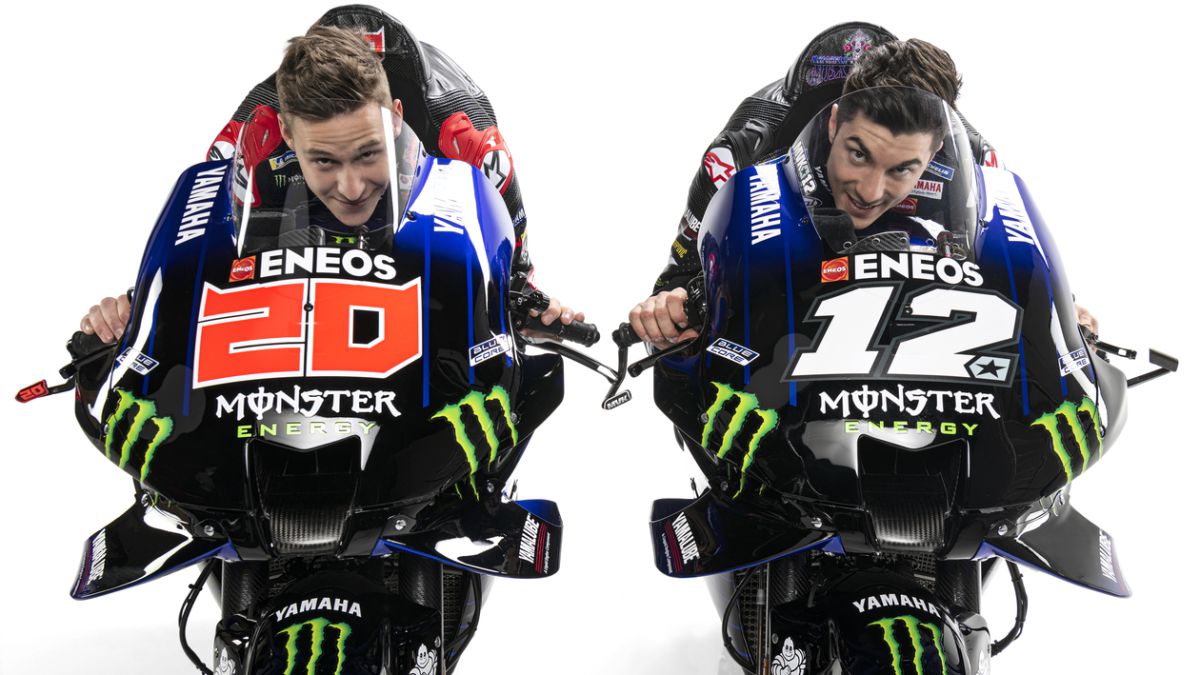 Some time ago, not so far away, it was difficult to imagine an official Yamaha MotoGP box without the presence of Valentino Rossi inside it. However, that time has come and the Monster Energy Yamaha presentation has the feeling that the Italian's shadow is less elongated than was originally imagined for Yamaha. Every time he was mentioned, there were compliments to The Doctor and it was made clear that his new destination, the Petronas Yamaha, is perfect for him and for the tuning fork factory, but above all, the illusion generated by the new pair of Official pilots that are Maverick Viñales and Fabio Quartararo. Youth to power, one 26 years old and 21 about to fall for the other.
Lin Jarvis, the head of Yamaha in MotoGP, got straight to the point: "We are ready to win with this pair of young, fast and superstar riders." Going into details about his new rider, the Englishman said about the Frenchman: "Fabio is still young (21 in April), but he has already had two good years in MotoGP and his speed is incredible. We believe that by being on the factory team you will have more support. Without putting pressure on him with this step he is taking, I think we can help him, because he has a lot of potential, and he will be a great rival for Maverick. "
For both to shine, Yamaha and its riders will need to be more regular than last year. Massimo Meregalli, the team manager of the Japanese team, gives the key: "Consistency". And he sent a message of encouragement to the Spanish rider: "I believe more in Maverick than he believes in himself." And on Rossi's departure, without apparent trauma: "We had to reorganize the box and it was a smooth transition, aware that he will be one of the rivals this year" .
When the time came for the drivers to speak, the first to speak was Viñales, who said bluntly that "the objective is always to win the title, but it is not easy. You have to maintain the level all year long, because our rivals will improve. You cannot be good in some races but in all. You have to show consistency. "
And on the fact of not sharing a box with Rossi at Yamaha since he arrived there in 2017, he is surprised that he is now the veteran with only 26 years: "It's strange. I still feel young at 26 years old and he was always the youngest in the box, but now the young man is Fabio and that gives me a strange motivation. I want to start now and get our full potential ". Regarding the rivals he expects: "Miller, because it was very good last year and he knows how to take advantage of the strengths of the Ducati. And I also wait for the other Yamaha ahead. Hopefully we can occupy the first four positions. "
As for the rookie in that box, this is the most important thing Quartararo has said: "I still can't believe it. I watched racing as a child, when I was six years old, and now being an official Yamaha rider is very special. I couldn't imagine wearing these colors at this age ". Regarding the change of going from satellite to official, the 20-year-old says: "It's a different job. There will be many things to try on the bike during practice. As a 'satellite' everything is going well for you on the bike and, as an officer, you have to develop it. It is more difficult, but exciting. "
And look at the nice message that Jarvis has given to Quartararo to relieve him of pressure: "It is not Valentino's motorcycle that you will get on but it is your motorcycle. No pressure on the bike. Is your moment". And he also asks him to release the pressure for being the great French hope after so much drought for French motorcycling, something that the young man from Nice is also clear about: "Of course it is important to give joy to French motorcycling, but first I want to be a MotoGP champion. "
Last year he already led the general classification and won three races. Now he will try again, with a new boxing partner who is also hungry for a title, because Maverick always counts at the beginning of the season.
Photos from as.com