Ricky Rubio: "Maybe I wasn't in my best shape"
The Spanish player spoke with Efe after what has been one of the best games he has played this season: "The last games have helped me gain consistency."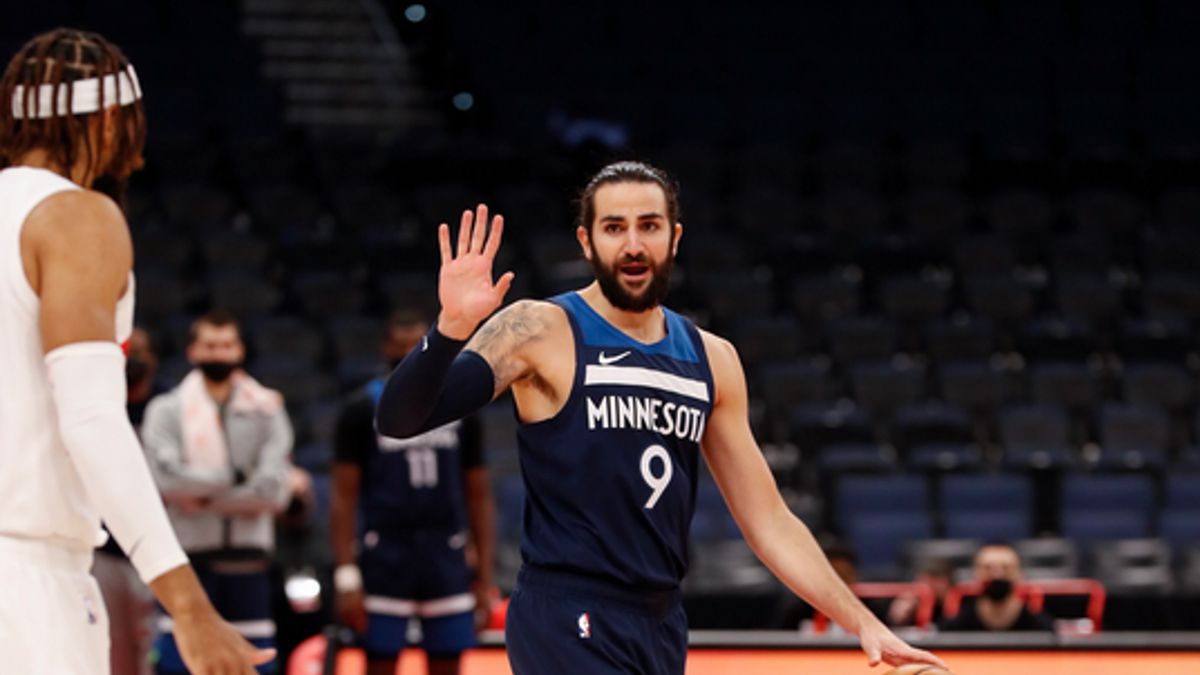 After signing the best game of the season with the Minnesota Timberwolves, Spanish point guard Ricky Rubio told Efe that after a difficult start to the season, the extra minutes on the court are causing the injury of the starting point guard, D'Angelo Russell , are helping you gain consistency. In the game played on Sunday night against the Toronto Raptors, Rubio scored 16 points, 1 rebound and 5 assists. In addition, Rubio, who has been well below his usual numbers in baskets so far this season, scored 4 of the 8 triples he tried. His performance was praised by his teammate, the Dominican-born center, Karl-Anthony Towns, who declared that "he has played an incredible game" and that he was "very proud of him."
After the game, Rubio told Efe that the start of the season has been difficult but that in the last games, with more minutes on the court, he is recovering his form. "There is a lot to analyze here. Although we have only played 20 games, we can analyze the season and talk about many things," said the El Masnou base. "Maybe I wasn't in my best shape (when the season started) in that sense because it was a weird season, since when the bubble season ended I didn't know when it was going to start. little later and in the end it was in December, "he explained.
"Later in a new city, although I knew it, but new players, a new system. When I thought I knew the systems, I had to start again. A new role in the team, where it has changed a lot. In 20 games I believe I have not had the same role, "he said. "Now, in the last 3 or 4 games that DLO (Russell) is out, that has helped a lot to gain consistency about when I'm going to play, how I'm going to play and who I'm going to play with. That helps a lot for the point guard." added
Saunders: "Ricky wants to win with these young people"
For his part, Timberwolves coach Ryan Saunders told EFE that "Ricky wants to win, and he wants to win especially with these young players." "It was entertaining to see how everyone was interacting," added Saunders who also said he has asked Rubio, along with the rest of the team, to take more shots. "Especially with a team like Toronto. If you refuse to take a shot, it's like a loss in value from the way they recover, sometimes it seems like they have 7 or 8 players on defense," he said.
Towns: "He is the captain of our group"
Wolves star Karl-Anthony Towns also agreed with Saunders on the Spanish player's will to win and said that Rubio "is the captain of our group. When he leaves, we follow his indications. He has a great ability to see things. " "Ricky has played an incredible game. Ricky does not have on paper the statistics that show how he helps our team to win, but all the incredible things he does allow us to do so. He is a winner and when he goes out on the court and is in your team, has tried it throughout his career, makes things happen. People follow him, "he continued.
"He is one of those players who never stands out on paper when you look at the statistics but when you watch the game and you know about basketball you know that (Rubio) knows how to win. And he has tried it again tonight. I'm very proud of him" , he ended by pointing.
Photos from as.com