Raúl de Tomás and Embarba, the leaders of a leading Espanyol
The talent of the 'pichichi' parakeet and the winger produced, together with the set pieces, the goal that provisionally places them in the lead. Sabadell deserved more.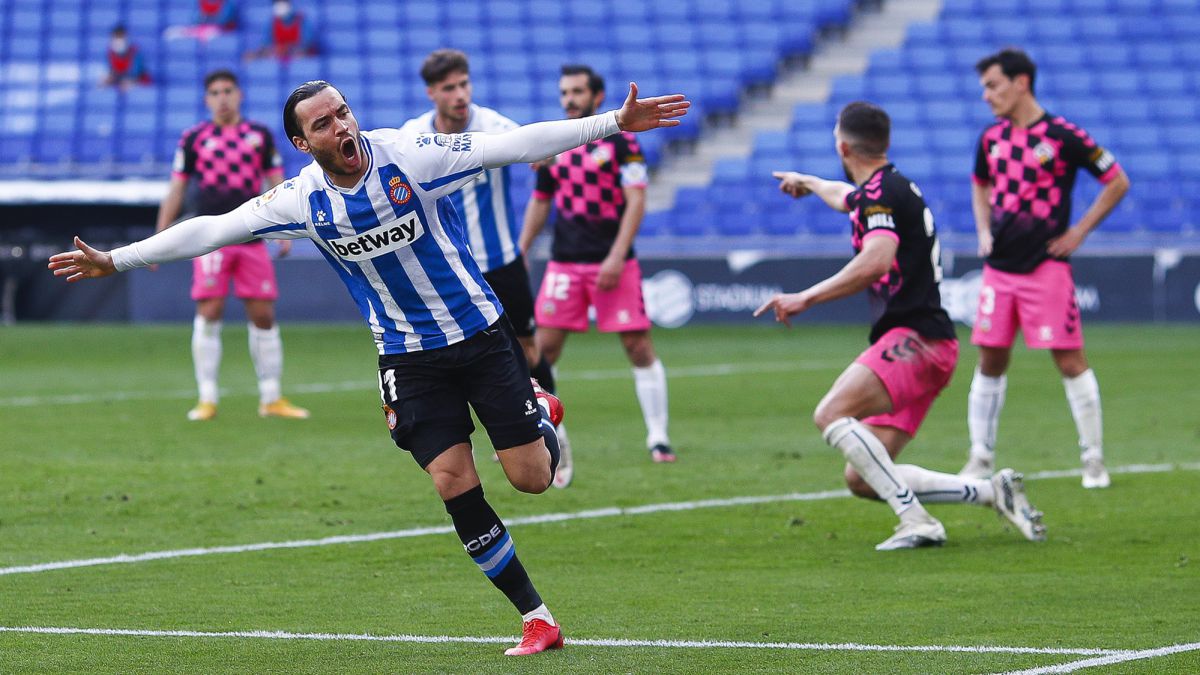 Leader. According to the RAE, person or entity that is at the forefront of its class. Leader is Espanyol again, even if it is provisionally for 24 hours - pending this Sunday from Mallorca-Almería. And leaders of the leader, or ringleaders, are indisputably Raúl de Tomás and Embarba, authors respectively of 15 goals and eight assists this season, who unleashed a disputed match - stopped ball by Dani Pendin, another leader, this one from the board, through - against a Sabadell that showed why he had been undefeated for nine days, although he will continue to suffer one more in the lower zone.
Espanyol usually pretend, in some of their matches, that their game is almost as predictable as their line-ups - this time, they only changed the injured Miguelón, whom his teammates cheered on with a shirt, for Óscar Gil - or that he gave excessive meters to his rivals, this time a Sabadell that could surprise him by equaling or even surpassing him in pragmatism, which is saying a lot against a team trained by Vicente Moreno. But things always happen. And soon.
Thus, before the 23rd minute, they had two very clear chances per team: a poisoned center by Darder that Mackay saved against the very squad, a vertiginous counterattack culminating in a goal by Guruzeta, but annulled by a millimeter offside by Juan Hernández, a Cabrera's header to the post at the exit of a corner and, in the same play, the replica of the harlequin winger who ran into Óscar Gil.
As almost always, Espanyol took advantage of their quality and set pieces. And, as almost never, Sabadell made the most of not only his possession, but also his explosiveness. And in the middle, Ocón Arráiz and the VAR, who did not appreciate a possible hand from Grego in the area to deflect a shot from Puado.
And if Cabrera had touched the goal in the first half, in the resumption he caused it to a large extent. With a left foot he forced Mackay to demand himself, who rejected a corner. And in that corner kick he dragged two rivals so that Raúl de Tomás headed free of any opposition, in the small area, 1-0, at Embarba's kick. With the help this time from the Uruguayan, the pair of the perico goal appeared.
There was a long half hour left, in which - as in the first bars of the meeting - anything could happen. To begin with, up to three players withdrew injured, Ibiza, Darder and Grego, the latter in the addition and no longer changed. And while it is true that Espanyol sought their second goal, especially in a cross shot by Vadillo, a Sabadell who was never daunted also prowled the tie, and found in the 90th minute a header from Édgar that made Cornellà tremble, to all in fact except Diego López. He decided to hit, which as almost always was the heritage of Raúl de Tomás.
Photos from as.com