Quero: "Football has given me everything: it has made me laugh, cry ..."
Juan Quero announced his retirement this week due to a heart problem. An unexpected goodbye for the winger, who has been hardened in the Madrid fields and in LaLiga.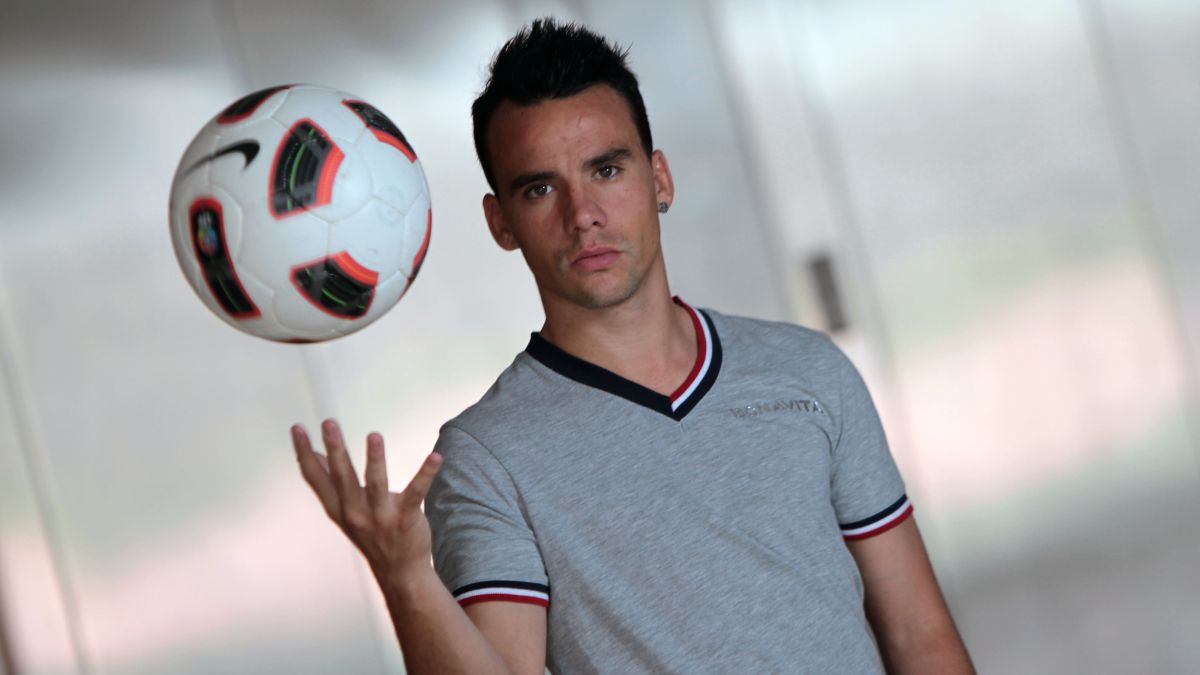 Juan Quero, 36, will not forget this week. Routine medical tests have shaken his world, his reality, and a heart problem has forced him to say goodbye earlier than expected. Little by little he digests the news. It is still difficult for the extreme to talk about football in the past tense. His voice gives off joy remembering his promotions with Numancia and Fuenlabrada, his debut in the First Division at the Bernabéu, his experience in the Libertadores or in worlds as different as Thailand and India. He has never had it easy. His stature caused him to be rejected in many teams, including Real Madrid, but with his talent and determination he made his way. That is given by the neighborhood. Also the support of the family. He gets excited talking about his mother and grandparents, his wife and little ones, about his friends. Vallecas scores and soccer, too. I want to close this door in the hope that another will open that can fill him so much. Preparation is not lacking, neither is illusion.
— First of all, how are you feeling?
— Good, thank God. I went to the club's medical examination and when the doctor gave me the news it seemed impossible. I was in shock. I have an arrhythmia in my heart. Now in March I will go for two tests and they should evaluate them, but almost certainly they will operate on me. Little by little I assimilate it. I had to play on Wednesday and they give me the news on Monday, so I was hallucinating.
— He announced his goodbye to active football and the networks were filled with emotional messages.
— It was incredible. There was a time when tears came to my eyes seeing so many messages and calls. I realized that they love me in many places and with that you stay.
— One of those places is Soria. Numancia opened the doors of professional football for him, with his shirt he promoted and made his debut in the First Division.
— The first signing of Pacheta as sports director of Numancia was me. In my first game there, people said: 'Where did this child come from?' He was a kid, really. That year I made my debut with a goal (Las Palmas) and we ended up going up. My debut in Primera arrived at the Bernabéu. It's the biggest thing that has happened to me in football. I always wanted to debut in that stadium with the Madrid shirt, but it was with the Numancia shirt. Those years in Soria I was happy, although the descent hurt me. Then I received three or four offers from Primera, but the call from Felipe Miñambres changed everything. I didn't think about it and went back to the neighborhood.
— Tell me about the Lightning ...
— I signed four seasons and only played one, the first, we had a great team. Later, the problems began at the club and a coach arrived who did not count on me, did not even give me the opportunity to play a single game and told me that I had to go on loan. I still have that thorn from not having been able to succeed there. I have lived my whole life 200 meters from the stadium. I wanted to go up with my Rayito to First.
— Does the neighborhood dial?
— Yes. I don't change Vallecas for anything in the world. I have grown up there, I have lived there… And there are my friends, my brother (he is not by blood, but he is a brother) too, my mother, my grandparents…
— Follow the Ray?
— I follow him and also the Third. Everything that has to do with the Ray interests me. Those from Iraola have a team to be among the top six. They will fight it for sure and hopefully they will be promoted.
— Years later, with the Selection, the role of the short ones was vindicated. Has your 1'61 been a handicap for you?
— All my life, of course. I played for Madrid for ten years and they threw me out for being short. I remember that Del Bosque told my mother that I better go to Santa Ana because there I would not have opportunities. Like this everywhere until I made the jump to Third and they saw that I hit the big guys, I dribbled ... Casimiro Escudero, from Santa Ana, bet on me. Also later in the Alcorcón. In Second B I had very good minutes and I was able to jump in the category. It cost me a lot because I did not come from a subsidiary.
— Were you in the lower categories of Real Madrid and not in those of Rayo?
— I played for Madrid from the youngest to the cadets. Never at Rayo, although I was about to sign as a freshman youth. In fact, I was with them until the last day and they ended up saying: 'You won't have minutes, you're very short.' So I went to Las Rozas. Before, the short ones had it very difficult in football. Luckily it has been changing.
— He's a globetrotter. It has passed through the Emirates (Dubai), Thailand (Buriram United, Chonburi and Ratchaburi), Bolivia (Oriente Petrolero), Malta (Birkirkara) and India (Shivajians and Punjab) .
— Playing the Libertadores with Oriente Petrolero was one of the great experiences of my life. I arrived, the first day I was playing Classical and I scored, I won over the fans ... How it turned out! It has covered me a lot. The passage through India cost me more. It is a slightly different country and I left alone because my wife and son accompanied me in previous experiences. Well, the Thailand thing was spectacular. They gave us the house and at night, suddenly, we heard a noise. Very rare. It looked like an animal. The next morning I went to the neighbor's garden and I had a pet elephant (laughs). They live football more and more and you see the fields full.
— Now that you are closing that active football chapter, what has it given you?
— It has made me a better person and having culture, education, knowing how to be… It has given me everything. I have laughed and cried. I have been up and down, I have felt valued and also that nobody remembered me.
— And what does the future look like?
— I have the coaching cards, the sports director card… I want to continue linked to this, working in the technical secretariat of a club or a representation agency. Right now I have several routes. Hopefully things will come as beautiful as the ones I have experienced with football.
Photos from as.com