"The postponement of the Tokyo Games favors me"
Rocío del Alba (23), the greatest promise of mountain biking and already within the absolute category, has one more year of experience to prepare for the Olympic event.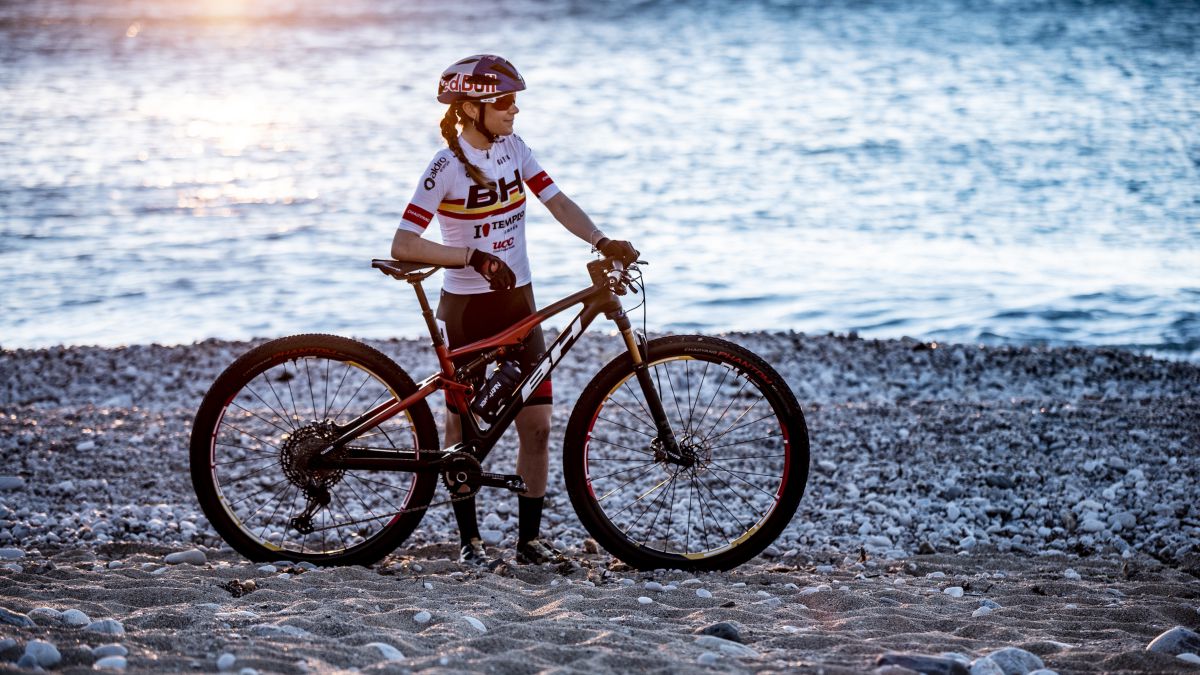 Rocio del Alba García is the most promising figure in mountain biking in Spain. Born in Villa del Prado (Madrid), but "one more Riojan", as Carlos Coloma, her mentor and partner at the BH Templo UCC, assures, and she confirms to AS: "Carlos is everything to me: manager, physical trainer, friend… He welcomed me, gave me the opportunity to dedicate myself to mountain biking when it was worst on the road, he directs my path and scolds me when he plays. I met him in 2016, after his Olympic bronze in Rio. I came to live in Lardero (a town on the outskirts of Logroño) when I joined their team. Here I feel happy, we have mountains, plains and everything we need to train. I don't think about anything other than growing together in the BH ".
At the age of 23, in 2020 she played her first campaign as an absolute runner, although in 2019 she already participated in several World Cups. She was proclaimed national champion of cross country and finished 16th in the European and 22nd in the World Cup. As U-23, she was continental bronze in 2018 and seventh in the world in 2019, which practically meant her ticket to Tokyo 2020, the goal postponed to 2021: "My main objective this season is the Games, without underestimating the World Cups and the World Cups. In my case, having them postponed for a year will allow me to arrive with more maturity, despite the fact that the pandemic prevented me from competing with elite rivals for a better adaptation to the category. And it would be great to go with Carlos, in his fourth Games, to learn more about him (Coloma is 39 years old) ".
Rocio del Alba will start the cross country campaign this Saturday in Banyoles, a UCI Hors Catégorie test: "You have to start carburing the engine. I raced in Valdemorillo and I felt good (he won the XXX Clásica) due to the lack of pace for absence of races. Fortunately, the virus did not affect us on a personal level, I passed confinement calmly and in contact with Carlos and the rest of the BH. However, it was a drag for us not to beat each other in competitions. " The Madrilenian wants to offer an improved version in 2021: "Since last winter's preseason I have been working a lot on technique, although I must also emphasize strength, which in the end is key in mountain biking." As a junior, he won the Nationals for road, cyclo-cross and mountain biking, but now he only focuses on the cross country. Her evolution and future have led her to sign as a Red Bull athlete: "It seems incredible to me to be one of the 900 athletes they sponsor. I will proudly wear their logo around the world with the aim of always getting the most out of it." Tokyo Awaits.
Photos from as.com