Ponsarnau: "That Laso speaks well of you gives you more strength"
The Valencia coach has ten games to get the team into the Euroleague playoff. Tonight (9:00 pm, Dazn) he will meet Pablo Laso again.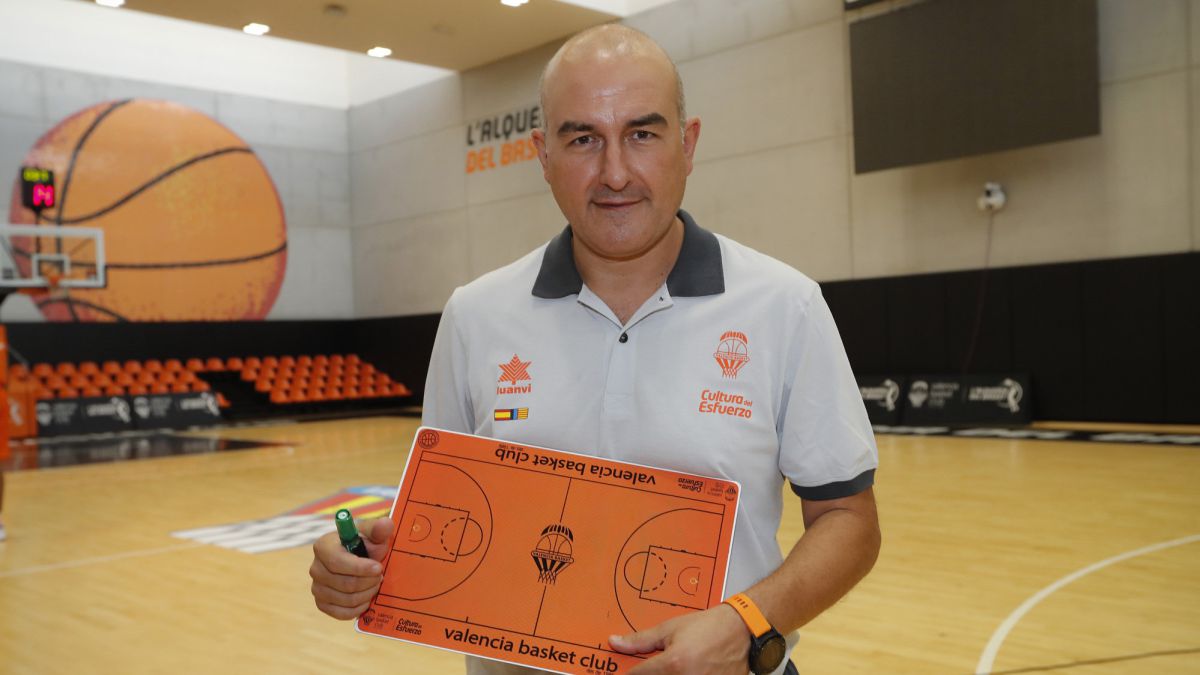 Jaume Ponsarnau (Tàrrega, 1971) assumes his most important challenge since he was appointed first coach of Valencia Basket three seasons ago. He directs what is, for many, the best squad in taronja history. Therefore, the objective is of the same caliber: to qualify for the Euroleague playoff.
Ten games remain and Valencia arrives with a bittersweet feeling. While it is true that on the last day of the Euroleague he gave the bell winning CSKA, the bad image that his team offered in the Cup, against Real Madrid, sows doubts. Today he meets Madrid again for the fourth time this season (one win and two losses) .
How did you find the team after the "hell" of the Cup?
Responsible and knowing that we were not well, that we did things wrong. The image we gave as a team was bad. It had nothing to do with what we want to give. At the game level, what we try is to play well from the pass and we did this very badly. There was little collective solidarity.
How come the rematch against Madrid is immediate?
At the dynamics level, the good thing is that scouting is almost done. Post-analysis helps you improve scouting. This has optimized time. This week we have not only worked to play against Madrid. We want to improve, consolidate things, we have done a balanced job to be competitive and grow.
How is the infirmary?
One but is that we have had many casualties. We have worked with few first team players. We continue with the problem of Guillem Vives. San Emeterio and Sastre have been able to train something with the team. They won't be able to help much. Seeing them is already positive. Prepelic and Labeyrie have also suffered injuries, although they will be.
In Euroleague, the team arrives after beating CSKA. 10 games remaining How do you see the chances of entering the top eight? 444 444
In the Euroleague our rivals have grown, they have matched a lot. We have our chances. We know that each game is very important and we have to take advantage of it. We have shown that we can be very competitive. However, due to our level of solidity, we have not won matches that we could have won. It depends a lot on health. We face a key period, with maximum strength and energy.
How do you work so that the team stops having ups and downs?
We take advantage of the tools to work, the training, to look for that consistency, how to face this bad moment. Laying the foundations in good times and bad times. We have been inconsistent because the bad times have lasted too long due to frustration. All teams have bad moments but it can't be because of your frustration. This is the workhorse.
Why does it seem like there is no plan B when the triples don't come in?
We wanted to build a game dynamic. We are the second most effective team in the Euroleague, not by triple but by the percentage of two. We lose few balls, we are the team that gives the most assists… We are also one of those who play the low post the most. It also depends a lot on inspirations. Dubljevic, who is a specialist, has come out of a long illness and is not 100%. The team has other resources. Sometimes triple flow. In the Cup we made shots with a bad selection. We respect that basketball leads us to shoot more triples, but with a good selection.
Derrick Williams was the discard in the Cup. How do you see it?
You've had a few difficulties. In preseason he was injured. The preseason was very important to adapt. Before, his confinement hadn't been very good. He enters with a made team and then the problems in his knee have limited him. Things were not going well for him, we have caught hold of other players…. On the issue of quotas, he has had to stay out because the difficulty has been to have perimeter players. It has come to be a benchmark but we are not achieving it. He's a good boy, he's professional, he's motivated, now he has another chance.
How do you work with Prepelic before Madrid?
He has extensive knowledge of Madrid and we want to take advantage of this. He likes basketball and soaked up the philosophy of Madrid. For us it has been positive to prepare for the games against them. But this extra motivation hasn't always helped him. It must have a balance. The other day it helped less. He was over-responsible and made wrong decisions from the responsibility of wanting to help.
How do you think Madrid will arrive after the corrective of the Cup final?
Madrid is a champion team. Although he has not been a Cup champion. He has history, players, champion staff. I am focused on the internal discourse but outside the idea that Madrid were worse than us materialized. When we had Vives, San Emeterio and Sastre injured. In addition, the issue of quotas is a very big determining factor. Players who had come out of injuries… Madrid knows how to win, how to win, reinvent themselves and they have many very good players. Then there is Pablo's confidence about a few players. Doubting Llull is an aberration towards a player who has such a high mentality
Laso threw flowers before the final. Do you think you are valued more from within the world of basketball than from the outside?
I don't stop to think about it too much, but soon it seems like it does. I'm not saying it with regret. We all want to feel respected for doing our job well. That a colleague like Pablo Laso, with all that he means, speaks well of you gives you something more strength. I don't rely on these compliments, though.
Do you think you are missing Campazzo too much?
Any team that stops having Campazzo would miss him, even Madrid, but Madrid less than others. Confidence in his basketball runs deep.
Whenever you play against Madrid you talk about Tavares but in the Cup, for example, one of those who did the most damage was Deck ...
Deck is unbalancing, especially in the position of 3, also the position of 4. Deck has the virtue of taking advantages: from behind or speed. This advantage is well established in Madrid. It always helps them to be more competitive. The other day we managed it badly. When water cracks open, you cover ... But if to cover a crack, you uncover another ... We were always attacked by the crack that we left open. Now we will have more players available to defend Deck. Let's touch wood. Adding Derrick, regarding the Cup, we will already have one more chance.
Photos from as.com