Players frustrated by the winter market: Isco, Kepa, Dele Alli, Eriksen ...
Not all are happy stories at the close of the transfer market. There are players who were looking for a change of scene that finally did not take place.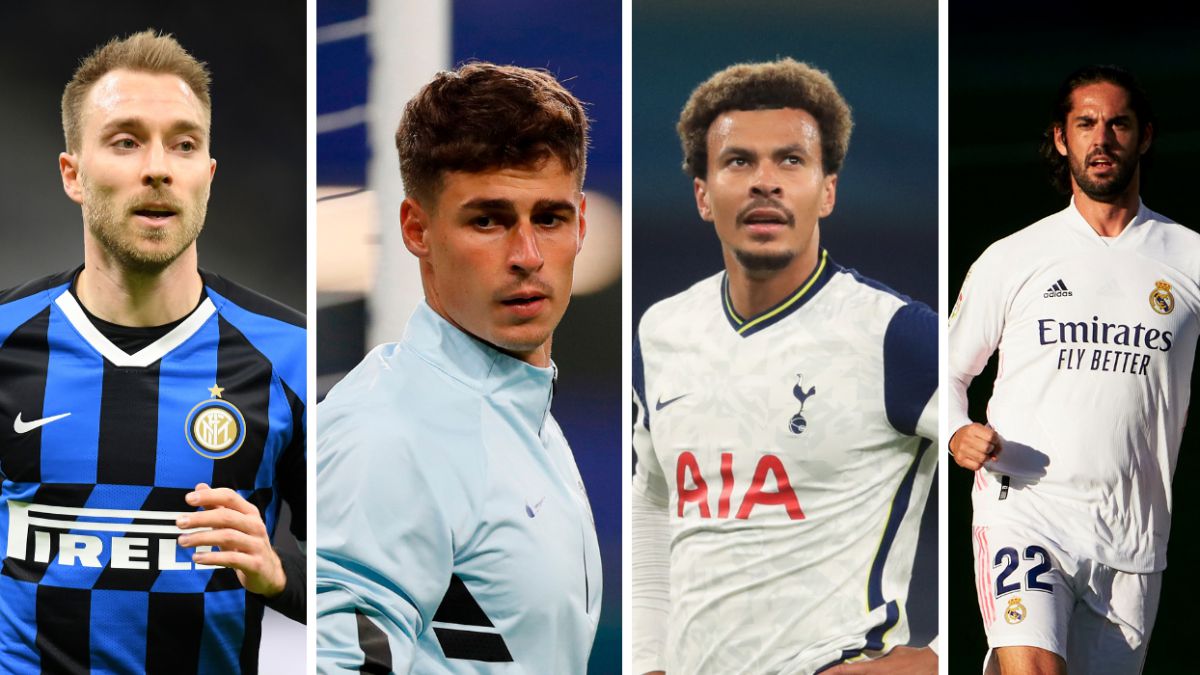 With the market clock gradually losing grains of sand, there are many players who found accommodation at the last minute, but there are also important names whose names have been linked to a change of course that the winter cold has frozen. Players with a poster who for one reason or another will have to seek to change the dynamics of their season without a new destination that serves as a springboard and impulse.Eric García (20 years old), Manchester City
Eric has been one of the proper names in the market. The Catalan player has opened an institutional war at the Camp Nou with the candidate Victor Font announcing an agreement with him whereby Barça would sign the center-back for three million and with Joan Laporta refusing to pay for a player who in four months could get free. All this with Koeman and the Management Board of fear. What is clear is that Eric's future has a Barca color and is that despite Pep defending him at a press conference, the player has only played 208 minutes in the Premier League and has seen Laporte and Stones vying for the position companion of Rúben Dias. Unfortunately for the player and Koeman's team, Eric will have to stay at City with a residual role until the end of the contract next June.Dele Alli (24 years old), Tottenham
One of the great soap operas of the winter that had an unhappy ending for almost all parties. The midfielder wanted to leave. PSG loved him. The arrival of Pochettino increased the decibels of interest. Mourinho does not count on him for more than a handful of minutes distributed between the Europa League, the cup competitions and the dawn of the Premier. 5% of the total. A participation that jeopardizes their participation in the next European Championship. The transfer to PSG seemed like a fact, but not finding a replacement for Milton Keynes has ruined the operation. Now, let him try to get out of his particular labyrinth.
Christian Eriksen (28 years old), Inter
Another of the big names of the month. At Inter they publicly acknowledged that his name was on the club's starting ramp. The minutes he enjoyed with Conte could (and can be) counted on the dropper. His salary, one of the highest in Serie A, is not commensurate with performance, much less with the use that his coach makes of him (16 games for 605 minutes, less than 39 'per game). There was talk of an exchange with the 'Papu', back to Tottenham, even of a plunger to the traffic jam of Dele Alli at Tottenham. However, when he was not expected, he decided the cupbearer derby against Milan with a goal from a free-kick and this Monday Marotta made it clear that he would not come out. Neither he nor anyone else, since there was no replacement. Situation similar to Dele's, although with more hope, a priori.
Edin Dzeko (34), Roma
Dzeko has gone in record time from being the star and captain of Roma to being cut off from the team. In a situation very similar to that of Papu Gómez, Paulo Fonseca broke relations with the Bosnian after the "mutiny" that certain players carried out after the elimination of the Cup against Spezia. The board of directors was positioned on the side of the coach and from that moment the striker began to train alone and has not been called up again. As if that were not enough, in his absence, Borja Mayoral has had his best performance since arriving in Italy, scoring three goals in his last two games and taking the praise of Fonseca. Roma desperately looked for a way out for Dzeko, even considering an exchange with Alexis, but finally the Bosnian had to stay. Fonseca is going to have a problem with his star and unless the situation changes, Roma will have to "give away" Dzeko this summer, also taking into account that he ends his contract in 2022.
Alexis Sánchez (32 years old), Inter
Another Inter player. The Chilean was one of the keys that could unlock Dzeko's situation. After a season on loan from Manchester United in which he finished with four goals and ten assists in 1,400 minutes, Inter decided to stay with Alexis. The injuries and Conte's system that leaves the bands for two lanes have not allowed him to have continuity, especially in the last six games where he has only dressed for 110 minutes. The lack of a substitute center forward of guarantees for the Lautaro-Lukaku couple has caused Inter to fight for a forward in this market, with the Chilean being the one who collapsed on the starting ramp to make room for him. The Dzeko-Alexis exchange did not come to fruition and finally Alexis at 32 years old must fight to reverse a complicated situation at Milan.
Giroud (34), Chelsea
Nothing new for Olivier to be on a list of this caliber. The Frenchman is used to dealing with Damocles and his sword on his shoulders and, once again, he is victorious. In summer he seemed to be out, as Werner and Abraham blocked his way. When no one was betting on him, he appeared in the Champions League with a saving goal against Rennes and went into effervescence. If before it was Chelsea who was looking for destiny, now they hoped that their starting striker would not hear the siren songs of large squares like Turin. With the arrival of Tuchel, he has yet to assess his importance, but he started in his first game and has not packed his bags, for now.Kepa (26), Chelsea
We did not leave Stamford Bridge to find a complicated case. Kepa, who has become the most expensive goalkeeper in the world, by 80 million euros, has not performed as expected and Chelsea ended up signing Edouard Mendy to take his place. Lampard was in charge of taking him away from the eleven and the great benefactor of the arrival of an alternative for the goal. In London they placed him on the exit ramp and a loan was suspected as the best option for all parties. However, nothing happened beyond the rumor. We'll see if his luck changes with Tuchel. At the moment, Mendy is still number one overall in blue.
Isco (28 years old), Real Madrid
Until the last moment, Isco waited for an offer that would satisfy his interests, but he was aware of the complexity of the company. The man from Malaga asked to leave some time ago and, although at first it was considered that his departure would take place in summer, he held out hope until the final honk. Odegaard's departure seemed to be understood as an open door for the final months, but the clash against Levante, in which Bettoni, at the request of Zidane, even opted for a youth squad like Arribas as an agitator rather than Arroyo de Honey was the straw that broke the camel's back. The offer did not arrive and Isco will continue until the end of the season. It remains to be seen in what conditions of confidence and timing.
Reinier Jesus (19 years old), Borussia Dortmund
The loan of Reinier is not working for either party. The player has only played 136 minutes spread over eight games, Borussia does not have what seemed to be a very attractive value even in its current crisis of results and Real Madrid sees how another of its young promises does not find minutes and its progression stagnates. For this reason, the Brazilian's environment was willing to follow in Kubo's footsteps and break the assignment to look for more minutes elsewhere. Real Valladolid, thanks to the good relationship it has with the white club, seemed like the right destination but finally Reinier will continue in Germany. Despite playing a very testimonial role, Michael Zorc, the team's sporting director, recently stated that they did not want to break the player's loan. Perhaps in the coming months his situation will change, but things are not looking good for the Brazilian in the Bundesliga.
Lucas Torreira (24 years old), Atlético de Madrid
Another assignment that is not going as expected. Simeone asked the Uruguayan in the summer to reinforce his midfield, but the reality is that in the winning streak in the league, Torreira has only played 302 minutes. Against Cádiz he started due to the multiple casualties of the team but was replaced at halftime. Arsenal were interested in a new loan so that the player would not be devalued and Valencia, Fioentina, Lazio and especially Monaco were interested in the midfielder. Torreira hopes to have more minutes but seeing how well Cholo's plan is working out, it doesn't seem like it's going to end up being a happy assignment.Perisic (31 years old), Inter
Another veteran, one more Nerazzur and another player to whom Marotta closed the exit door on the eve of the shutter closing. His importance for Conte has nothing to do with that of Eriksen (26 games and 1,353 minutes), but he has had enough suitors to seek a new change of scenery. Tottenham, Everton, Hertha Berlin and even Borussia Dortmund, one of his exes, have knocked on his door. However, none of the offers has satisfied the player and / or club, so he will continue to contribute his experience and versatility from the Nerazzurri left wing.
Diego Costa (32 years old), without a team
Completely different from the previous names, since Diego Costa is free to sign for the team that he wants and is interested in him. But it is in the combination of both factors where the equation does not finish crystallizing. Family reasons put the 'free' sign on him. Many teams have played (Olympique de Marseille, Wolverhampton, Chelsea, Boca ...), even a City history has advised his signing to the skyblue team, but the market is closed, the former Atleti striker is still without a team. His case, yes, it is less urgent, because being a free agent allows him to sign even if the terms are closed for the rest.

Photos from as.com