Piqué: "85% of the referees are from Madrid, how are they not going to whistle in favor?"
The Barcelona center-back gave an interview to DjMaRiiO, Post United and Ibai Llanos in which he made a controversial statement about the committee's preferences.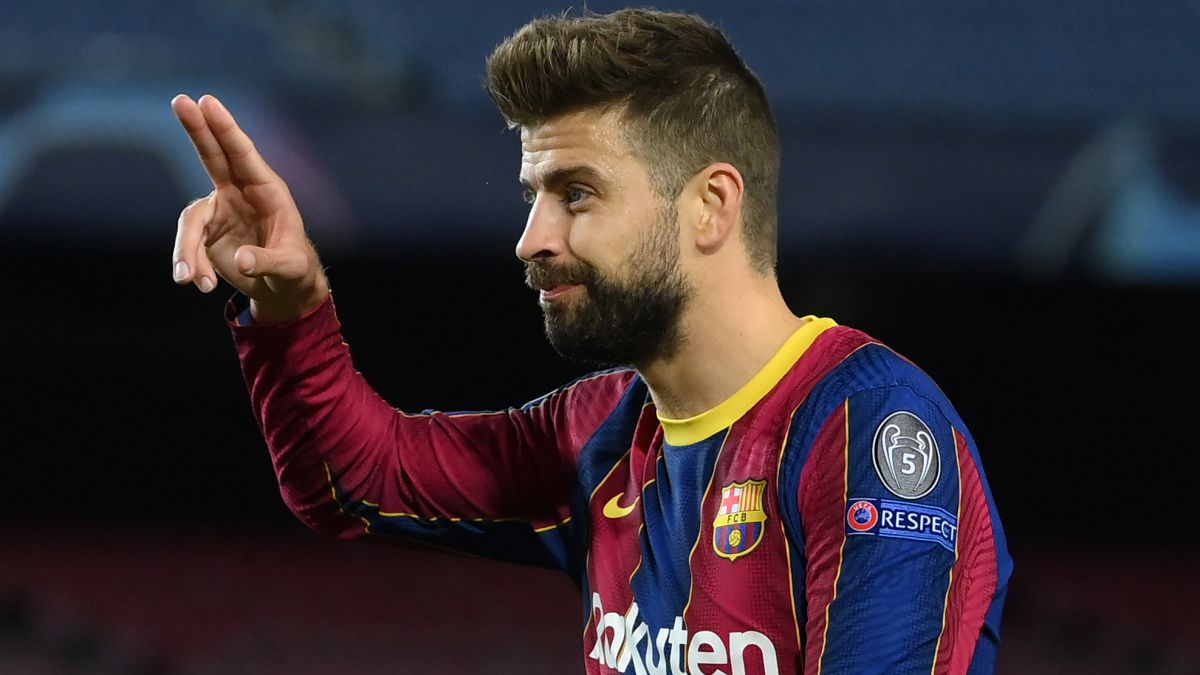 Gerard Piqué has given an interview to the Post United channel and to the youtuber DjMaRiiO, in which he has dealt with all current football issues. As always, the Barcelona central defender did not mince words and revealed his controversial opinion about the arbitrations and the alleged favors for Real Madrid. The player considers, according to the testimony given by an already retired referee, that 85% of the body is fond of the white club and that this influences when it comes to whistling.
"A former referee, who I do not remember who he was, perhaps Iturralde, said that 85% of the referees are from Madrid. It is a statistic that was said, you can look at it. How could they not whistle in favor of Madrid? Unconsciously, But how are they not going to shoot more than one side than the other. In the end, if you are from a club ... I totally respect the professionalism of the referees. I know they try to do the best job possible, but when there is a moment of doubt. .. ", Piqué stated in the interview.
The interviewer also asked him about the departure of Luis Suárez. Piqué did not make a direct criticism, although everything indicates that he does not share the decision made: "I did not do it, eh. I did not ... Ask who let him go. It is not my fault. If the players command? I want to say a logical answer. If the players have ever decided it is because they have asked us, they delegated us to us. Many times we have answered "that's your thing." In the end, the player is here to play football. take much better. Let him focus only on playing ".
Again, he described the work of a president and a consolidated board of directors and gave an example to his former teammate in the National Team, Sergio Ramos: "When you have a strong board that wants to go to the side, the players have little to say. Sergio With the renovation he is having, he is an example of a strong president who makes a decision and goes down a path. Sometimes the players don't paint much. I haven't talked to Ramos about his renovation. I have a good relationship with Madrid's team. With Arbeloa I had a scuffle at the time about the Barça-Madrid rivalry. I wish him the best in the future. Now he is at the club working and our relationship is correct. "
DjMaRiiO, a well-known Real Madrid fan, admitted to wearing the elastic Blaugrana out of necessity, when he played a match at the Camp Nou. He received from Piqué the official Barça kit this season, something that was taken as a joke, although he did not promise to wear it. Then, he asked the interviewee if he had ever chosen it in the closet: "I have never worn the Madrid shirt. I have at home because I have exchanged them. I have Cristiano, Benzema, Ramos. We have played many years .. . If I thought I had to wear it, I would wear it without problems, but it is superior to me ".
"Madrid is used to having everything whistle"
About the Cup match against Granada: "From the beginning we played quite well. The score of 2-0 did not reflect what we were seeing. We had several suits, several clear plays, and in the end justice was served. They are one of those victories that make a team.
Words of Di María: "Surprising that a player from another team talks like this, we will have to ask him. I see what I see and the feelings are very good. Leo is more plugged in than ever" .
You enjoyed 2-6 or 5-0 more: "They are different games. 2-6 is my first year, you live it all to the surface. And I scored 2-6, at the Bernabéu ... 5-0 too It was very special, but we had been earning a lot for two / three years. Not that it was very expected, but it seemed that it was not such a surprise. The superiority was overwhelming. "
Game that has hurt the most to lose: "One of the ones that hurt the most was the semifinal against Inter. There was the volcanoes, having to go to Milan by bus, the referee did not cancel a couple of goals that were offside ... at home you win 1-0, they annul a goal from Bojan that was valid ... You can get beaten up, but this one makes you angry because you are being superior and you stay close ".
Luck in the last Champions of Real Madrid: "Of the three in a row, there is one that you do deserve, like the one in which you win the League and the Champions League. But there are others ... Like the match against Juventus that you remain 0-3 which is grotesque ".
Referees in favor of Madrid: "You are so used to having everything whistled at you, that you can whistle. By power, you can whistle everything. Last year, when the league restarts, at Barcelona we are used to whipping each other badly It's that Madrid ... The last league thing is the most grotesque thing I've ever seen. The game in San Sebastián, where there are four dubious plays, and all four are whistled in your favor. Some things that with VAR are You go to San Mamés, there is a stomp in one area, they whistle it; there is another stomp in the other area, they do not whistle it. That is what you are used to receiving, and then when they do not whistle beep ".
Historical comparisons between Madrid and Barça on arbitrations: "It is clear that the big ones favor us more than the small ones. The referees have more pressure, not to appear in the newspapers ... In the end, it is undeniable that we compare ourselves with Madrid and Atlético, which is the ones we fight with. You can make the comparisons you want, worse than that historically have favored Madrid more. There is a lot of difference. "
Is this post-Christian Madrid less afraid ?: "Madrid is always Madrid. They have shown that, having a bad team or season, it can hurt you anyway. They can win the Champions League by finishing fifth in the league. One of the things That is to be praised and that they have in their DNA, the fact that they are very bad, and that they reach a semifinals or quarterfinals of the Champions League, makes them believe it. Here in Barcelona we tend to believe that when we go on a bad streak, it causes how the eliminatory. It is true that we always want to be perfectionists, and that means that we never throw away any title ".
Figure of Cristiano Ronaldo: "A person with a very great ambition. A hard worker, a winner ... He competes at anything. With brutal conditions. The immense value that Cristiano has is that, in a time when Messi is the best, he's been able to win five Ballons d'Or. That's outrageous. "
¿Piqué president of Barça ?: "I see it as something in the medium long term. We will see if it happens, because I also have many things. But yes, it is something in which he fixed me how the rest of the presidents do it, the message that it transmits, the management with the locker room ... Things that I am looking at in case I ever become president. The pressure is something that does not worry me. "
Figure of Florentino Pérez: "He is a person who has a lot of vision and Madrid has taken it to another level. That is the role that a president must have. What's more, I think Madrid has been very lucky to have him. Well, as a club it would be nice if they had elections, so that the member has the opportunity to show support for Florentino ".
Withdrawn: "Ugh, I would tell you that until I was 30, it seemed like a very difficult task for me. I have many years of football left and I am getting tired. There were years that even motivation was hard for me to find. From 30/31, that I started going from year to year, I appreciated it much more, and the motivation was increasing. And now I go season by season and the sensations are marking ".
On the controversial penalty against Ramos in the last 'Clásico': "There was nothing strange? You have it incorporated in the DNA. With 1-1 it is our dance, until the VAR arrives and says' No, the contact is enough '. The VAR I thought I was going to help the referees. But it is helping to justify the decisions in favor. Coincidentally, contact is always enough for some and not for others. And watch out for Atlético, which lately… ".
He also spoke with Ibai: "We have eaten a lot of shit and they have painted our faces in recent years"
Messi and the burofax: "After the game against Bayern you can imagine what it was like. Then what Leo felt on a personal level. It happened. Some events that ended in the best possible way. Leo stayed, but thinking about his interests ... Now I see him very happy, eager to win. Having him by my side is a pleasure ".
Faces recovery: "I'm better than I expected. I thought it would take longer to get to this situation. I need to spend more hours running, jumping, touching the ball. I am adapting to it. I made the decision to follow a conservative method and it's going well ".
Ramos: "It shows Florentino that the president has to be the leader and the one in charge. You may like it or not like it, but he is a person with a gift of command and who says what is there. At least he shows that he has an idea and he knows where he is going. It already happened with Cristiano at the time. He has a quality that perhaps Bartomeu does not have ".
Costume ideas: "There are characters that make you unhappy. Jordi Alba, Aleix Vidal at the time ... Dan vidilla to the dressing room. Cachondeo every five minutes. A close-knit wardrobe that has a good time, it's cool, it's very important. He thinks that every day that we go out to train is like a friend's game and it is not like that, it is a pain in the ass. The strategy plays ... It is very cool to be a footballer but not every day we want to play football ".
Story with Roy Keane: "If you take the wardrobe from that time ... 17 years ago you were a young man and veterans were respected. The wardrobe was very small and at that time there were lifelong Nokia's. My mobile started to vibrate. Keane was leaning against my pants and it vibrated on his head. He asked who it was from. I didn't say anything, nobody said anything ... He asked it louder. I said it was mine and the octopus fell on me. "
Another comeback for Barça: "He hit the table, attitude and desire. This is the most positive thing that could happen to us. It will give us a lot."
LaLiga: "How many teams have the option of a triplet in Spain? Do you already give the League to Atlético de Madrid? Atleti wins 5-0 every game ...".
Goodbye to Luis Suárez: "He is at the level of recent years. Every year he has kept his goals constant. He is a very reliable player."
The Classics: "It is totally different without an audience. It is much lighter. In Mourinho's time, it is not to blame him for everything, but with his figure he warmed up and when he left he relaxed. The facts are there. I am a person of put weeds and mess it up within the parameters that I consider are not crossing the red line. At that moment it crossed, like putting the finger on Tito. There was a campaign that seemed like nothing was happening. We already know how this goes. Relationships they can be friendly, maintaining the sporting rivalry. We are not going to give each other hugs during the game ".
The burned shoes: "In England they have a brutal black humor. In the locker room I had a great time. Evra came with some Nike shoes and began to show off. He went to the gym to train and we burned his shoes with gasoline and we recorded a video and We sent it to him. When he found out who it was, he gave it back to him, and so on every day. "
El 2-8: "We have eaten a lot of shit and have had our faces painted in recent years, so now we value titles more. It hurts a lot, but that's life. They slap you that makes your head spin twenty times . Happens at work, family, friends. You have to adapt and improve. Failure is always part of life. In America, failure is seen as the courage to try. One of the country's scourges is envy. They're waiting to blow you up. If after failing you go out with a smile, it fucks them up ... When they can't bring you down they kill you, they go crazy ".
Buying a football club: "It is a unique experience. It is seeing the sport from another perspective. You see yourself as part of something that is growing little by little. Taking a Second B team is something different. It is difficult to manage. pandemic, we had to make cuts. On the one hand, I was negotiating with Barça to get the best interests and I was also negotiating with the Andorra players on the other side. It is not easy for both parties to be happy, but it is the way to live together ".
Bartomeu: "It was a difficult situation. A president, at least as I see it, must try to manage the club in such a way that decisions can be made and solved when there are problems. When you don't do it, a mountain is created. They solve themselves, but you have to take the bull by the horns. There were times when more leadership was needed, to show up. I have always had a kind and cordial treatment with him. As a person I do not think he has evil, although he has I have to have the skills to lead an ocean liner. I have had experiences of things that you do not understand, that is superior to you. Misunderstandings, problems are created ... Little by little the issue grows and it jumped into the air. Many times I told him that came to the Sports City, we had to talk. And he did not appear ".
Elections: "The three candidates are competent. Whoever comes out is going to do well. We have to look to the future, looking at the past only serves to correct mistakes. Those of us who are partners vote. I don't know how many partners we are in the team."
President of Barça ?: "I try to learn from everything. Florentino is doing a very good job as president. Everyone can give you their point of view. I don't know what will become of me in my life. I know that now I am playing and I'll try to extend my career as long as possible. The day I can't help I'll raise my hand and leave. You may have made money, but it's difficult. When you retire, it's hard to adapt to the life of an ex-footballer and you have to be prepared ".
Bale: "He was mistreated a little in the media. He has been important in Madrid titles. You can be passionate about golf, a player does not have to spend 24 hours thinking about football. Each of us has our history" .
The departure of Neymar and the tweet of 'he stays': "I don't want to get involved, which is a sensitive issue in Can Barça. In life you make mistakes many times and you learn" .
Vinicius: "He is the typical player who, if he has the day, can make things difficult for you. He has a lot of talent, when he catches you in speed in one on one you have to do what you can" .
Araujo: "La Masía is one of the things that Barcelona works very well with. It matured at Barça B and is taking advantage of the opportunity. You have to develop it."
Retired: "I will retire at Barça. I don't see myself playing for another team. I wouldn't feel like it."
Ansu Fati: "He has a lot of potential and a lot of goal. He is very fast and has talent. Even in the worst moments I try to see good things. This has led to players with a great future. If they confirm the expectations they have, the future of the club it is very promising. "
Continuity of Messi: "I can't help you. I know there is interest in whether he is going to continue or not, but you have to ask him."
Selection: "I've always had a blast. There was a special atmosphere, with the players, the staff."
Photos from as.com