Pellicer: "My renewal? The one that the club should be clear about is Manolo Gaspar's "
Sergio Pellicer commented regarding his renewal that the first thing that the club must clear is that of the sports director Manolo Gaspar.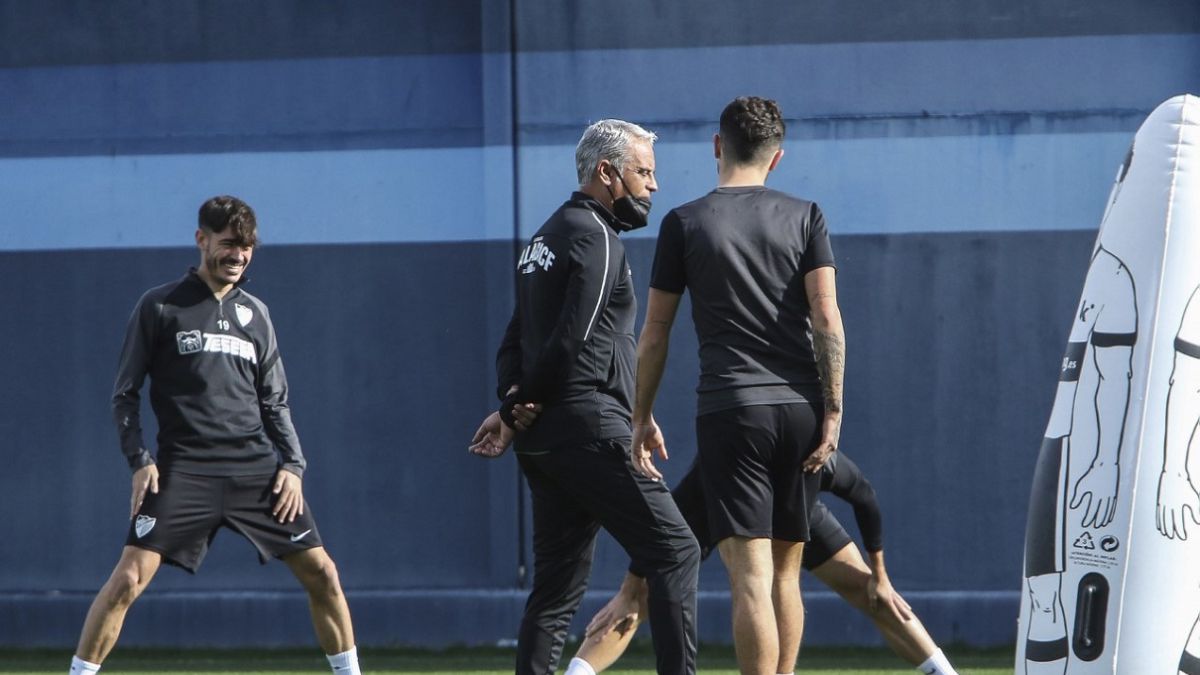 Has Malaga proposed the renewal? "The club must be clear about the renewal of Manolo Gaspar. From there, it will be other circumstances. Our charge depends on 90 minutes. A month ago everything seemed wonderful and today everything is doubted. The present will make us better for the future. Malaga is everyone's Malaga, not Pellicer's. If we achieve results and meet objectives, everything will be discussed. The first stone is to know the present. "
Are there nerves? "If the numbers we are having as a local were the other way around, there would be no problems. There is a lot of margin, we focus on the day to day, on the competition, on the analysis. The numbers are penalizing us, I understand the people, because we are living a situation in which they cannot come to the games, the opinions are coming virtually, through the networks. I understand everything. What the fans want is to see their team win. Knowing where we come from is very important, it doesn't have to be an excuse. We are the second youngest club in the category, which is recovering well in the upper block. They are positive things. There are other negatives. But other things are getting better. Of the last games, I respect all the decisions, but there are some that I don't share. We are what we are. Realities hurt a lot of people. Each one knows the responsibility that each one has. Coaches have an expiration date with the results. Above all is the group. There are many things that could be improved. Maybe in September we couldn't imagine this. The competition does not stop, it is brutal ".
Djuka's form state. "Beyond the player, who is in optimal shape, it is a team that manages the areas well. He is setting different records, Sporting is a block, in good shape, and we have to be a supportive team on a defensive level and have a lot of vigilance in case of a loss. He is a rival who has not suffered any defeat at home, which means that he is doing things very well. We have to focus on our collective and be very supportive. It is a difficult game for the rival and his state of form. It will be a game that, if we are not at the limit, it will be complicated. We go with the idea of competing and trying to achieve victory. "
Analysis of Sporting. "It is a team that manages several registrations, it is forceful in both areas. He is feeling very comfortable at home. I look forward to a game in which we will have to be on the edge, not make small mistakes and then be more precise in the finishing zone. The party must be taken to our land and be brave. We have to be at the concentration limit and very precise in area zones. Any wrong decision making can penalize you, and any correct decision can make the game change. Let's see if we can get that victory. "
Self-criticism. "We are self-critical, one of the most common. We don't have to see the bottle half full. You have to have balance. When the game against Sporting is over, we will have to think about Rayo. Every victory we achieve is gold. We have to value work every day. There are positive things, but self-criticism must be done. The next are two rivals who are in top form, strong in their stadium. We have shown that the team is competing outside their stadium. Next week we will assess ".
Comparison with last year. "You have to look at the past to improve the present. Last year has nothing to do with this, we cannot compare ourselves. The most important game is always the next one. We know that dynamics mark. Adding makes us have peace of mind to achieve the objectives. Everyone on alert. "
News of the injured. "Today is the first training session that David Lombán and Escassi have done. We will assess if they can be there to help the team or to start depending on the match plan we may have. Ramón has trained partially. We need a training session, today we have worked on the finishes and the set pieces, it has been intense. Tomorrow operational strategy and we will assess which players can be. Benkhemassa and Hicham will not be there, little by little for next week; and Ramón, with the loads that he is doing and with a shoulder injury, we think it is still too soon "
Renewals of Julio and Gonzalo until 2022 and 2023 respectively. "It is one of the best news. Julio and Gonzalo are first team players. Julio started against Sabadell and was very good. Most importantly, it is a message for young people. It is opening a door to know that the future is here at Malaga. And a message for the boys who listen to siren songs. Here we do not look at the DNI. We ensure the future of the club in circumstances where we are the cheapest in the category. Very few teams can get their chest out because it is tremendously complicated. Nothing is given here. We work despite the fact that we do not have a Sports City where the performance of the kids would improve ": .
Photos from as.com